Our Story - 1991 to Present

New Horizons Band of Indiana, October 1998
The first New Horizons Band was formed by Dr. Roy Ernst at the Eastman School of Music in 1991, supported by a grant from the National Association of Music Merchants. The New Horizons Band of Indiana was formed in 1994 by Sam Rhinesmith, then recently retired as the long-time and legendary Director of Bands at North Central High School, sponsored and generously supported by Warner Paige of Paige's Music.  When formed, the Indiana band was only the third band in existence, but since then the movement has grown and flourished – New Horizons Music is now an international organization with over 200 bands, orchestras, and choirs and more than 10,000 members worldwide.  These groups were all formed to give adult seniors the chance to learn to play a musical instrument, and much more often as a re-entry point for people who have been away from active music making for many years.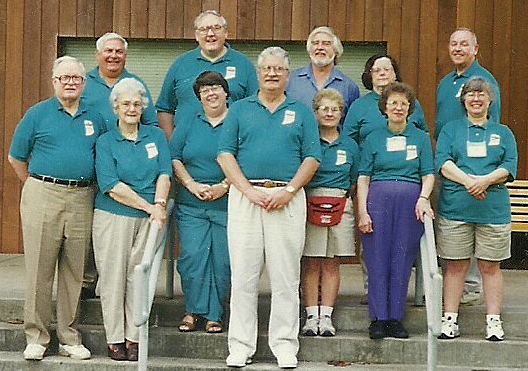 Dr. Ernst with Members of the Band
The New Horizons Band of Indiana has grown steadily and is now one of the largest (and best!) of all New Horizons bands, with nearly 70 active members in two large ensembles, a Concert Band consisting primarily of wind instruments and percussion, and a "Swing Band" focused on big band and similar pieces. Although the band is open to players of any age, the median age of active members is about 75 years, with three over 90!  The Concert Band performs 12 to 15 concerts each year, in churches and retirement homes, and in summer concert series presented by Garfield Park, and other parks in central Indiana.
This program offers intellectual stimulation, physical activity, and the invaluable opportunity to socialize with fellow retirees, activities which have been proven vital to healthy aging.  "The Band" lends individual support, concern, and assistance to all its members – it is a very important part of our lives.
Today's Band at Rehearsal, June 2023