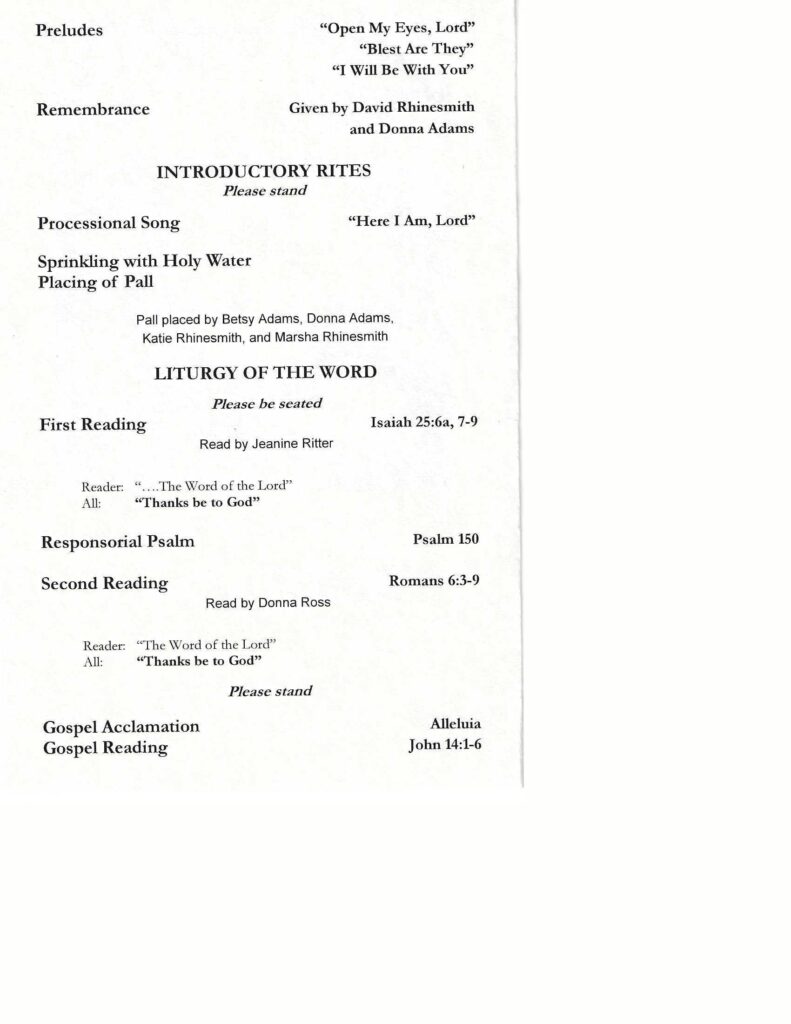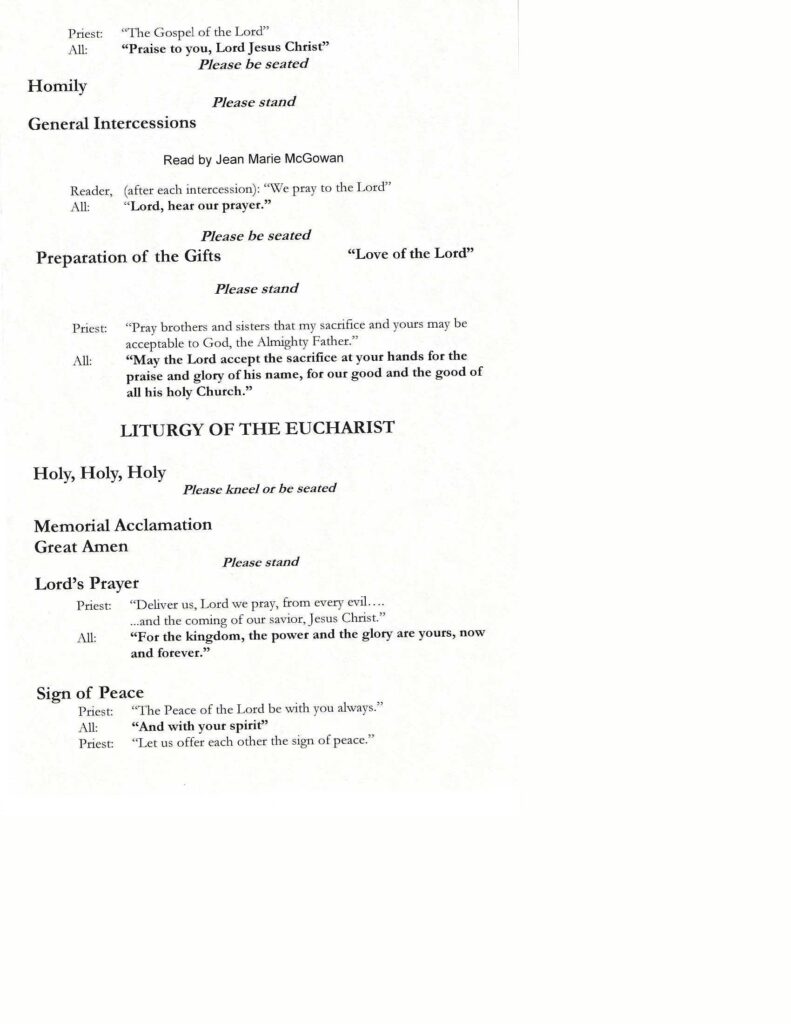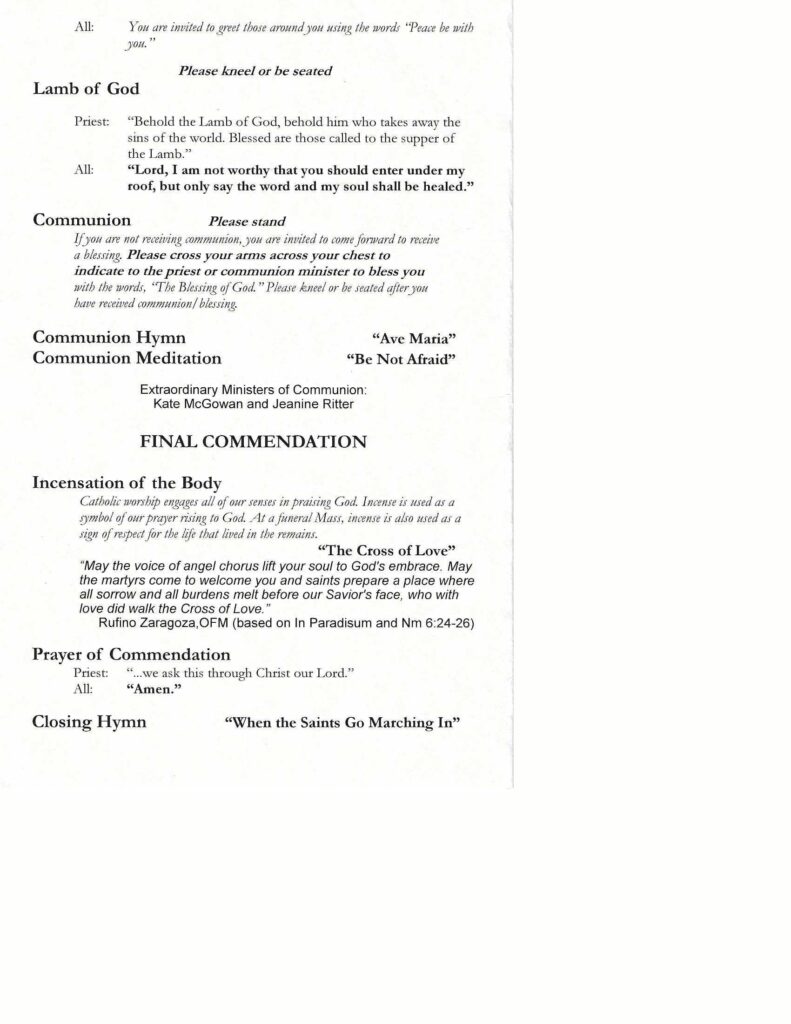 Sagamore of the Wabash Award presentation to a very humble man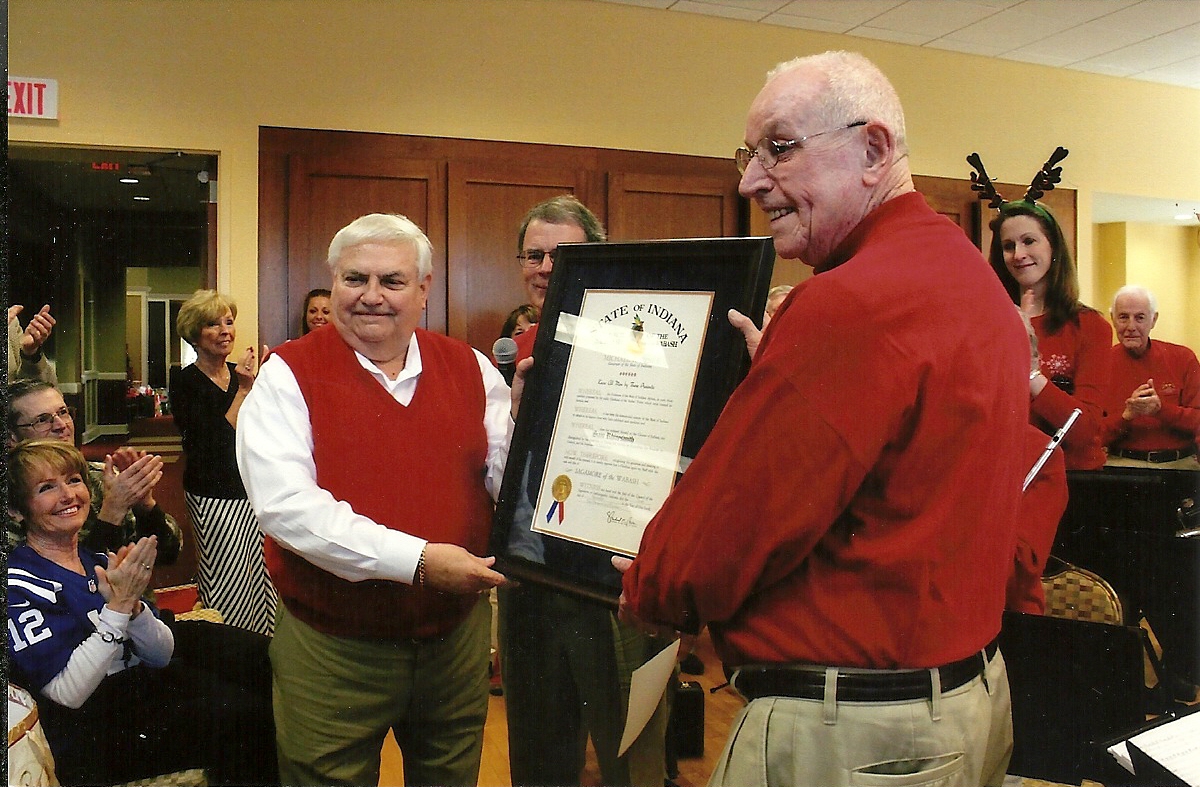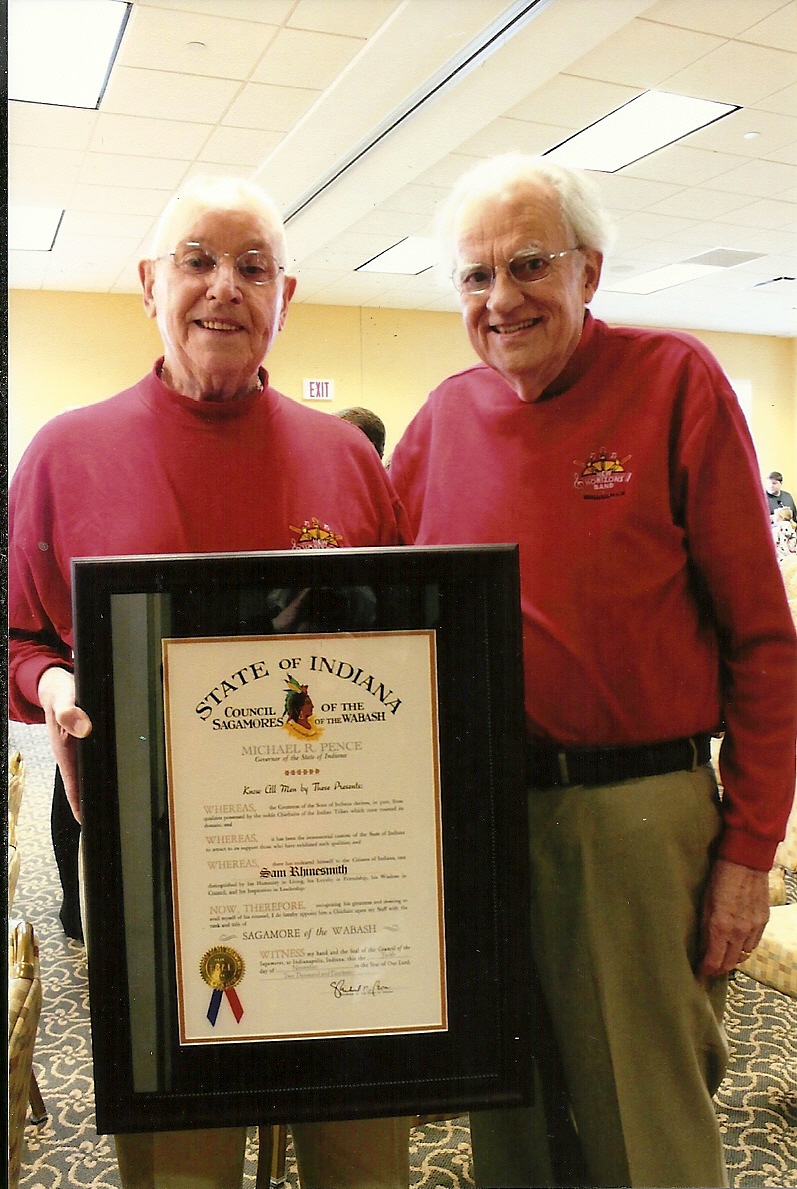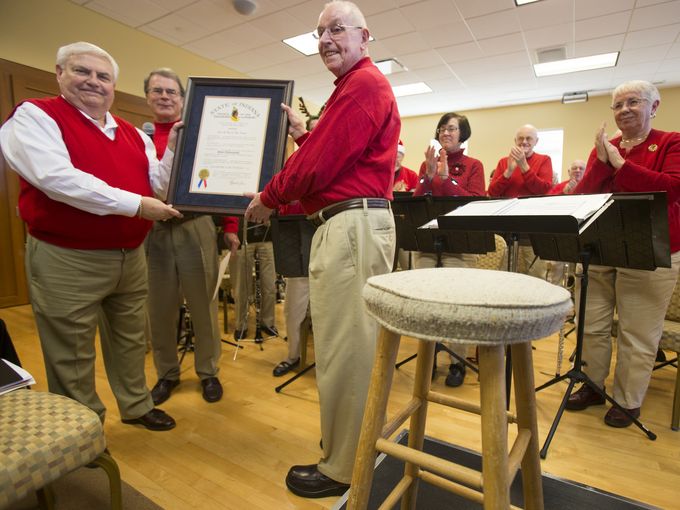 He had his serious moments . . .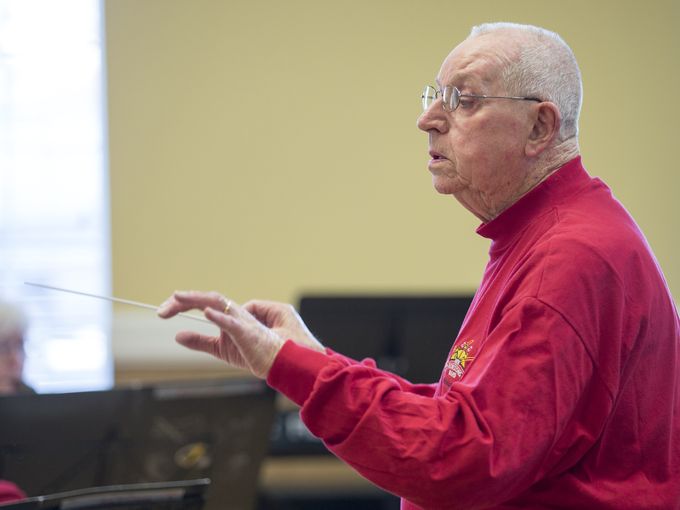 And his not so serious moments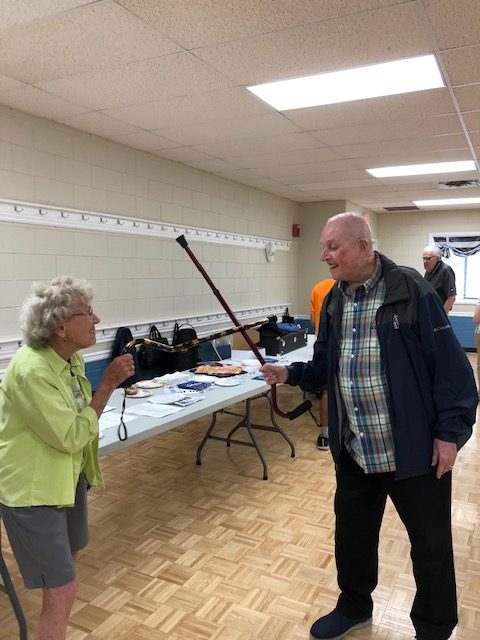 A cane sword fight!
Even he was subject to pranks.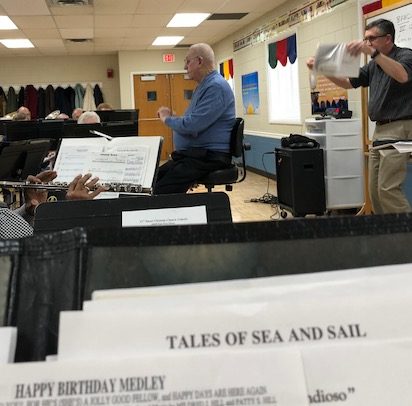 He was conducting Tales of Sea and Sail . . .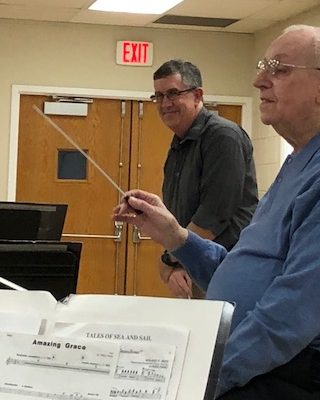 . . . but we were playing Happy Birthday!

Sam loved special socks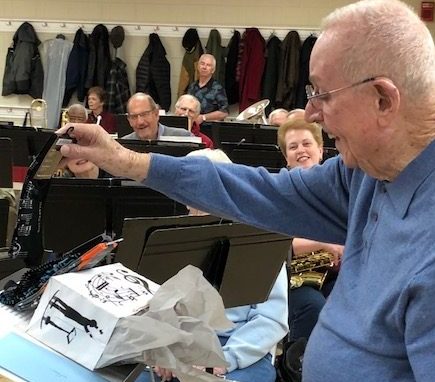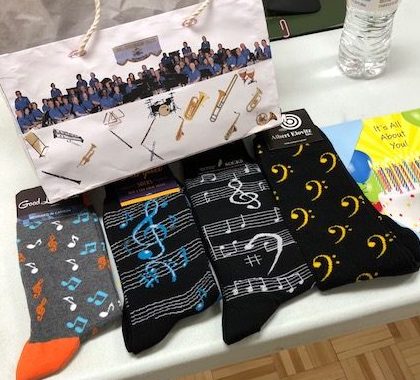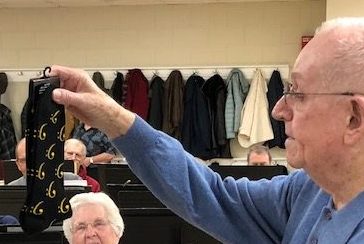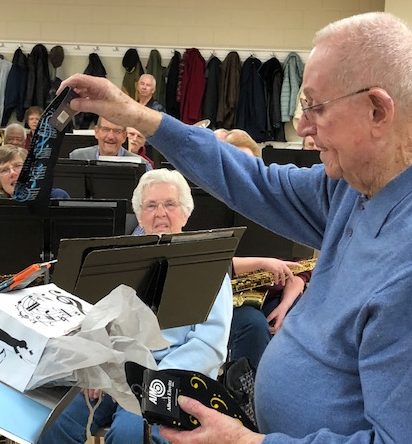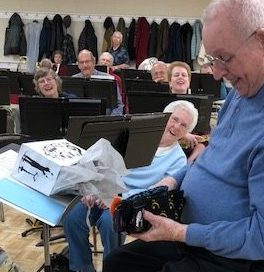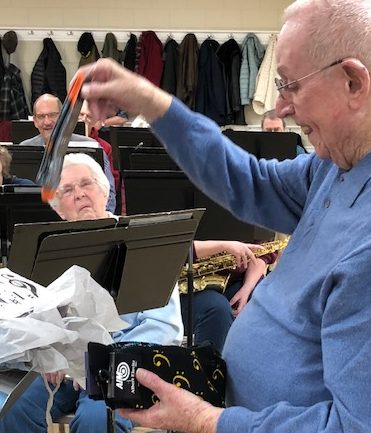 He was a special guy from his head . . .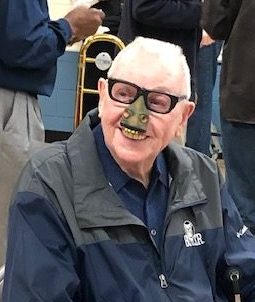 . . . To his toes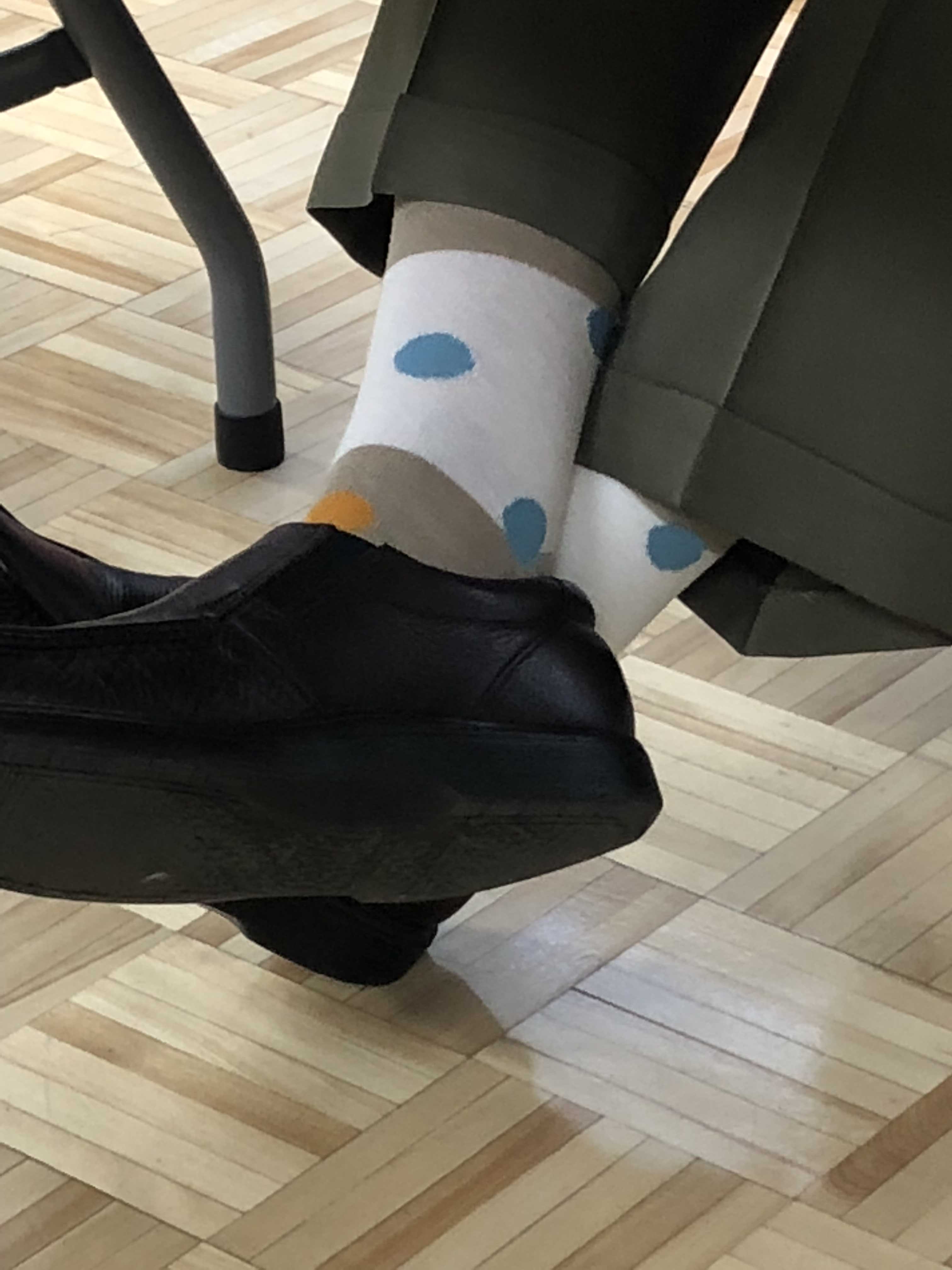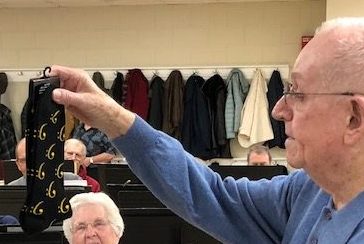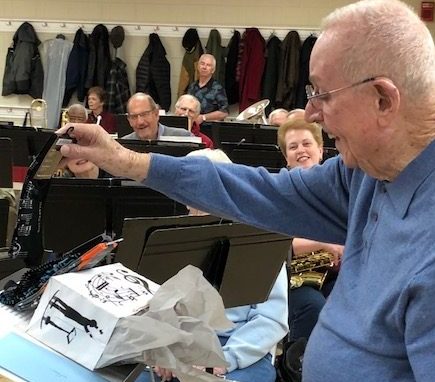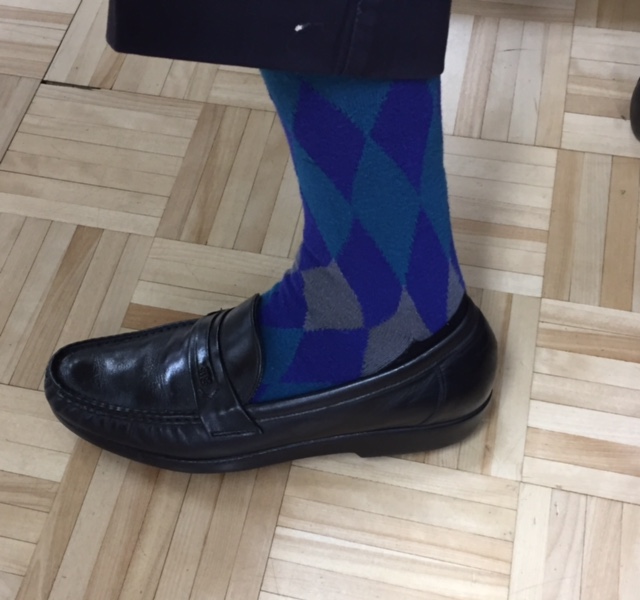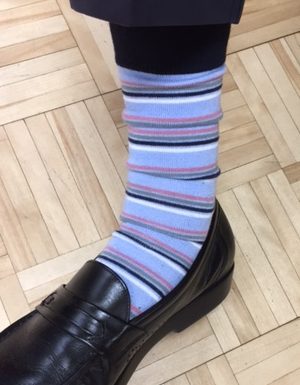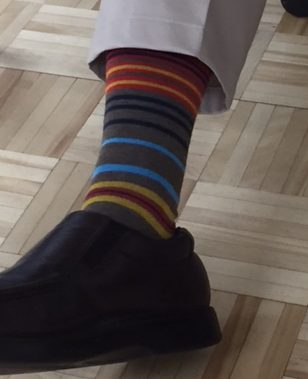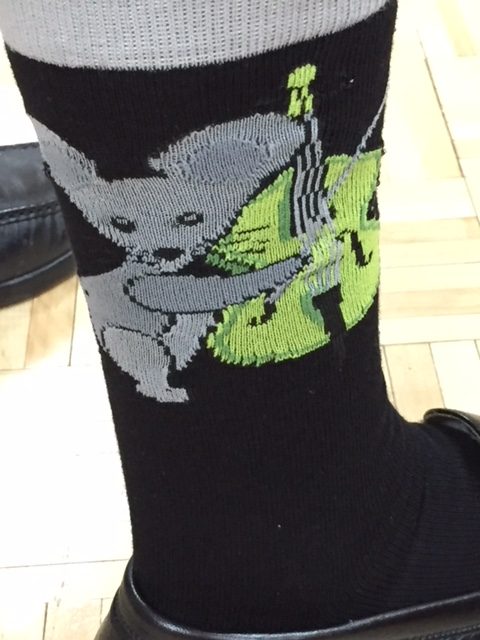 When the Cat's Away the Mice will Play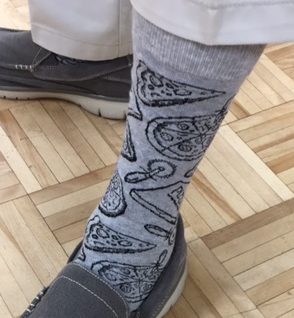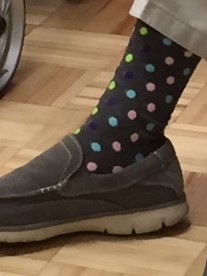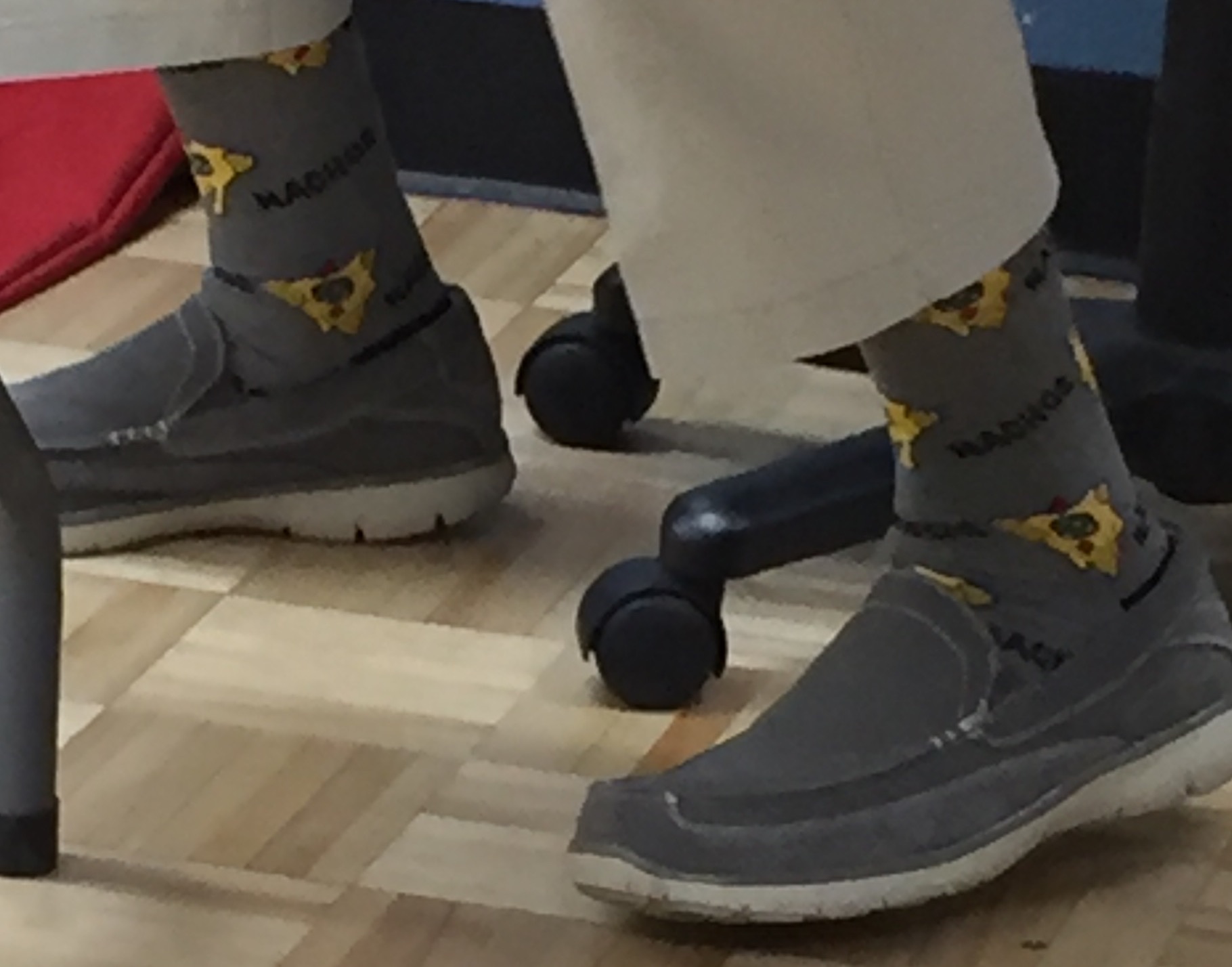 He was a man of many talents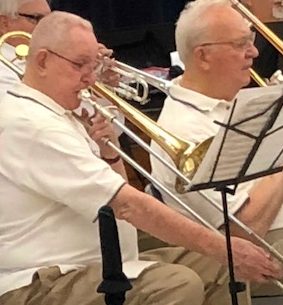 He was a multitasker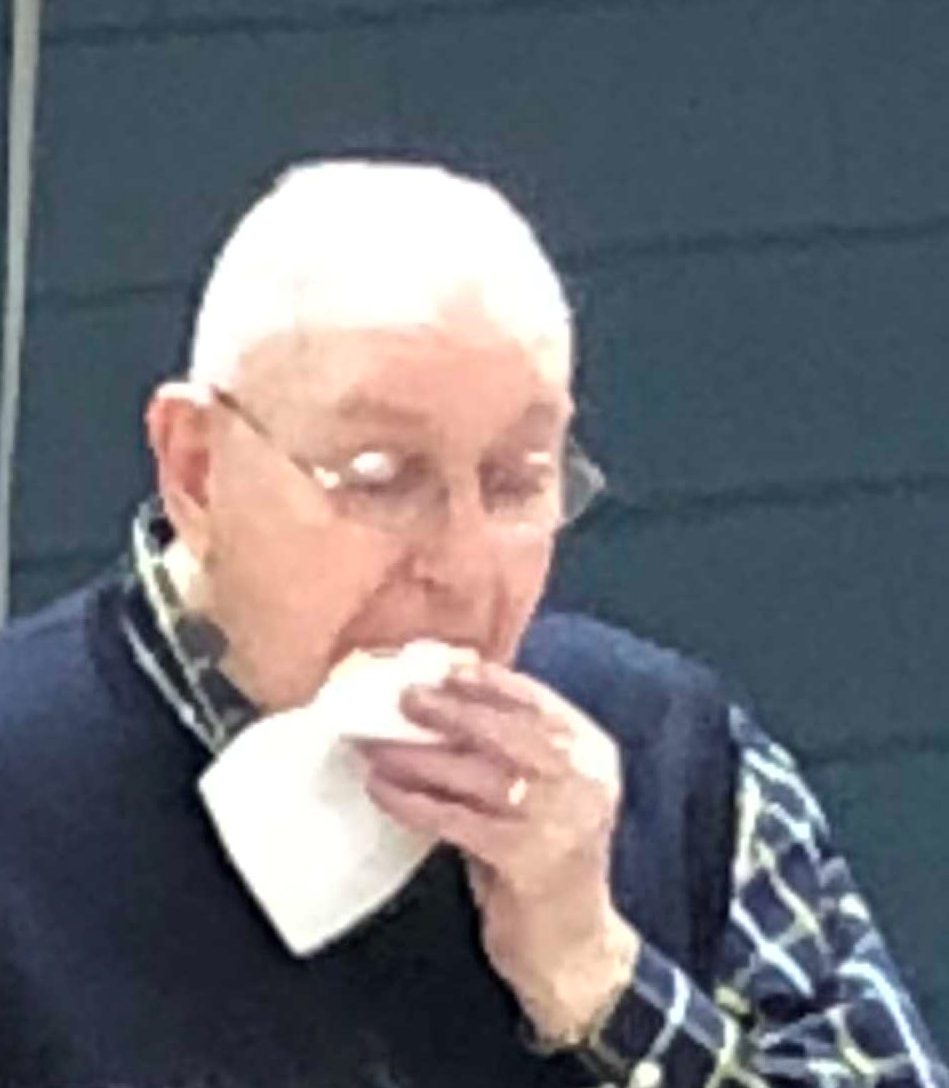 Bite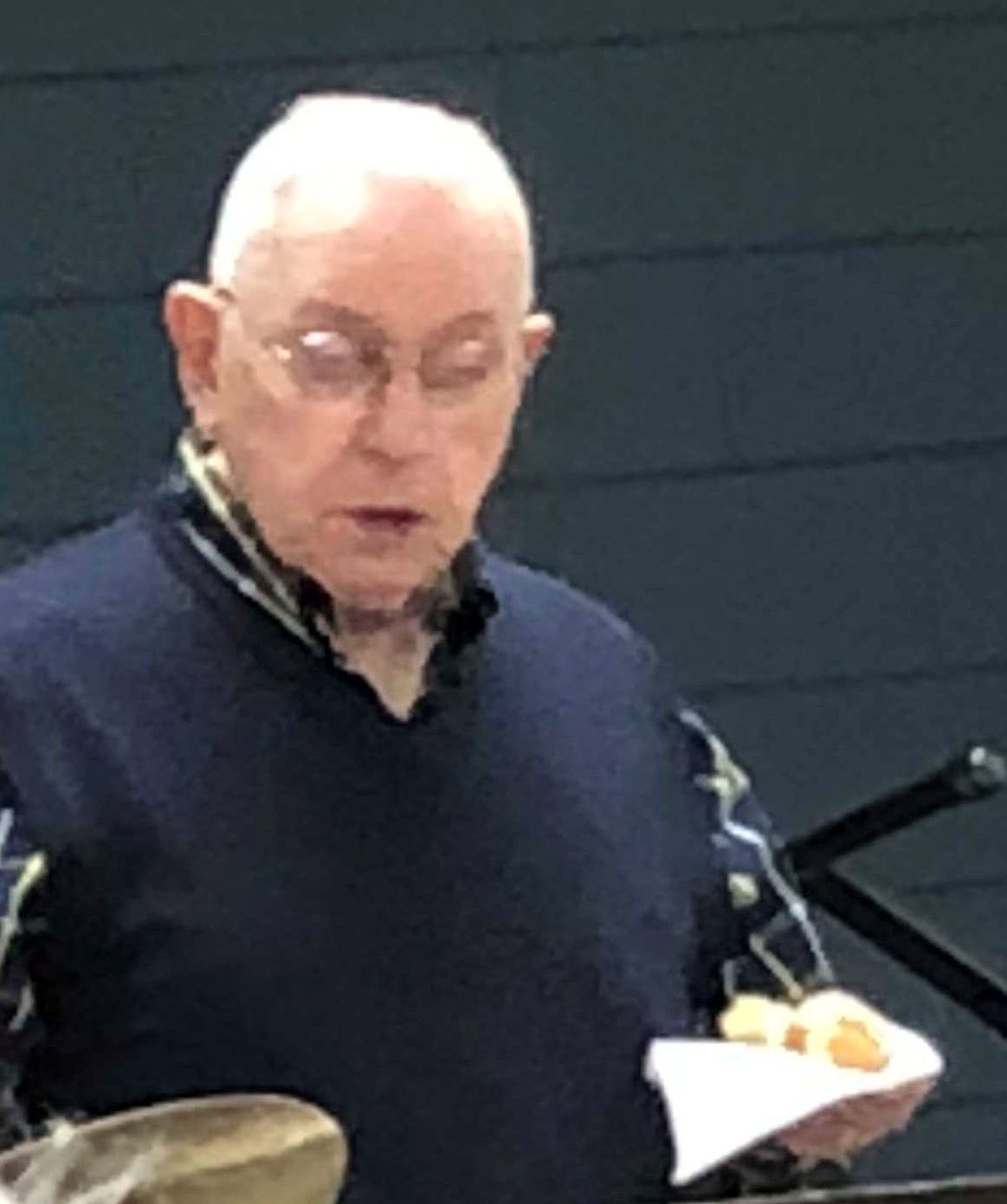 Two —- three
cling
 2 3
Only our Sam can make a doughnut go klackety klackety cling!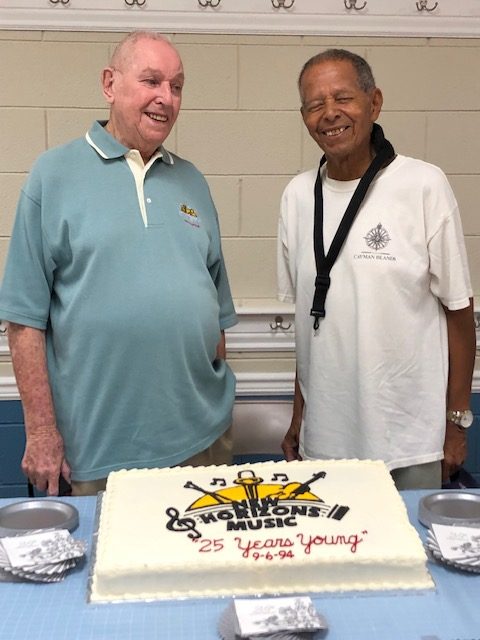 25 Year Anniversary of New Horizons Band Indiana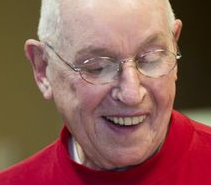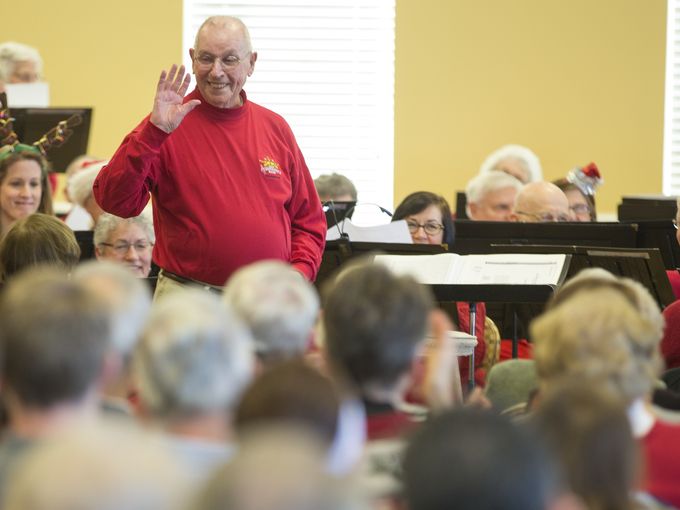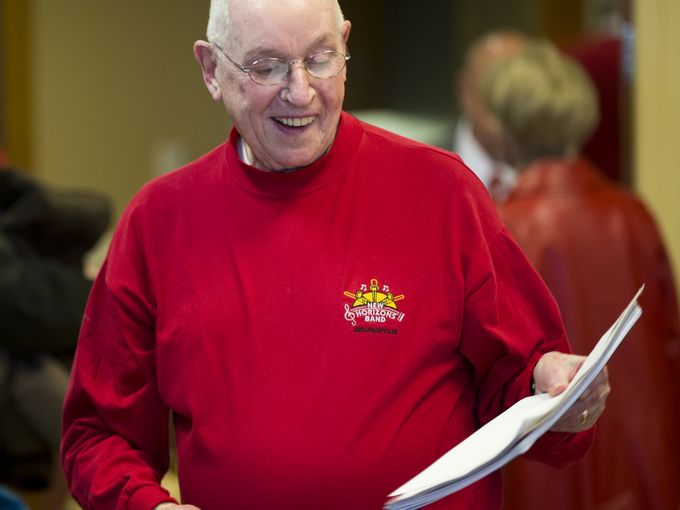 This is the way we want to remember Sam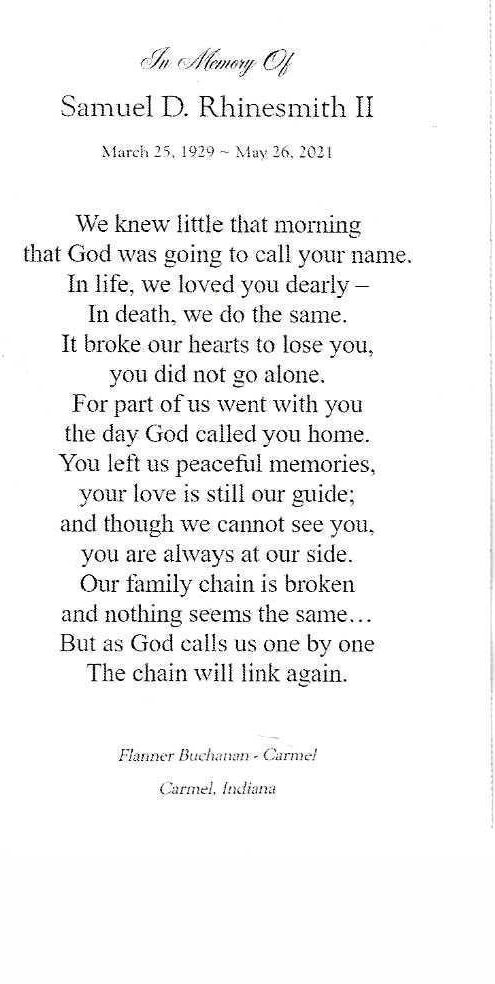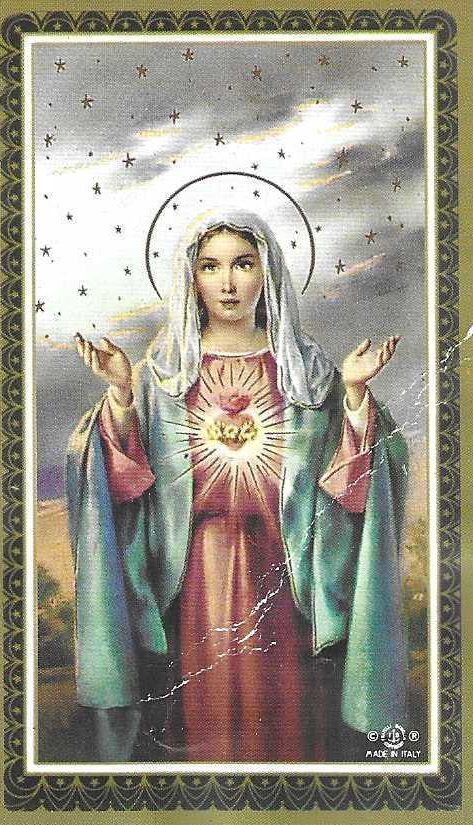 Born in St. Mary's, Pennsylvania, Sam Rhinesmith grew up in Bellefonte, Pennsylvania, where he attended St. John's Grade School and graduated from Bellefonte High School in 1947. Early musical training occurred with the Bellefonte American Legion Junior Band. He was asked to come back and direct the band for the summer of 1956 and was the music director for the Bellefonte Sesqui-Centennial Celebration that year.
After graduating from West Chester University in 1952 he entered the military and spent most of his time assigned to the Second Army Band at Fort George G. Meade, Maryland. During this time Sam experienced many unique musical opportunities while playing with the Second Army Dance Band. This band was one of four bands selected to play for the " Cavalcade of Bands" television show broadcast out of New York City under the direction of Ray Bloch, the music director of the "Ed Sullivan Show." This Dance Band played for many events in and around New York City.
Following his military service Sam came to Indianapolis and started the music program at Scecina Memorial High School. After that he taught in Anderson, Indiana; Warren Township in Indianapolis; and then served for 27 years as Director of Bands at North Central High School where he also served as Department Chair. During his years at North Central High School Sam brought in numerous musical talents and artists to play with the North Central Bands. The students were able to enjoy the talents of Chuck Mangione, Clark Terry, Urbie Green, Roger Pemberton, Dominic Spera and many more. Sam's North Central Bands consistently earned superior ratings at ISSMA sponsored events.
He was the first Band Director at Marian University in Indianapolis and the "Blue Knights" Drum and Bugle Corps in the 70's. He also taught Summer music camps at Smith-Walbridge Camp in Syracuse, Indiana; Purdue University; and the International Peace Gardens Music Camp in North Dakota. He completed a Master of Music degree from Butler University in 1961.
Upon his retirement from North Central High School in 1992 Warner Paige, President of Paige's Music, asked him to organize and direct the New Horizons Band of Indianapolis which was begun in the Fall of 1994. The band has flourished under his direction and in 2014 the Indianapolis New Horizons Band celebrated its 20th Anniversary.
The Gamma Chapter of Phi Beta Mu recognized his work with the Outstanding Bandmasters Award in 1992 and inducted him into the Indiana Bandmasters Hall of Fame in 1999. In addition, Sam received the Robert A. Phillips Service to Music Award presented by the Indianapolis Symphonic Band in 2001. In December 2014 Sam was recognized by Governor Pence and the State of Indiana with the Sagamore of the Wabash Award for his contribution to music education and service to senior citizens throughout his career in the State of Indiana. In the Spring of 2015 the Indiana Wind Symphony honored Sam with the James B. Calvert Award as the Outstanding Music Educator Of The Year.