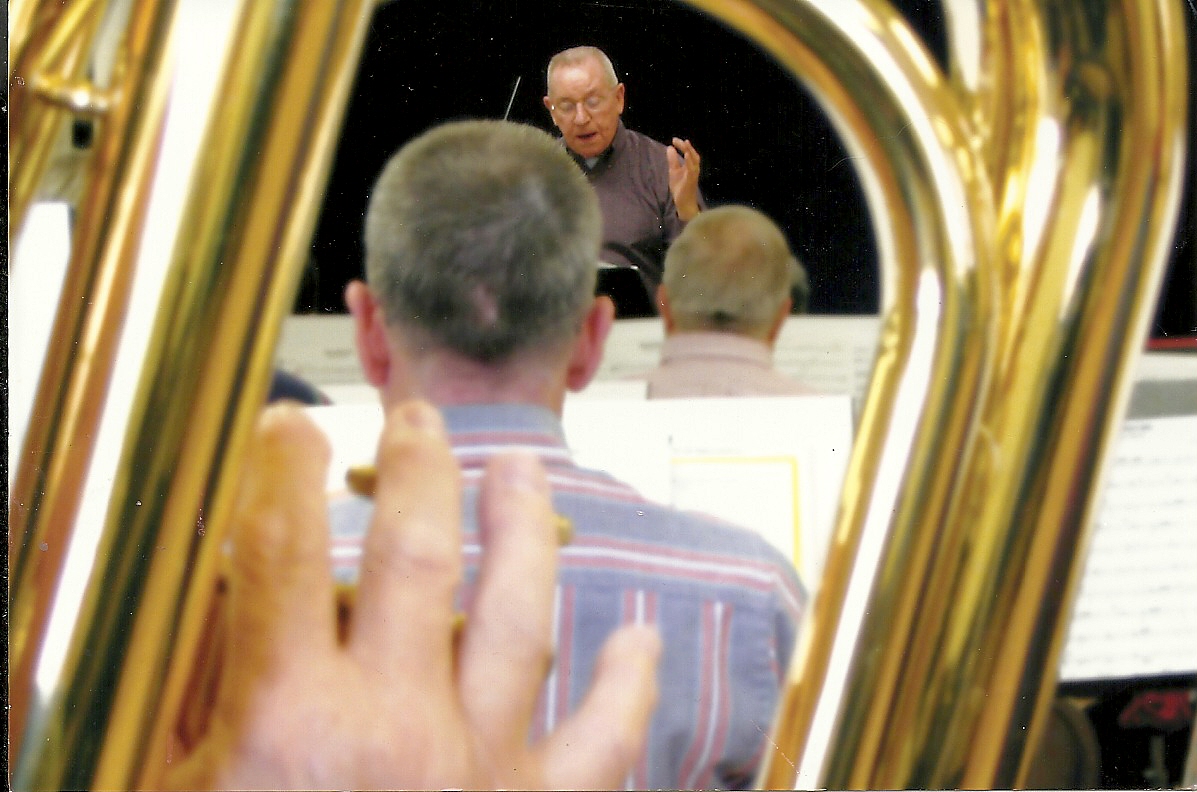 Born in St. Mary's, Pennsylvania, Sam Rhinesmith grew up in Bellefonte, Pennsylvania, where he attended St. John's Grade School and graduated from Bellefonte High School in 1947. Early musical training occurred with the Bellefonte American Legion Junior Band. He was asked to come back and direct the band for the summer of 1956 and was the music director for the Bellefonte Sesqui-Centennial Celebration that year.
After graduating from West Chester University in 1952 he entered the military and spent most of his time assigned to the Second Army Band at Fort George G. Meade, Maryland. During this time Sam experienced many unique musical opportunities while playing with the Second Army Dance Band. This band was one of four bands selected to play for the " Cavalcade of Bands" television show broadcast out of New York City under the direction of Ray Bloch, the music director of the "Ed Sullivan Show." This Dance Band played for many events in and around New York City.
Following his military service Sam came to Indianapolis and started the music program at Scecina Memorial High School. After that he taught in Anderson, Indiana; Warren Township in Indianapolis; and then served for 27 years as Director of Bands at North Central High School where he also served as Department Chair. During his years at North Central High School Sam brought in numerous musical talents and artists to play with the North Central Bands. The students were able to enjoy the talents of Chuck Mangione, Clark Terry, Urbie Green, Roger Pemberton, Dominic Spera and many more. Sam's North Central Bands consistently earned superior ratings at ISSMA sponsored events.
He was the first Band Director at Marian University in Indianapolis and the "Blue Knights" Drum and Bugle Corps in the 70's. He also taught Summer music camps at Smith-Walbridge Camp in Syracuse, Indiana; Purdue University; and the International Peace Gardens Music Camp in North Dakota. He completed a Master of Music degree from Butler University in 1961.
Upon his retirement from North Central High School in 1992 Warner Paige, President of Paige's Music, asked him to organize and direct the New Horizons Band of Indianapolis which was begun in the Fall of 1994. The band has flourished under his direction and in 2014 the Indianapolis New Horizons Band celebrated its 20th Anniversary.
The Gamma Chapter of Phi Beta Mu recognized his work with the Outstanding Bandmasters Award in 1992 and inducted him into the Indiana Bandmasters Hall of Fame in 1999. In addition, Sam received the Robert A. Phillips Service to Music Award presented by the Indianapolis Symphonic Band in 2001. In December 2014 Sam was recognized by Governor Pence and the State of Indiana with the Sagamore of the Wabash Award for his contribution to music education and service to senior citizens throughout his career in the State of Indiana. In the Spring of 2015 the Indiana Wind Symphony honored Sam with the James B. Calvert Award as the Outstanding Music Educator Of The Year.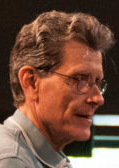 Alvy Lee Spangler, Trumpet player and Assistant Director, was born in Muncie, Indiana, and lives in Indianapolis. Mr. Spangler is married to Sally; they have one daughter, Michele Winn, and one granddaughter, Hanna. Mr. Spangler is a retired music educator having spent 40 years at Northeastern Wayne Schools, Louisville City Schools, the University of Alabama, and Speedway Schools. He earned a Bachelor of Science in Music at Ball State.  Also while at Ball State, Mr. Spangler earned  a Master of Arts in Music Education and a Master of Arts in Psychology and Counseling.
Mr. Spangler served In the U.S. Army Band as a Musician Specialist 4th Class  in Washington, D.C.;  Chicago, Illinois; and Frankfurt, Germany.  Following his tour of duty with the U.S. Army, Mr. Spangler served as Assistant Director for the Ball State Marching and Concert Bands.
Mr. Spangler is a member of Eagle Creek Grace Brethren Church.
Mr. Spangler has also played the French horn. Mr. Spangler has played in the Muncie Symphony, Starry Nights, Starlighters, and several brass ensembles. His hobbies include model trains, running, and biking.
Mr. Spangler's travels have taken him on two Caribbean Cruises, England, Ireland, Scotland, Wales, and several Civil War Battlefields.
Mr. Spangler joined the New Horizons Band in 2002. Mr. Spangler is quoted as having said:  "I like having fun with people my age, and participating in my love of music."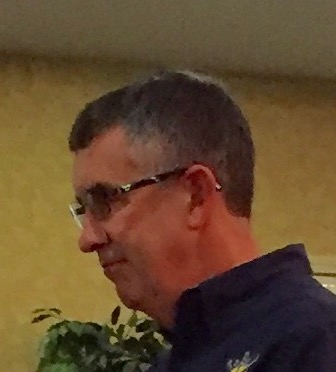 John S. Marshall, a native of Massachusetts, received his BME from Indiana University and his MME from Vandercook College of Music. Mr. Marshall is the 1993 Indiana Runner-up Teacher of the Year and the 1992 Pike Township Teacher of the Year. He has held positions at Center Grove Middle School, Center Grove High School, and Northrop High School. Recently retired, after 33 years as Chairman of the Performing Arts Department and Head Band Director at Pike High School, Mr. Marshall has also taught graduate courses in Music Theory at the University of Indianapolis.
During Mr. Marshall's tenure, the Pike Band consisted of over 380 students in five concert bands, guard, dancers and a three-time State Championship Winter Drum Line. The Band often appeared at the State Concert Band Finals and the ISSMA Regional Marching Band Competition and achieved the Indiana State School Music Association "All Music Award."  Pike's "Crimson Rage" marching band was a long time "Sweet Sixteen" finalist and placed as high as third in State Fair Band Day competition. More recently, the Crimson Rage is proud of their "Semi State Finalist" appearances in ISSMA field show competitions. The Pike Wind Ensemble and Symphony performed in Florence and Rome, Italy, in the summer of 2009 as part of the Florence International Music Festival. Also boasting two jazz bands, Pike's Jazz Band, Mr. Marshall enjoyed frequent placement as an "Honor Band" at numerous festivals, including the Purdue Jazz Festival, Northrop Jazz Festival, Northside Jazz Festival, and Ball State Jazz Festival. The Performing Arts Department enrollment was over 1,400 students with all facets of the program (band, orchestra, choir and theater) enjoying success and awards.
An accomplished trumpet player and organist, Mr. Marshall has two world premieres to his credit on organ. Vaclav Nelhybel's Toccata for Organ and Band and Alfred Reed's Christmas Celebration were both premiered at the MidWest International Band and Orchestra Clinic in Chicago. Mr. Marshall is a member of IMEA, IBA (a past president), and Phi Beta Mu, Gamma Chapter (past president). He is a Past President of the Vandercook College of Music Alumni Board of Directors and has served as a trustee for the college. Awards include special selection by Band World Magazine as one of ten "Outstanding Band Directors of the Year" and the coveted "Sudler Flag of Honor" from the John Philip Souza Foundation.
Mr. Marshall frequently serves as an adjudicator, guest conductor, and clinician. A veteran of four Junior High All-Region guest conducting appearances, he has also conducted the Carmel Clay Junior High Band Festival; the Seekonk, Massachusetts, Middle School Band Festival; the Indiana West All-District High School Honor Band; the Indiana South All-District High School Honor Band; the Indiana Northeast All-District High School Honor Band; the Indiana Wind Symphony; the Indianapolis Symphonic Band; the All District High School Honor Band in Wichita Falls, Texas; the United States Air Force Academy Band; and the United States Army Field Band.
Mr. Marshall currently serves as a singer in his wife's choir at Meridian Street United Methodist Church in Indianapolis. Married to Peggy, who is an accomplished vocalist and pianist, he has three children: Benjamin, Elizabeth, and Colin and is also quite proud of his grandchildren: Lilly, Adelyn, Timothy, and Oliver.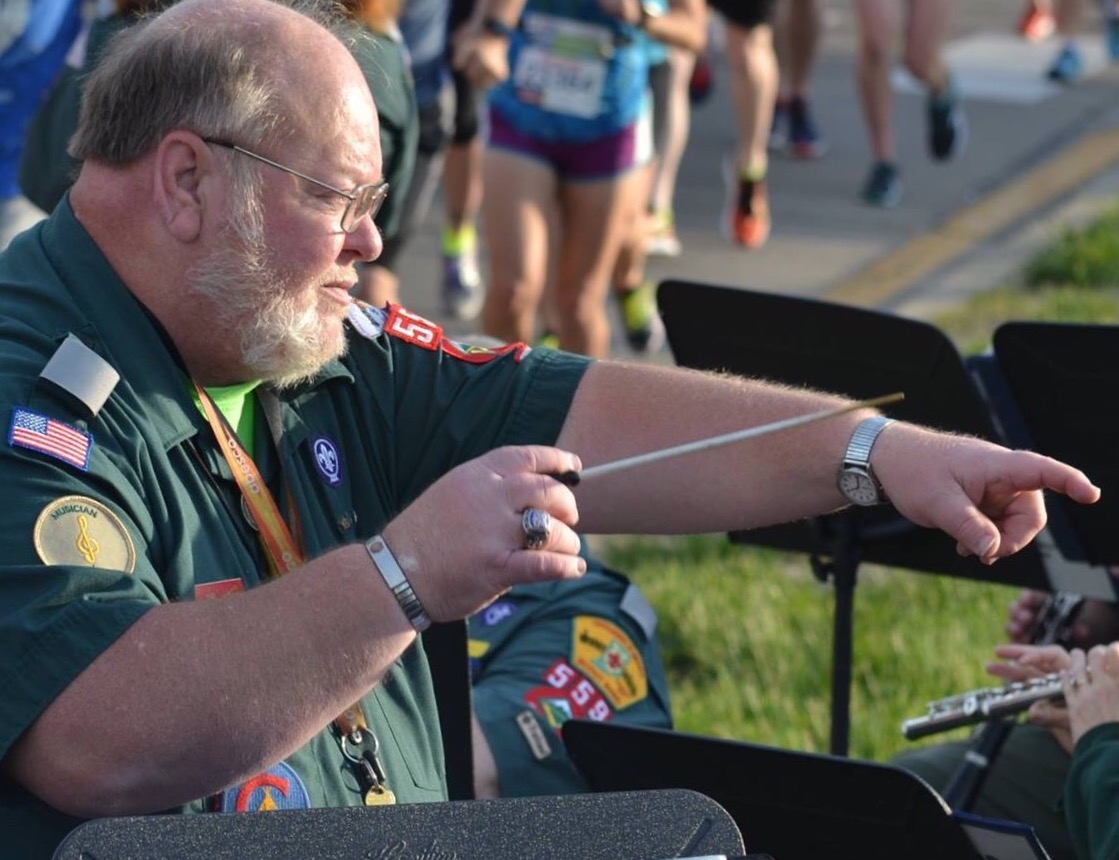 Bob Wiker is an accomplished musician with many instruments.  His mentor was Pete Fountain of the Lawrence Welk Show.  He strove to play like him.  As a youth Mr. Wiker played clarinet with the Warren Central High School Marching Band, Orchestra, and Concert Band.  Mr. Wiker studied clarinet under Achille Rossi, Clarinetist with the Indianapolis Symphonic Orchestra. Having received a music scholarship, Mr. Wiker marched with a baritone/euphonium in the Indiana State University Marching Band and played clarinet in the Concert Band. Mr. Wiker left Indiana State to serve his country in the United States Navy Band.  During his training Mr. Wiker received the equivalent of Bachelors in Music through the United States Naval School of Music. While in the Navy, Mr. Wiker played the tenor saxophone traveling with the Commander Second Fleet Unit Band to South America, Europe, and portions of the United States.  Mr. Wiker is an honored Boy Scout and Venturing Scout leader having served the youth in Indianapolis for 40 years.  He is the recipient of the Distinguished Commissioner Service Award, District Award of Merit, Scoutmaster Training Award, Scoutmaster Key Award, Firecrafter Award, Order of the Arrow, and the Silver Beaver Award, the highest award that can be bestowed upon a volunteer by a Boy Scout Council area. Mr. Wiker served as Assistant Conductor for 15 years and Conductor from 2012 to 2016 of the Crossroads of America Scout Band, formerly known as the Boy Scout Band.  Mr. Wiker owned and operated Wiker's Tax Service for 32 years.   Mr. Wiker has been playing clarinet with the Indianapolis Symphonic Band since 1999 and served as a mentor with the Philip's Guild, a mentoring program with the Indianapolis Public School System.  After retiring from Greatbatch Medical as a small parts distributor, Mr. Wiker joined the New Horizons Band in 2014 and has periodically played with the New Horizons Swing Band.