First came voice lessons, then came friendship, then came . . .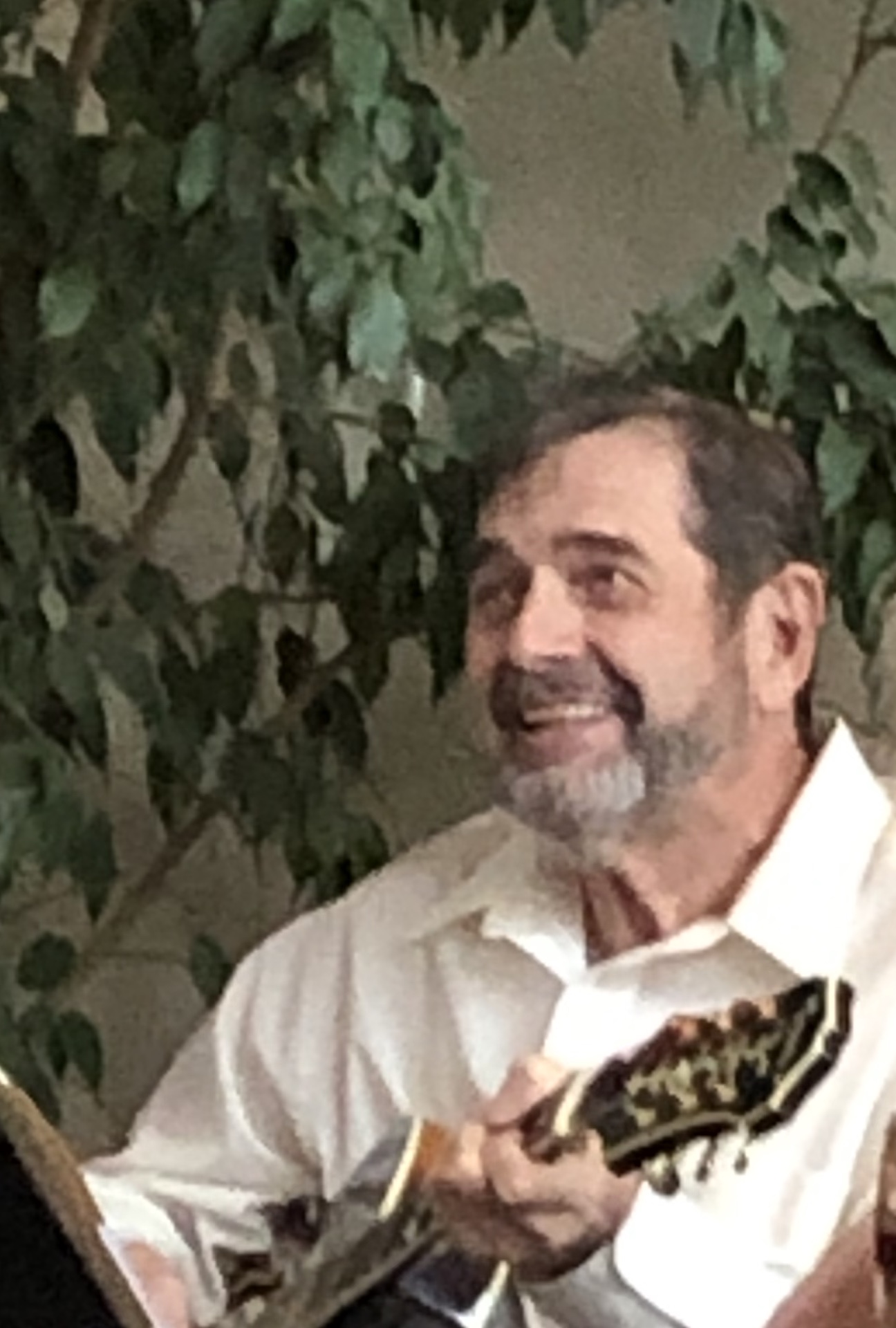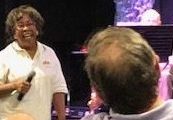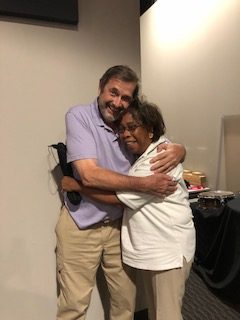 A widow and a widower brought together through their love for music, Debbie went to Ron for voice lessons to improve her performance with the Swing Band solos. A friendship developed.  Marriage followed for these two very special people.  We wish them happiness for their future together.
Entrance march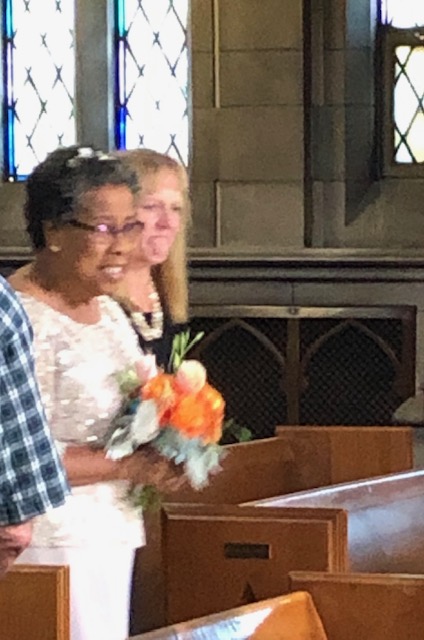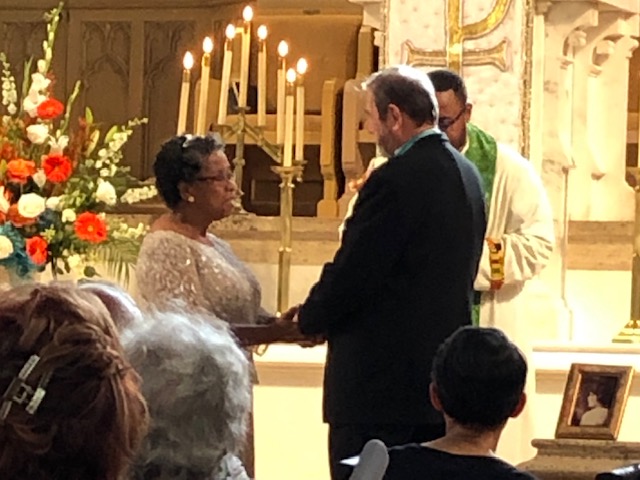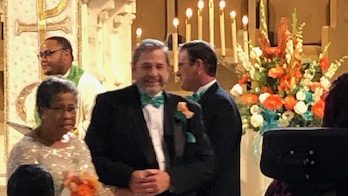 Exit march
;;;;;;;;;;;;;;;;;;;;;;;;;;;;;;;;;;;;;;;;;;;;;;;;;;;;;;;;;;;;;;;;;;;;;;;;;;;;;;;;;;;;;;;;;;;;;;;;;;;;;;;;;;;;;;;;;;;;;;;;;;;;;;;;;;;;;;;;;;;;;;;;;;;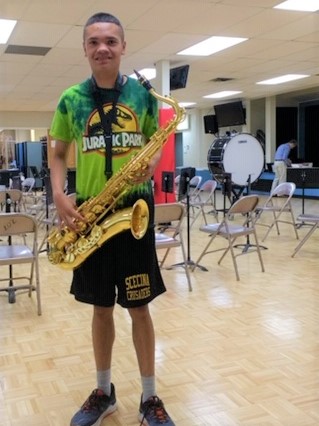 Occasionally we are honored by a young high school student joining us during summer break.  This is Andrew, a 15 year old sophomore from Scecina High School.  He and his grandmother (a Scecina alum) attended our last concert at Scecina where he noticed he was the only "young" person there!  Now he has joined all those old folks and is having a blast!  He was very impressed, shocked, amazed that our retired assistant principal could sing!  She reminded him of Aretha Franklin, I think he said.  He has played the alto saxophone for five years and has come to us for tenor sax instruction.  Upon graduation from high school he has been promised a bari sax!  He could hardly contain himself during a song featuring our bari sax!  We're going to do our part to see that his father owns up to his promise!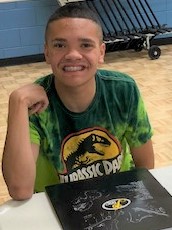 """"""""""""""""""""""""""""""""""""""""""""""""""""""""""""""""""""""""""""""""""""""""""`

For One Of Our Own:
Indianapolis – 89, passed away April 11, 2019. She was born October 31, 1929 in Richmond, IN, to the late Morris and Laura Druley. A native of Centerville and a graduate of Centerville High School, Helen received her Nursing Degree in 1950 from St. Vincent Hospital School of Nursing. She married Eldon D. Nelson, August 7, 1955, and he preceded her in death December 14, 1988. Helen was a registered nurse for the Marion County Health Department for 10 years, retiring in 1984. Helen attended Faith United Methodist Church. She was a lifelong flutist and former member of the New Horizons Band and Greenwood Community Band.
Publishing error:  She was a former member of the Greenwood Community Band and a current member of the New Horizons Band.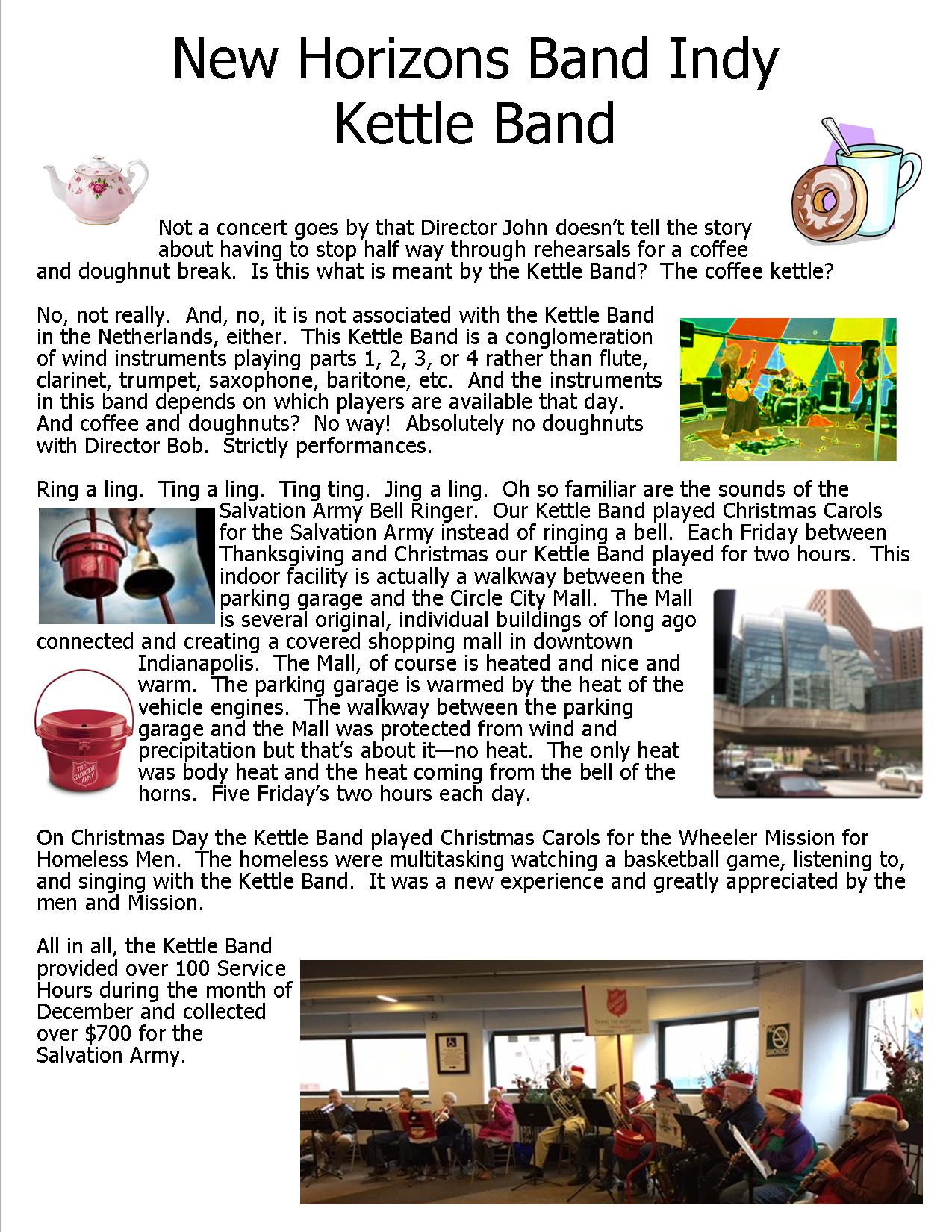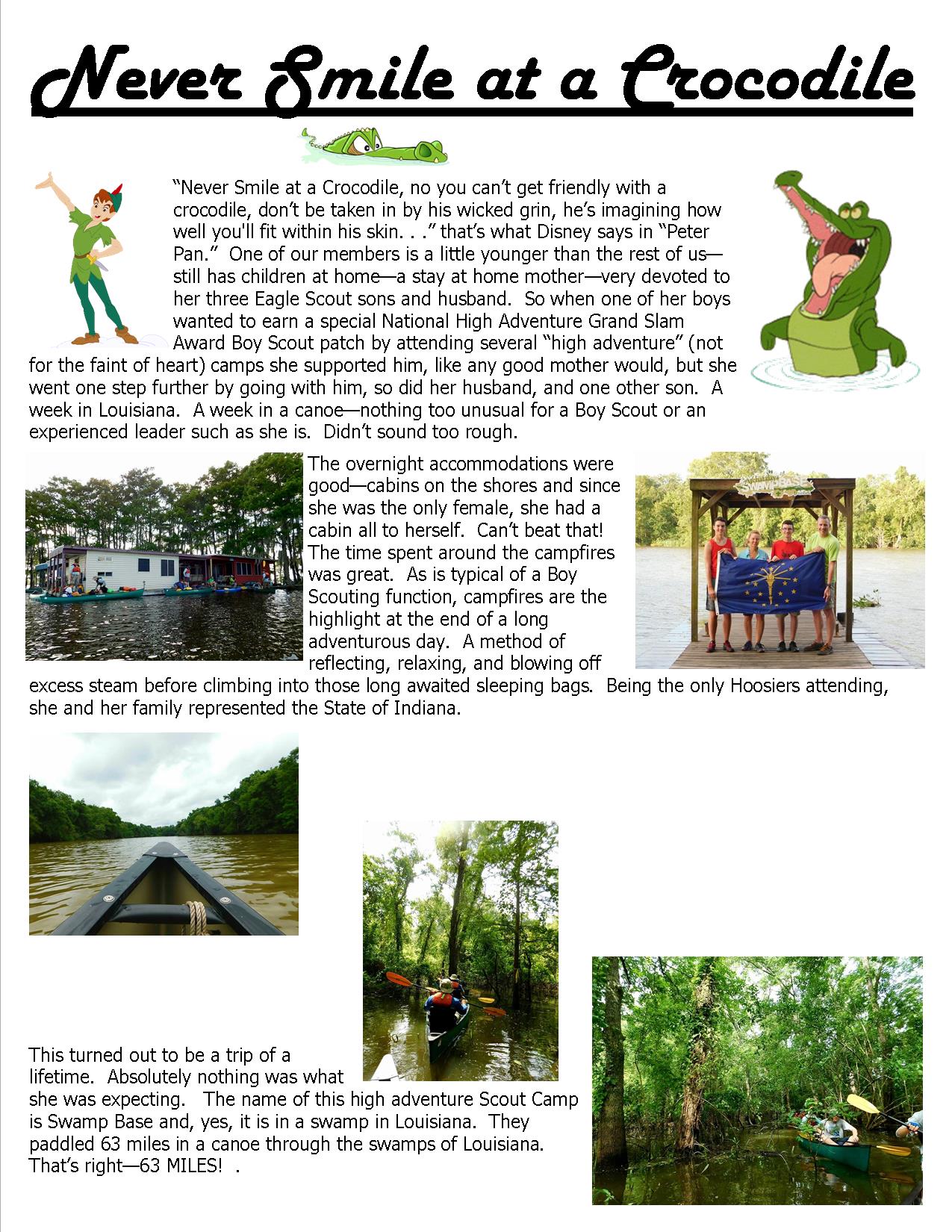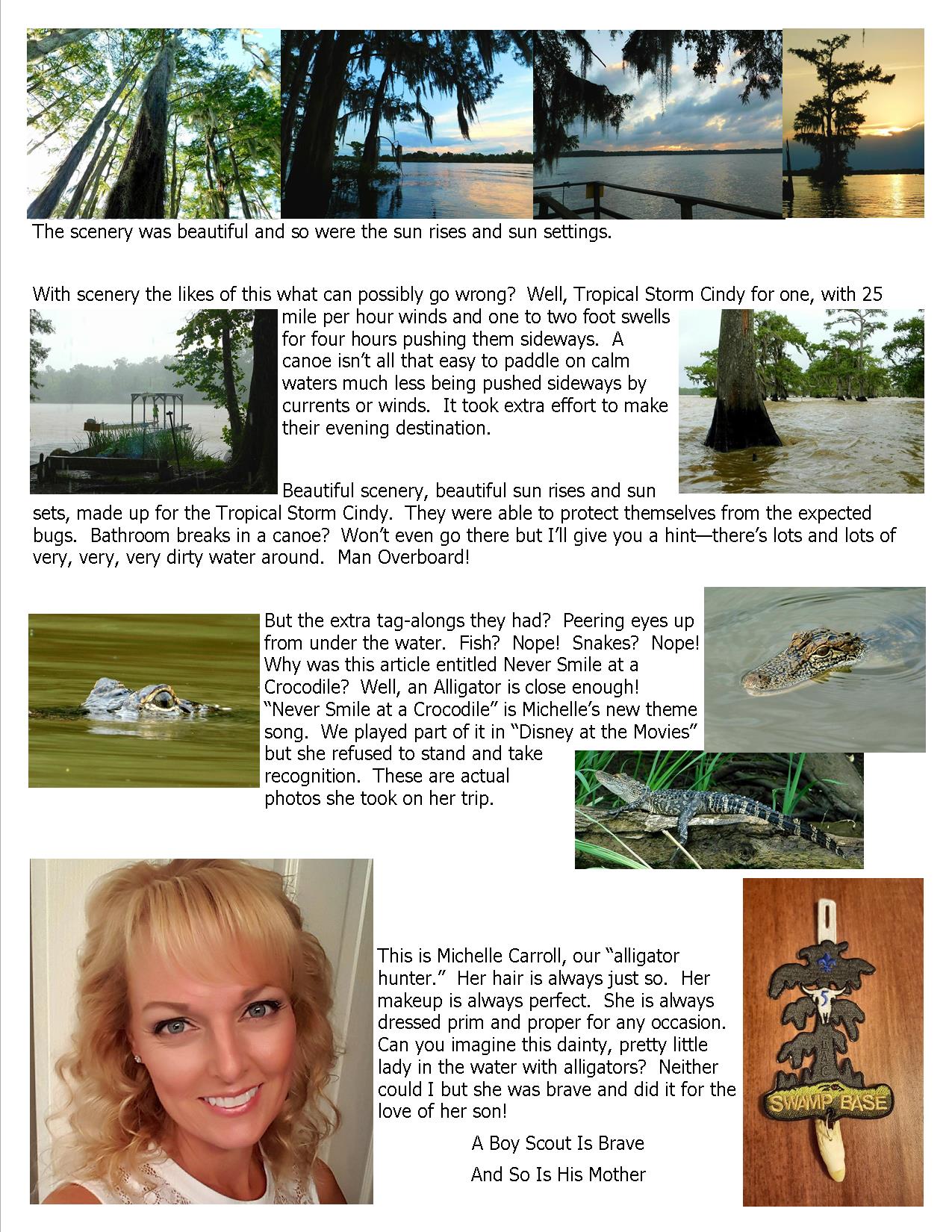 Never Smile at a Crocodile
Our Members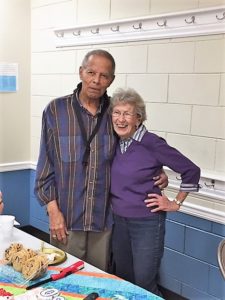 These two members represent what New Horizons Band is all about.  Both are 90 years young and keep the rest  of us hopping.
Clarence White recently celebrated his 90th birthday during one of our rehearsals.  As a child he did not have an opportunity to play an instrument so as a parent he made sure his children were able to play as he watched with envy.  Clarence has conquered the tenor saxophone through the New Horizons Band.
Clarence has quite a history of his own.  He is a retired Indianapolis Police Department Officer (now known as the Indianapolis Metropolitan Police Department).  He was the first black, uniformed officer within IPD/IMPD.  He still carries that special public servant sense of humor.
Mary Zinkin, on the other hand, is a retired music teacher from the Metropolitan School District of Washington Township, Indianapolis, Indiana, a graduate of Butler University, Indianapolis.  Her husband was a composer.  Together they gave many, many performances playing as well as singing.  Her life wasn't always so easy.  As she was entering college, her family moved and she found herself homeless.
We cannot keep up with Mary.  She swims, plays tennis, rides her bicycle, line dances, and demonstrates proper rhythm by dancing for us.
In a nutshell, this is what it's all about:  learning, teaching, laughing, enjoying, playing . . .