Happy 95 Mary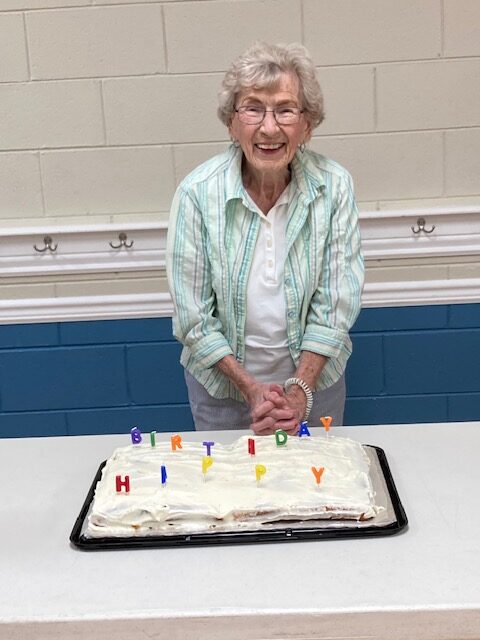 Last night she sat down and played Happy Birthday.  Today she directed Happy Birthday as we sang it to her!  Once a music director always a music director!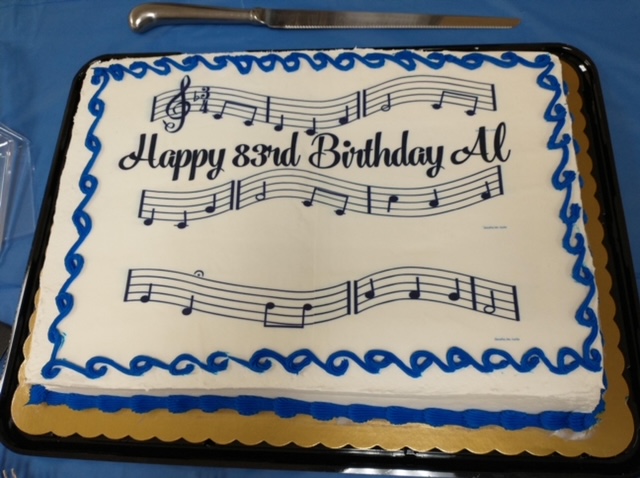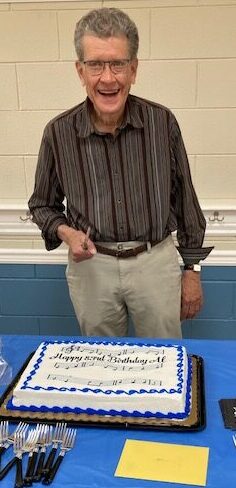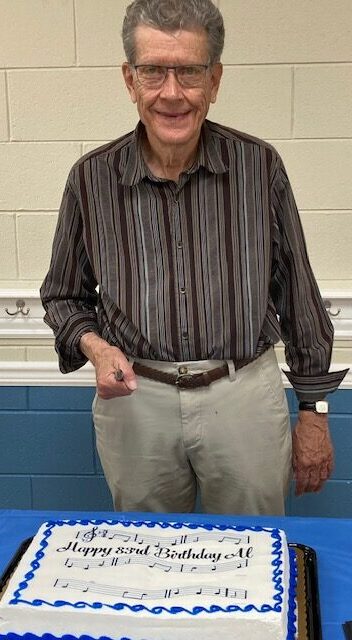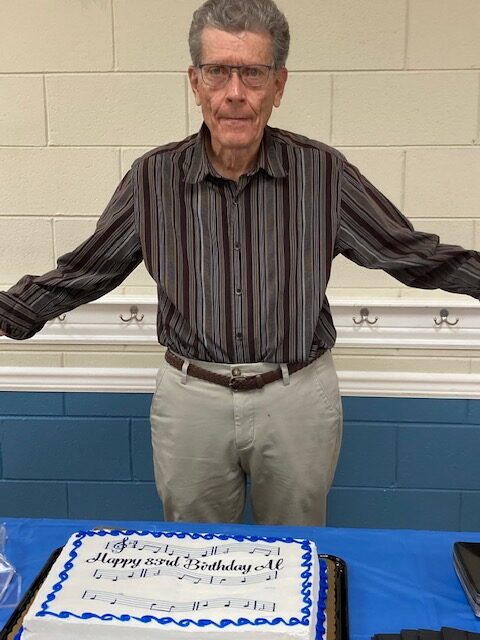 What's more scary than a conductor with  a little stick?  A conductor with a big knife!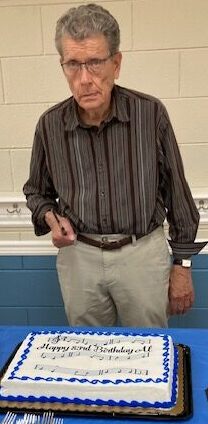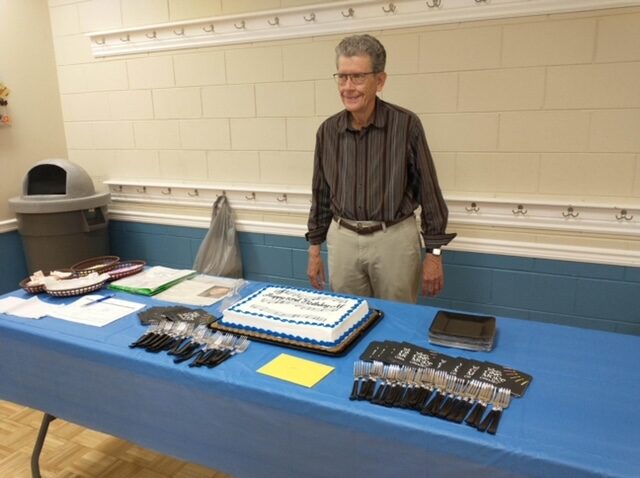 Doesn't he look oh so innocent!
Carmine Griffis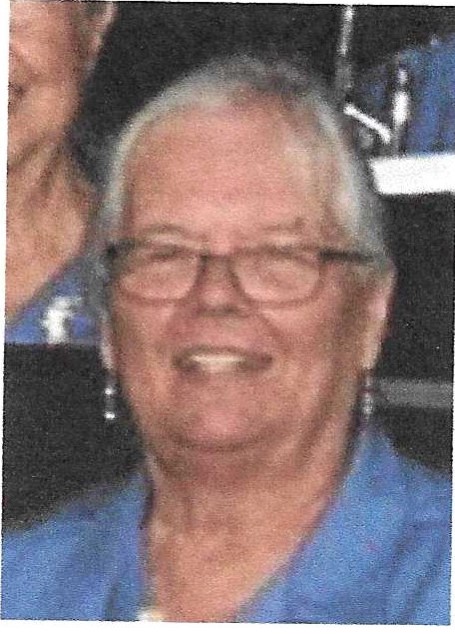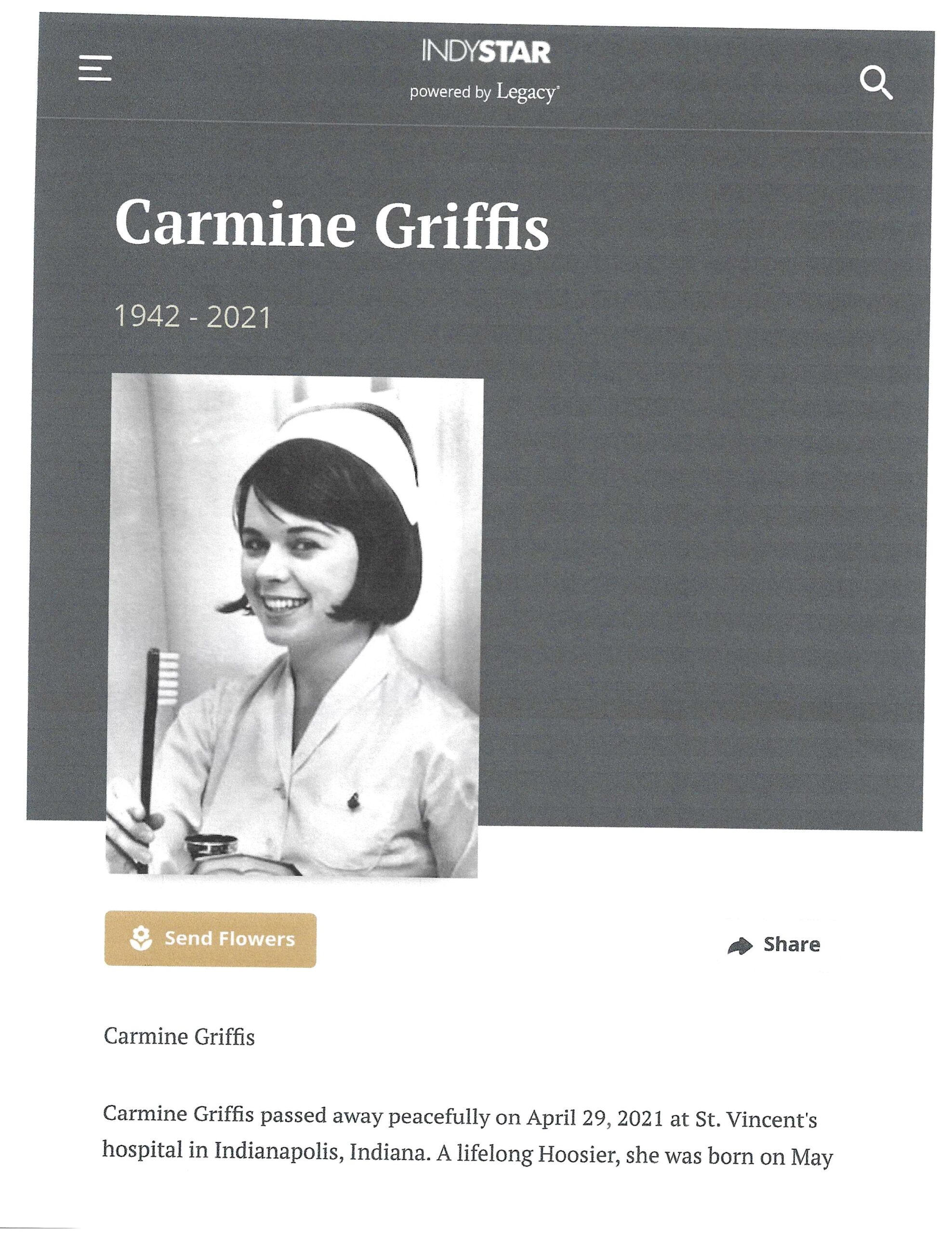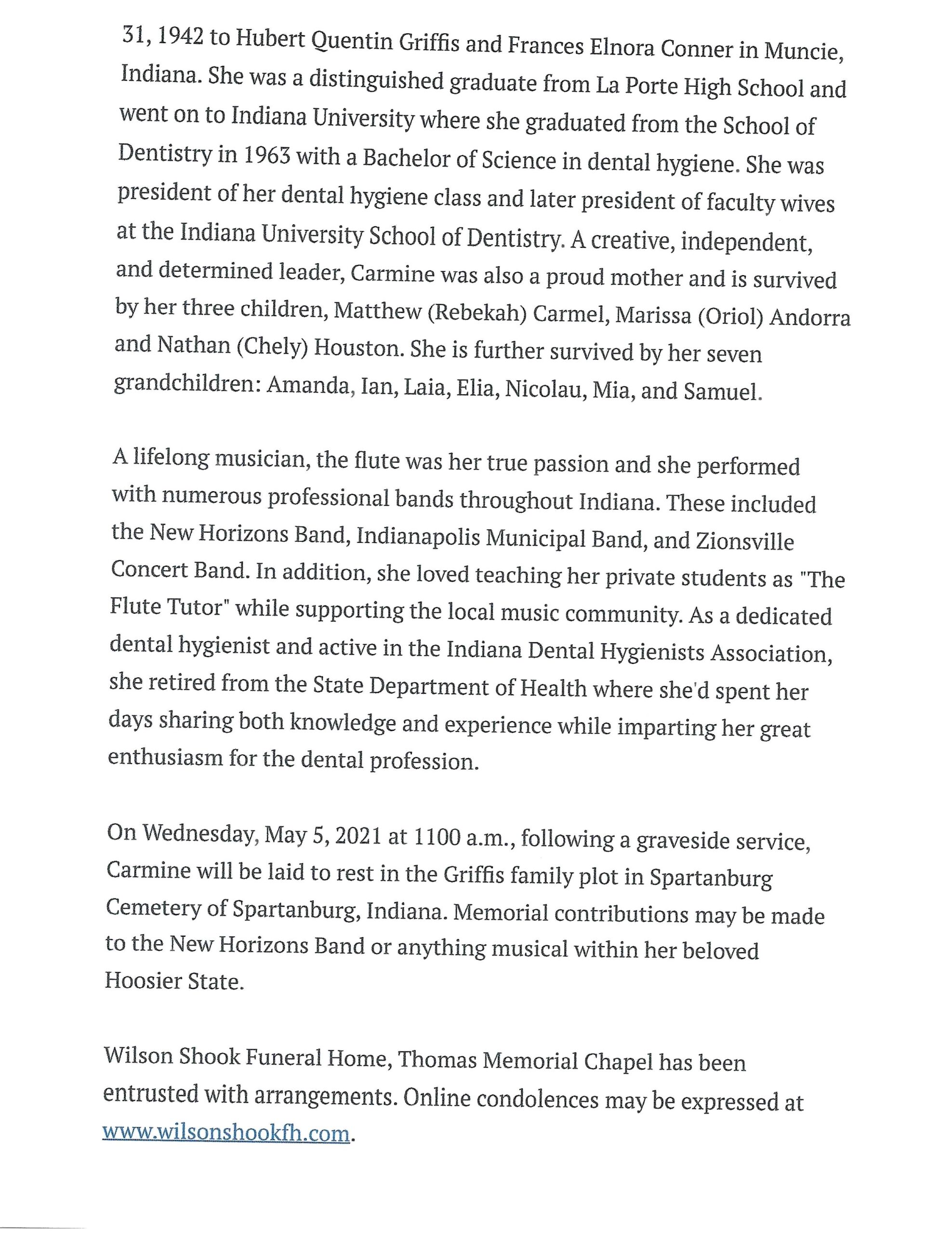 Clarence White, the last of the original 13 members of NHB Indy, stopped by today to bid us farewell.  What a sad day.  He and his humor will be missed.
Our 25th Anniversary Celebration
He only planned to do this for a couple of years.  But like they say, tempus fugit, time flies, life is like a roll of toilet paper – the further you go the faster it spins!
Sam Rhinesmith finally reached that yearned-for age of retirement.  Of all the retired music teachers in Indianapolis, Warner Paige, owner of Paiges Music which supplies musical services for most of the Indianapolis area schools, asked Sam to start a group of retired adults and form a band of former, beginner, and advanced musicians.  What a conglomeration of talents!  Sam figured he'd do this for couple/three years at the most.
People have come and gone but some of the original founding members are still there.  He started with 13 members – we now have 68 members!  People are highly impressed not only that there are 68 of us but especially that we sound GOOD!  We don't sound like a "bunch of old fogies."  "That's you?" is the most common comment resulting from listening to recordings of our concerts.
Sam only recently "kinda sorta" put down his baton.  Well, he tries, anyway, but we won't let him.  He brought in John Marshall, retired from Pike High School, as the major conductor recently, who has taken over where Sam tried to leave off.  Al Spangler, formerly of Speedway High School, and Bob Wiker, formerly of the US Navy Band and Boy Scout Band, also direct so there's always some silly guy standing up front waving his arms around trying to keep us straight.  I'd say "good luck with that" but they usually win the battle!
People come and people go but once people join this crazy group they seldom leave.  Two of our members started playing in heaven this year.  We miss them.  Five of our members are in their 90's and our average age is 80!  Snow birds come back each spring.  During the summer school breaks we have even had a couple high school students join us.  And they seem to fit right in.  Guess they love having all these silly grandparents around them!  Even some of Sam's former students have joined us!  He had three Mary Ann's so he nicknamed each one.  "Oliver" joined us a couple years ago.
One of our charter members is Clarence White, Sr., and is a whole story within himself.  Typical of the purpose of New Horizons, he watched his sons play musical instruments although he never had the opportunity himself.  He was a history-maker within what is now named Indianapolis Metropolitan Police Department (formerly known as Indianapolis Police Department).  He was the first uniformed, black officer in the Department.  He decided to learn the tenor-saxophone through New Horizons.  One of his sons joined us for a while on his days off – he, too, is a police officer, although not IMPD.  Each Tuesday and Thursday, Clarence and Al turn an empty room at the church where we practice into a very full band room – and I do mean full!  Chairs lined up with vents in the ceiling and poles in the room!  Very picky they are.  Everything in its place!  But Clarence will NEVER grow up.  While setting up, he just had to stick his finger in the icing for a taste!  He said it was very good icing!
At each concert John has to tell the story that we have coffee and doughnut breaks during rehearsals!  Something unheard of, I guess!  And if we have a special birthday or some other special event our table is decorated for that event.  We had an anniversary cake, special plates and utensils, napkins, flowers – the works!  It was beautiful.  There wasn't much cake left!
As with most organizations, there's usually a group that works behind the scenes.  Pictured from right to left are Marianne Rhinesmith, another Mary Ann, and Oliver Mary Anne's Bob.  Thanks for all you do for us.
Just a couple years – 25 years later!  What a fun day it was!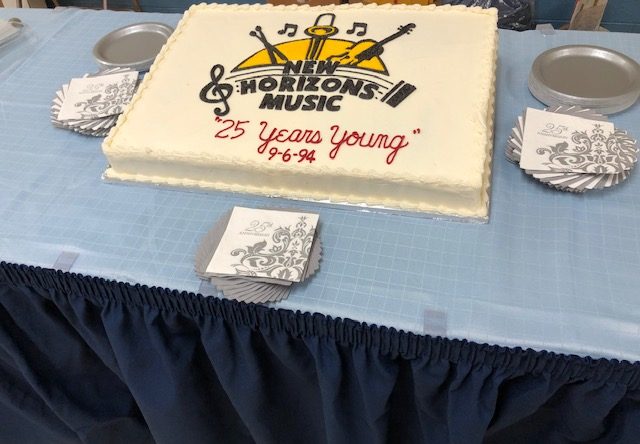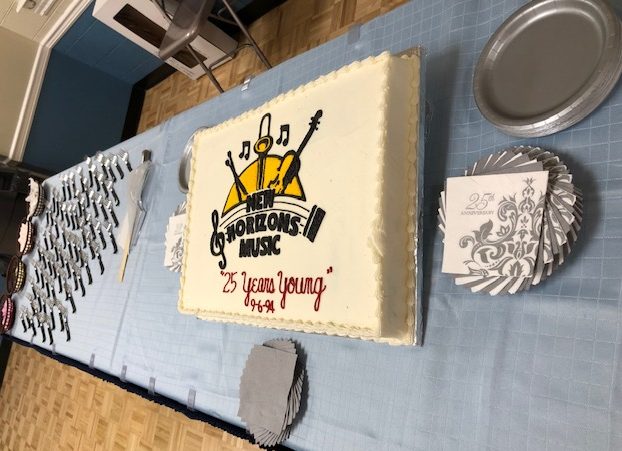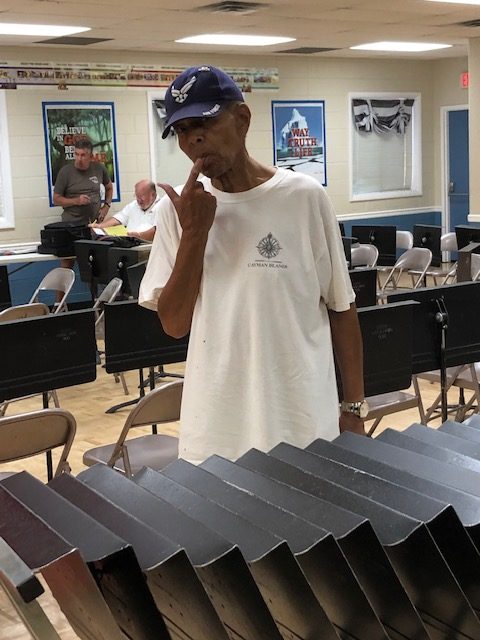 Some people just couldn't keep their fingers out of the icing!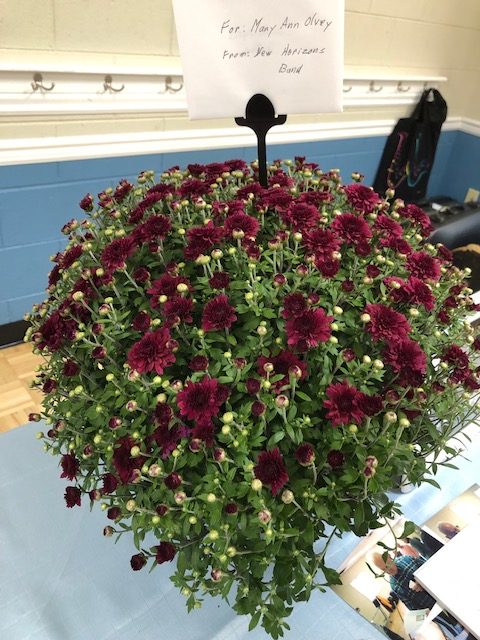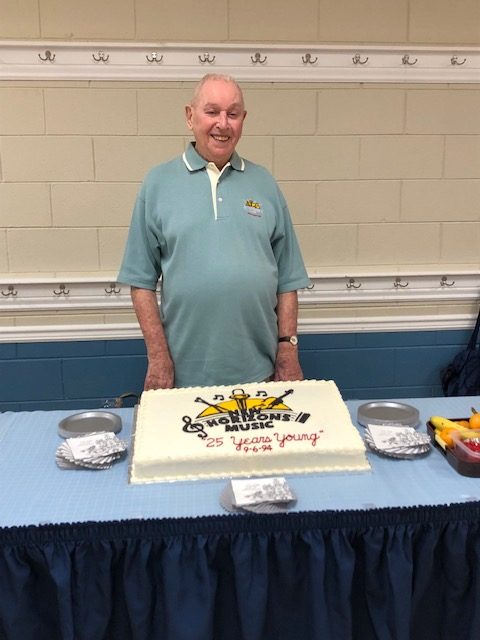 Our Founder, Sam Rhinesmith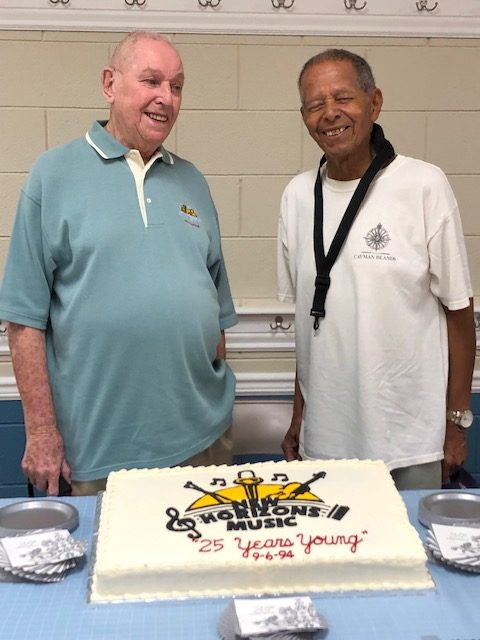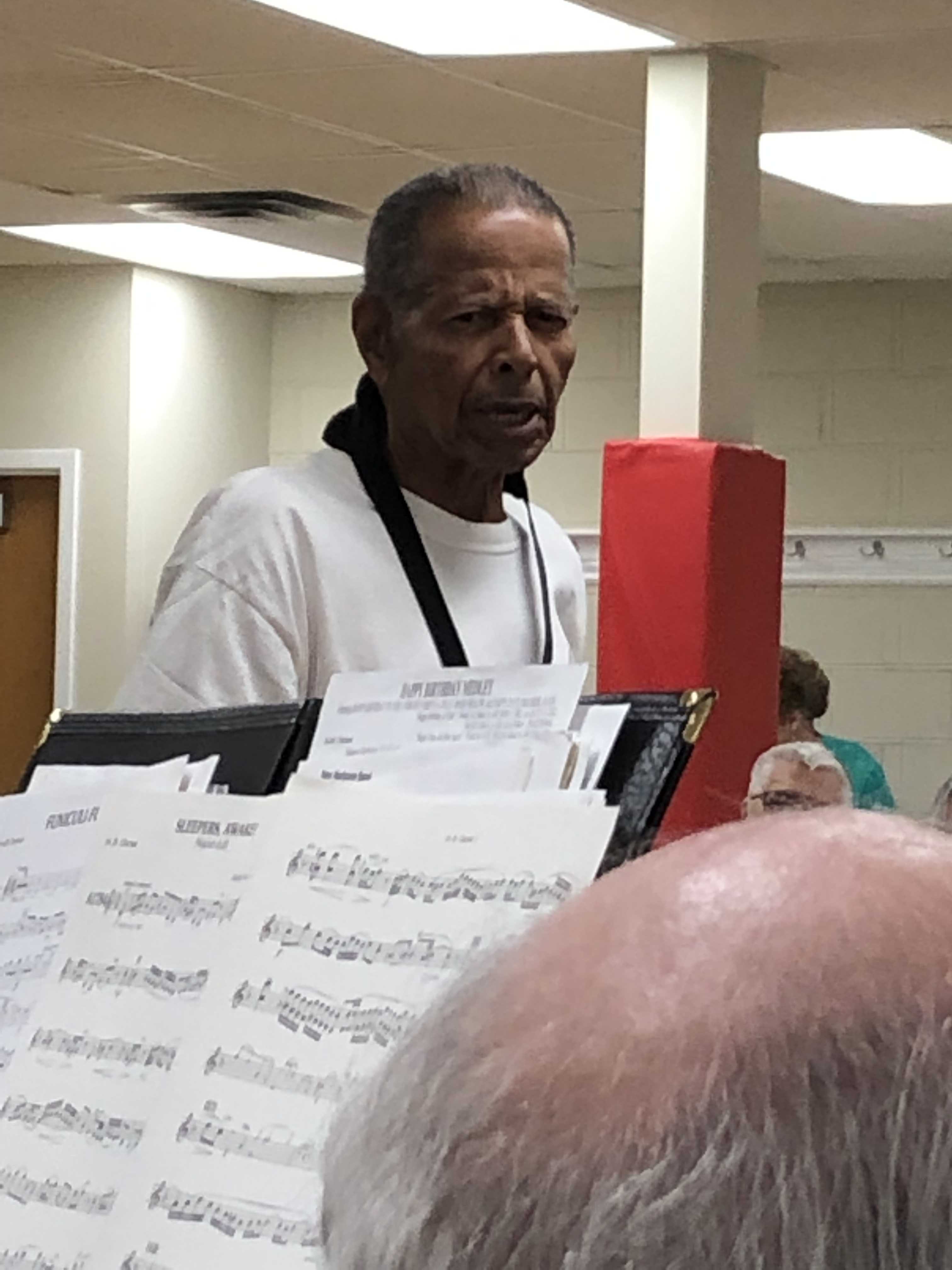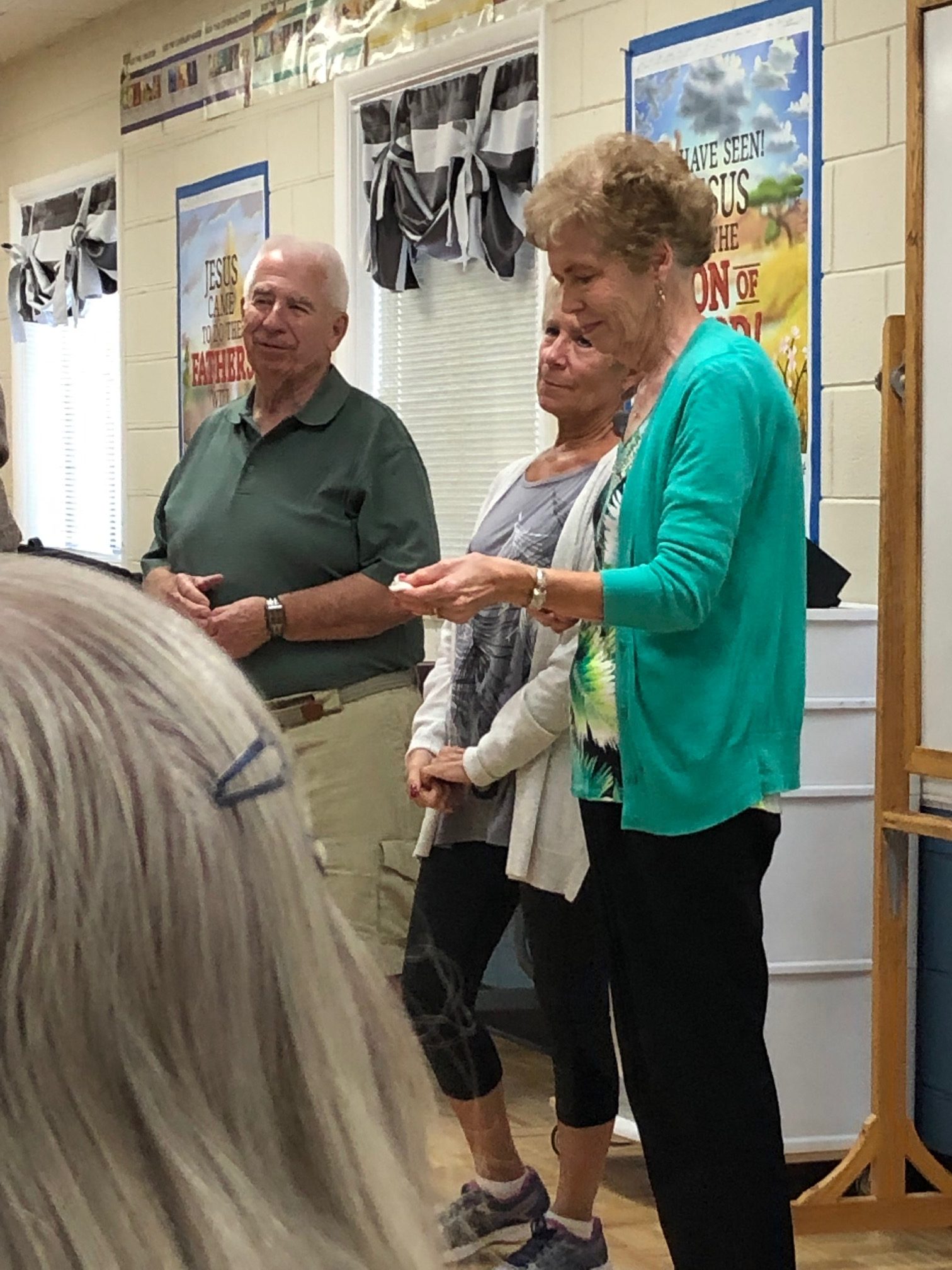 Behind the scenes crew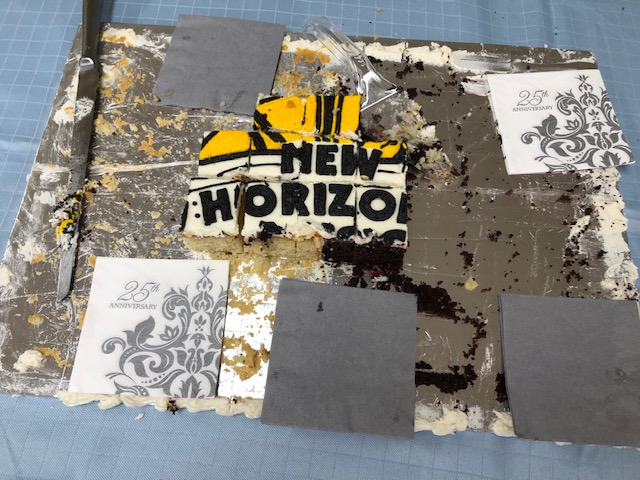 Not much left!
First came voice lessons, then came friendship, then came . . .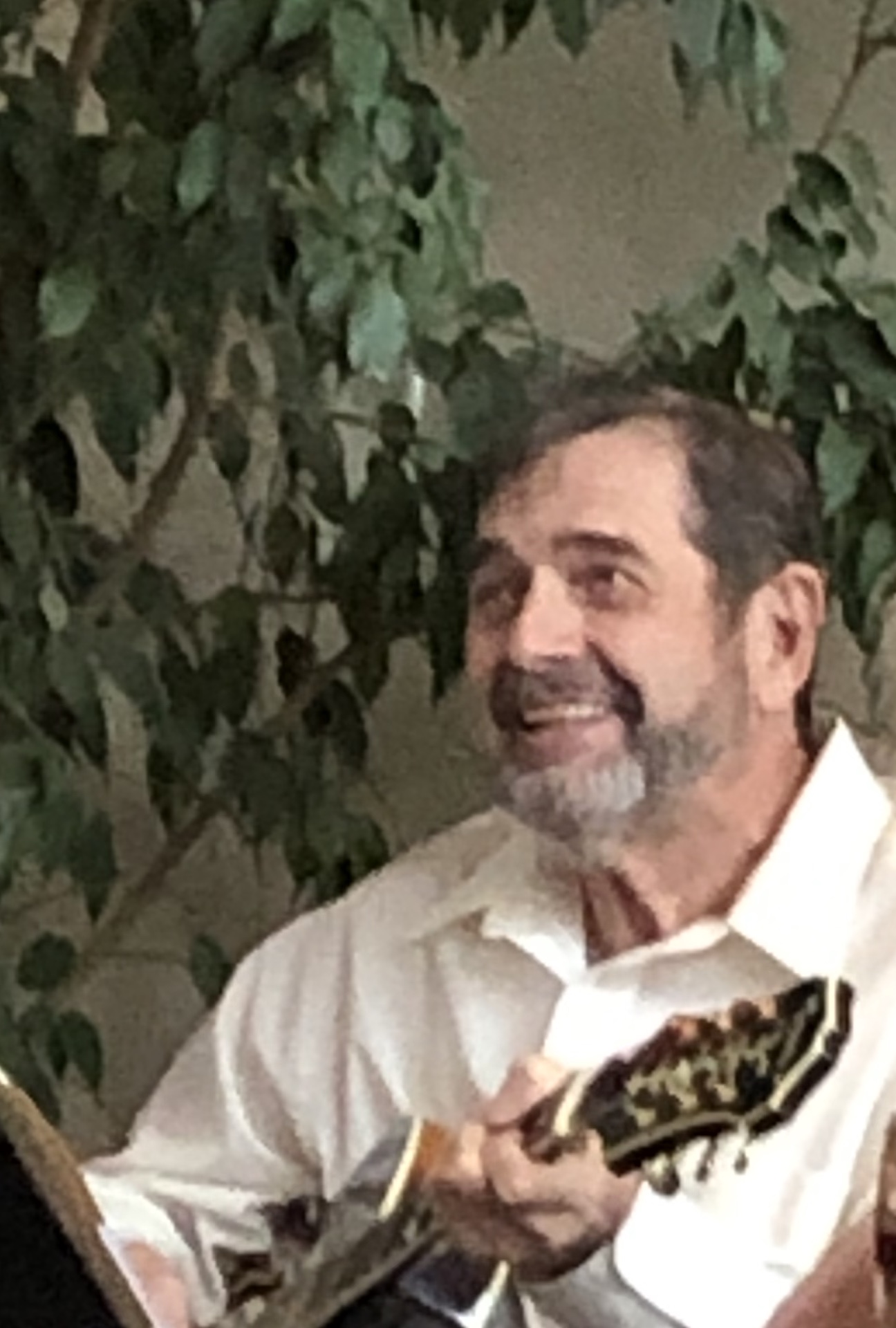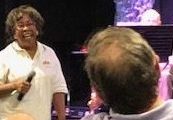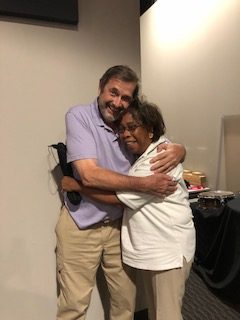 A widow and a widower brought together through their love for music, Debbie went to Ron for voice lessons to improve her performance with the Swing Band solos. A friendship developed.  Marriage followed for these two very special people.  We wish them happiness for their future together.
Entrance march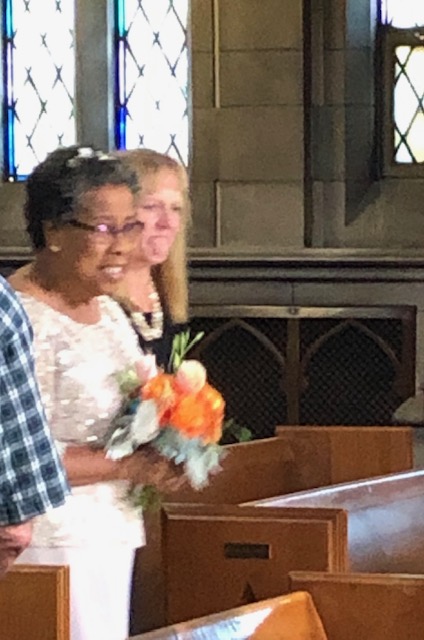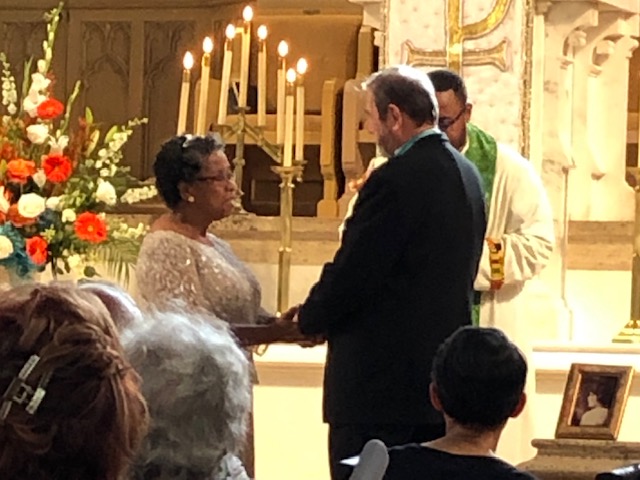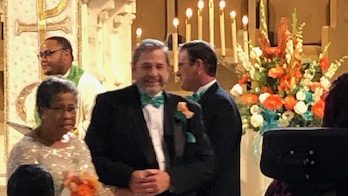 Exit march
;;;;;;;;;;;;;;;;;;;;;;;;;;;;;;;;;;;;;;;;;;;;;;;;;;;;;;;;;;;;;;;;;;;;;;;;;;;;;;;;;;;;;;;;;;;;;;;;;;;;;;;;;;;;;;;;;;;;;;;;;;;;;;;;;;;;;;;;;;;;;;;;;;;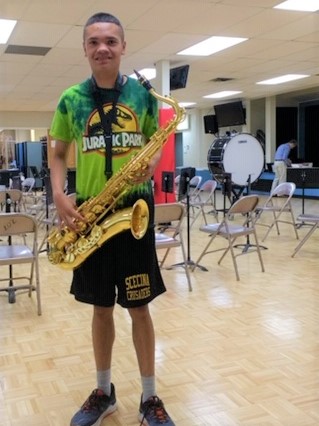 Occasionally we are honored by a young high school student joining us during summer break.  This is Andrew, a 15 year old sophomore from Scecina High School.  He and his grandmother (a Scecina alum) attended our last concert at Scecina where he noticed he was the only "young" person there!  Now he has joined all those old folks and is having a blast!  He was very impressed, shocked, amazed that our retired assistant principal could sing!  She reminded him of Aretha Franklin, I think he said.  He has played the alto saxophone for five years and has come to us for tenor sax instruction.  Upon graduation from high school he has been promised a bari sax!  He could hardly contain himself during a song featuring our bari sax!  We're going to do our part to see that his father owns up to his promise!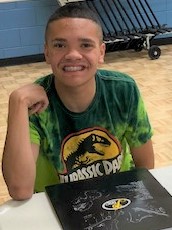 """"""""""""""""""""""""""""""""""""""""""""""""""""""""""""""""""""""""""""""""""""""""""`

For One Of Our Own:
Indianapolis – 89, passed away April 11, 2019. She was born October 31, 1929 in Richmond, IN, to the late Morris and Laura Druley. A native of Centerville and a graduate of Centerville High School, Helen received her Nursing Degree in 1950 from St. Vincent Hospital School of Nursing. She married Eldon D. Nelson, August 7, 1955, and he preceded her in death December 14, 1988. Helen was a registered nurse for the Marion County Health Department for 10 years, retiring in 1984. Helen attended Faith United Methodist Church. She was a lifelong flutist and former member of the New Horizons Band and Greenwood Community Band.
Publishing error:  She was a former member of the Greenwood Community Band and a current member of the New Horizons Band.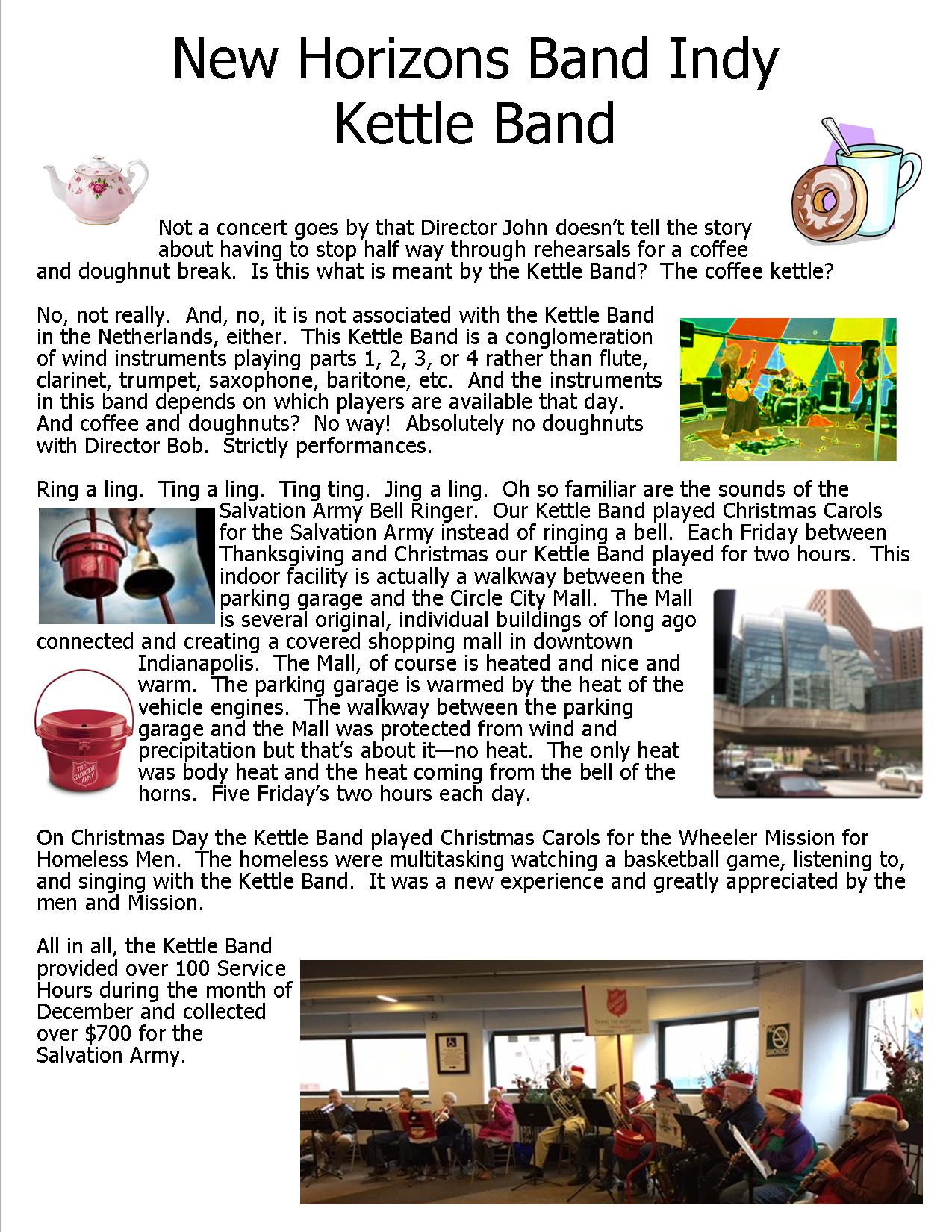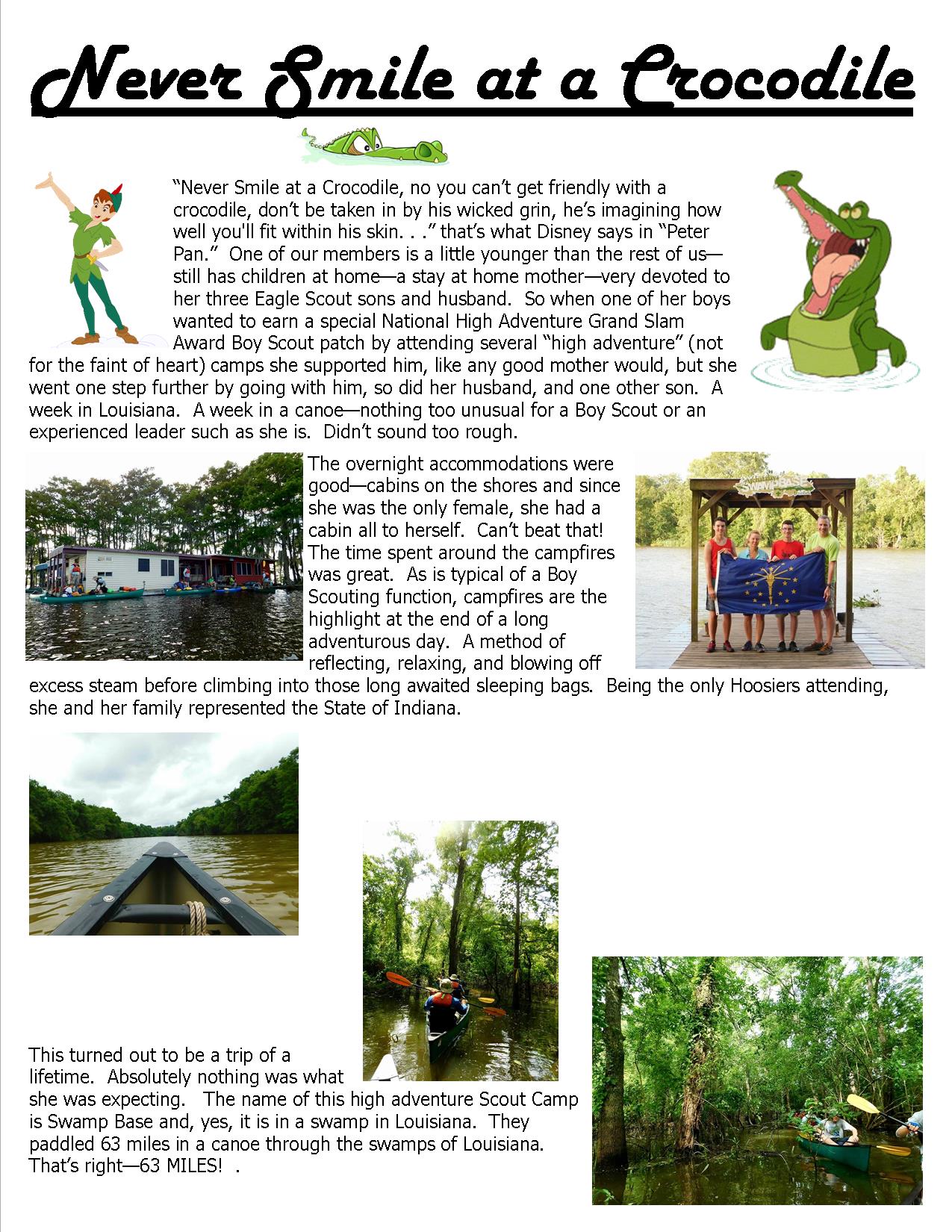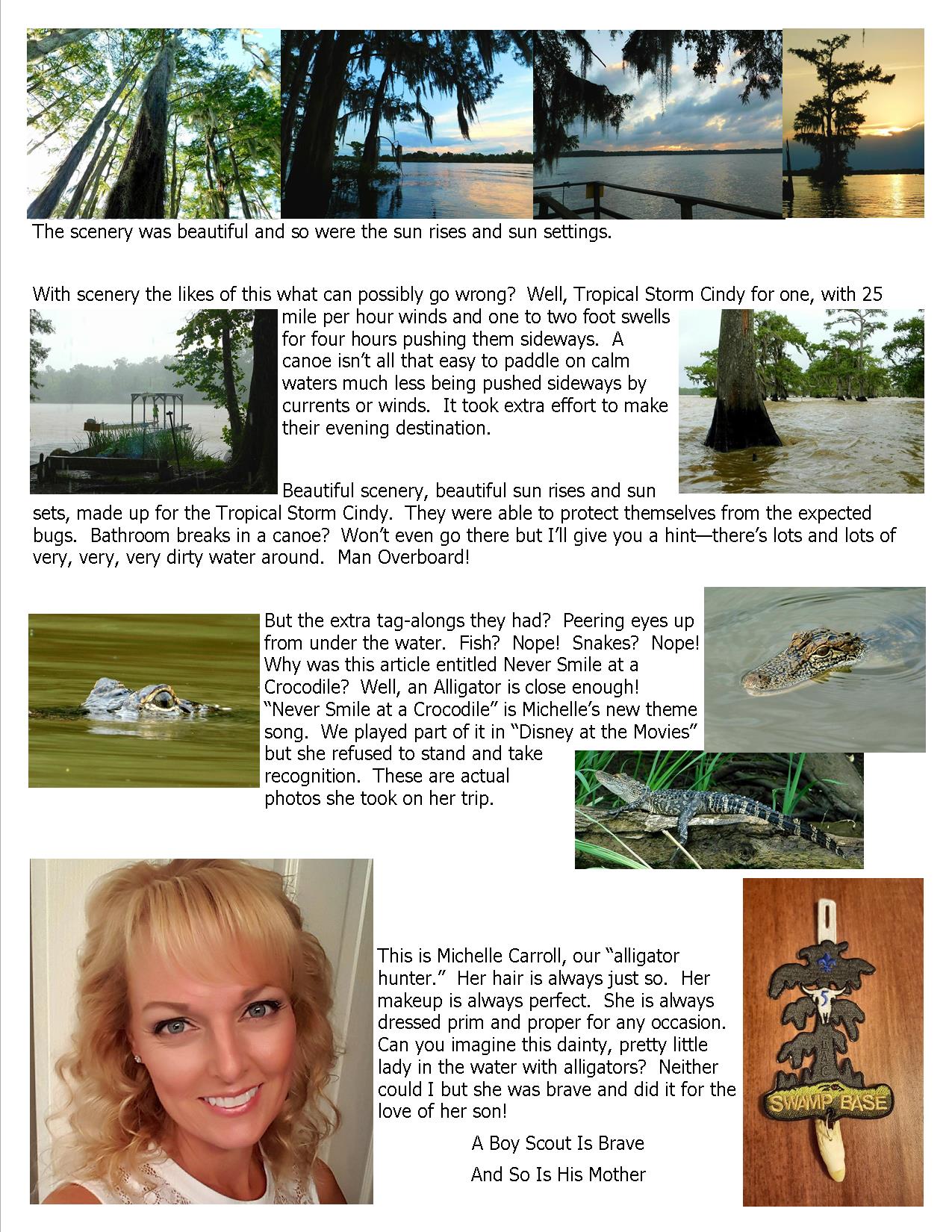 Never Smile at a Crocodile
Our Members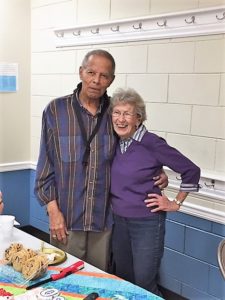 These two members represent what New Horizons Band is all about.  Both are 90 years young and keep the rest  of us hopping.
Clarence White recently celebrated his 90th birthday during one of our rehearsals.  As a child he did not have an opportunity to play an instrument so as a parent he made sure his children were able to play as he watched with envy.  Clarence has conquered the tenor saxophone through the New Horizons Band.
Clarence has quite a history of his own.  He is a retired Indianapolis Police Department Officer (now known as the Indianapolis Metropolitan Police Department).  He was the first black, uniformed officer within IPD/IMPD.  He still carries that special public servant sense of humor.
Mary Zinkin, on the other hand, is a retired music teacher from the Metropolitan School District of Washington Township, Indianapolis, Indiana, a graduate of Butler University, Indianapolis.  Her husband was a composer.  Together they gave many, many performances playing as well as singing.  Her life wasn't always so easy.  As she was entering college, her family moved and she found herself homeless.
We cannot keep up with Mary.  She swims, plays tennis, rides her bicycle, line dances, and demonstrates proper rhythm by dancing for us.
In a nutshell, this is what it's all about:  learning, teaching, laughing, enjoying, playing . . .