Halloween 2019

The Grim Reaper strikes again!

What a crew.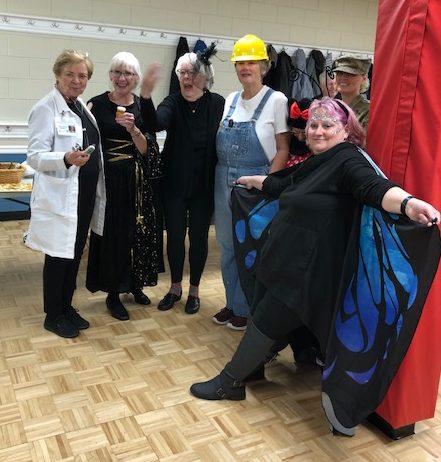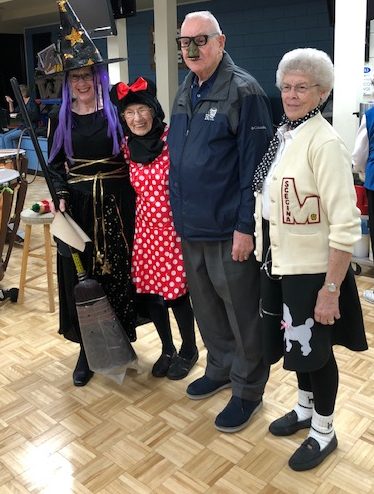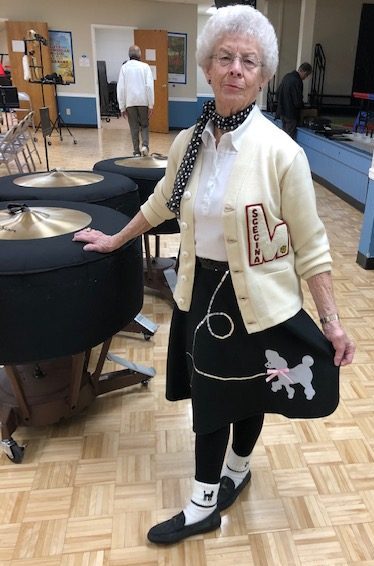 Poodle Lady and original Scecina lettersweater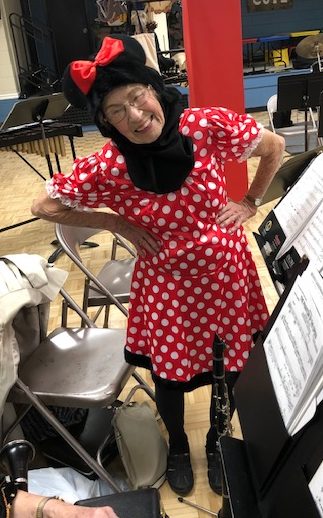 Minnie Mouse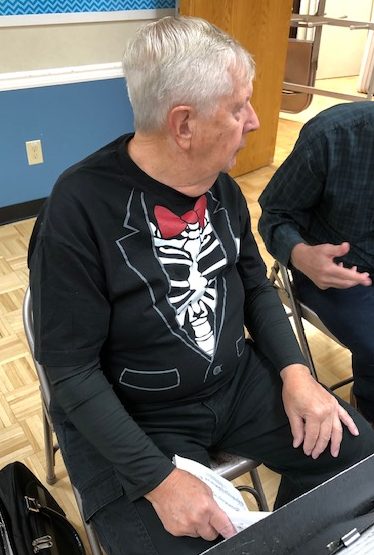 Dem Bones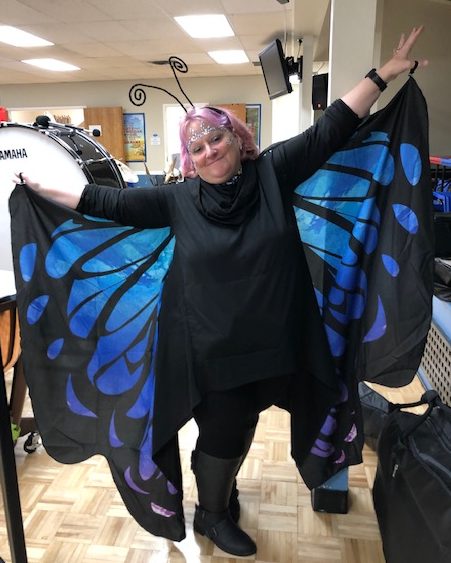 Fly Butterfly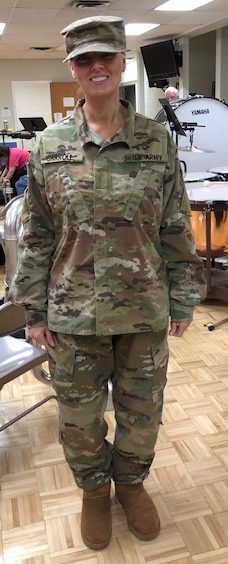 Get that smile off your face, soldier!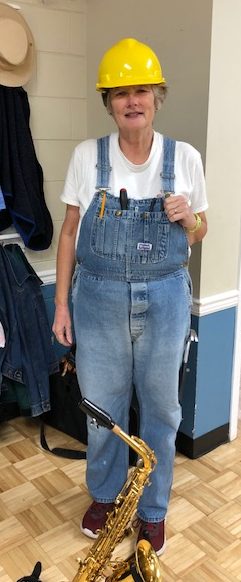 Carpenter Cindy
   
 Dr. Mary Lou
                                        
                         Indescribable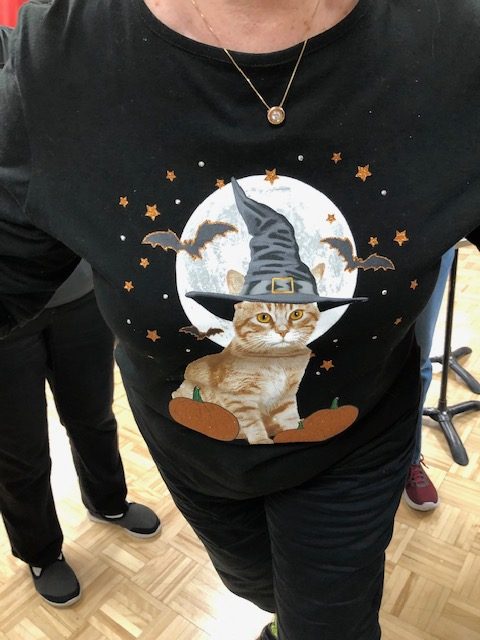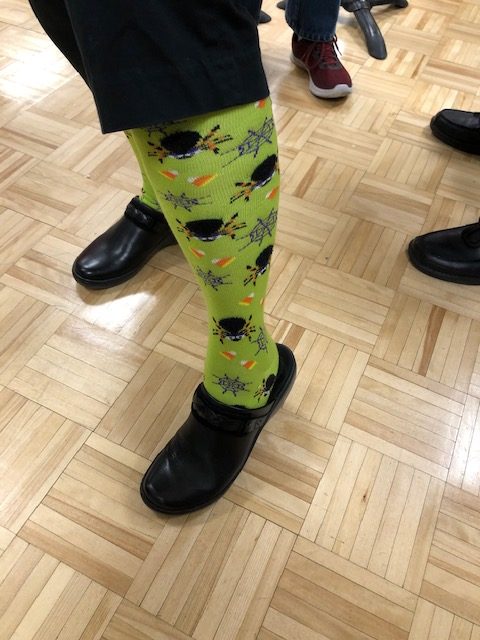 Bewitching Bonnie
But the scariest thing of all was Mother Nature and the SNOW!
October 2018
Oh What a Beautiful Morning!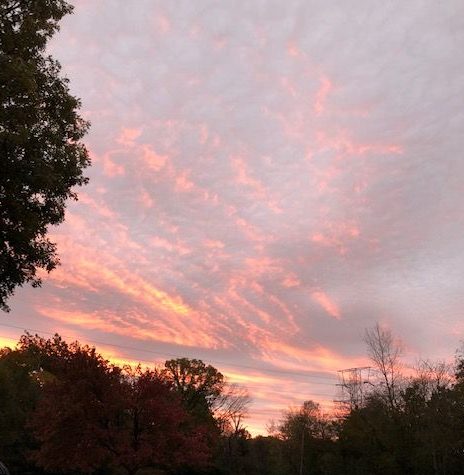 Oh What a Wonderful Day!
I've got a wonderful feeling . . .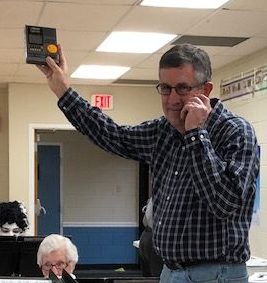 Everything's  going my way!
Maybe . . . Maybe Not!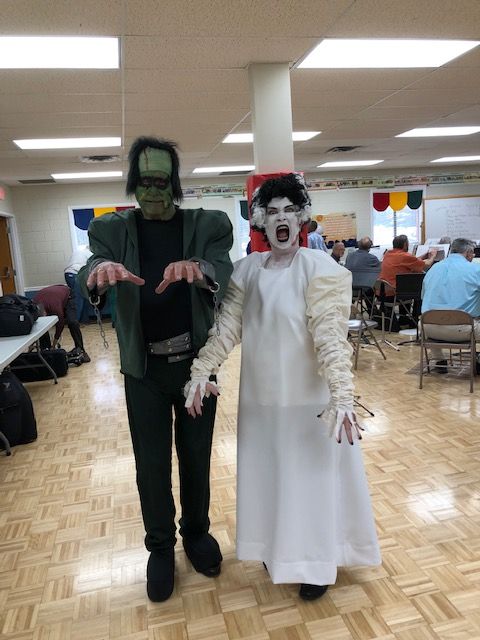 Mr. and Mrs. Frank N. Stein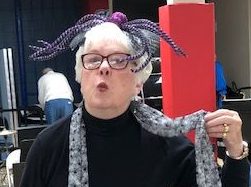 Spider Woman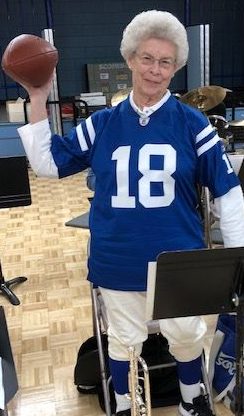 Our  own Peyton Manning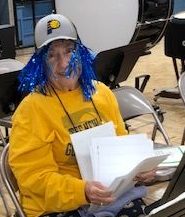 Pacer Fan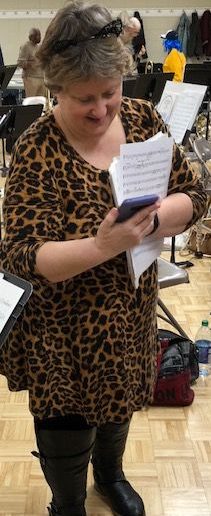 Kitty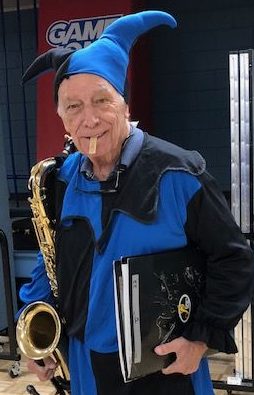 Jokers Wild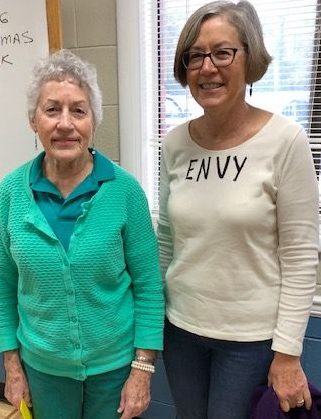 Green . . . with . . . envy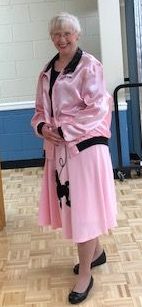 Memories of "Grease"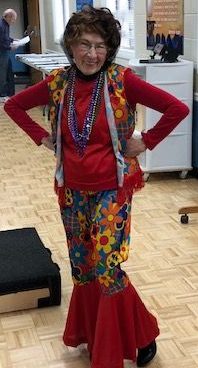 Flower Child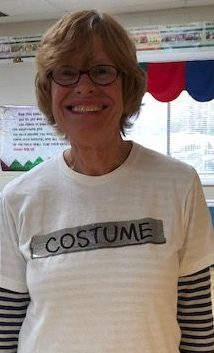 Costume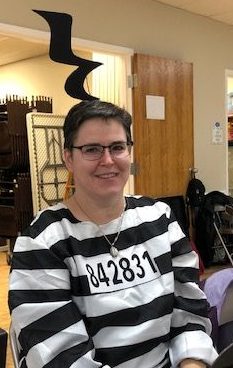 Under A Rest

Alice in Wonderland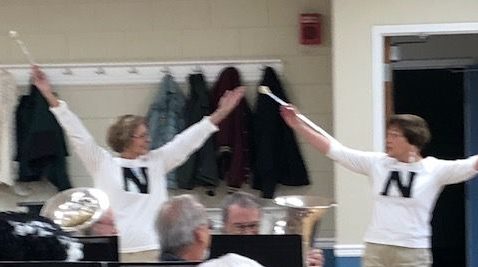 New Horizon Band Majorettes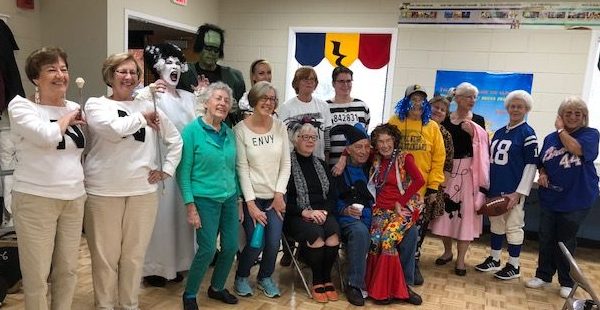 The whole haunting group
YIKES!  Double Take!  Triple Take!  What in the world is that???  It's holding the tuner so it must be a conductor.  And I've only had one cup of coffee this morning.  Not a nice way to wake up.  I don't know about the other members of the band, but I had trouble following this thing!  And being cue'ed, well, that was just terrifying!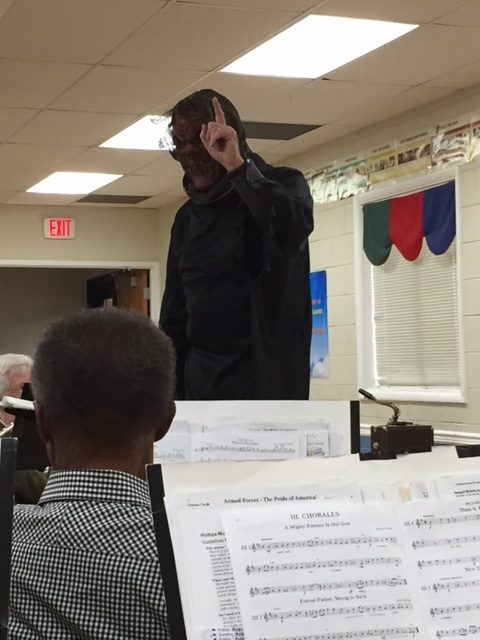 This group is the craziest and "most fun-est" group I've ever been associated with!  Everyone was invited to wear a costume – after all it was Halloween – but . . .  We had everything from innocent cheerleaders, sailors, puppies, unknown animals, creepy faces, Fathom of the Opera, pumpkins, space aliens, and visions of death  Hmmmm, vision of death, actually, that's a good one for a conductor – the death look!  We've all seen that one!
Halloween 2015
Everyone knew something was a muck when Bob stepped up to the podium that morning.  He literally took "Counting" just a little bit too far.  But you had better believe we all counted!  Nobody wanted to cross Count Dracula even though it was daylight.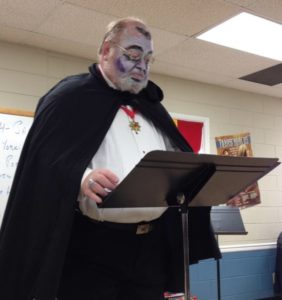 The clarinet section is usually pretty quiet – don't really know they're there between songs.  But this year everyone was encouraged to dress for the occasion – it was Halloween and the clarinet section got a little carried away.  All clarinetists were wrapped in cob webs by a little clarinet being chased by non other than Count Dracula!
Her clarinet shrunk!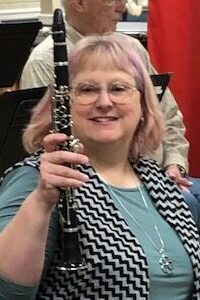 What do you do when you have multiple birthdays and a goofy schedule?  A birthday cake smorgasbord, of course!  Happy Birthday to Patty and Happy Belated Birthday to Kay.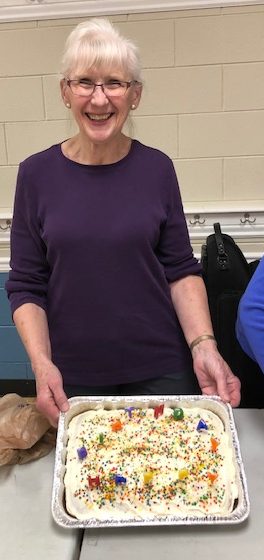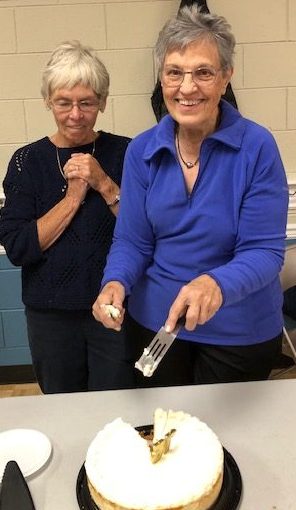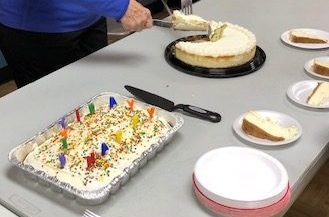 Another 20 winks before rehearsal starts — just what are we going to do with this guy???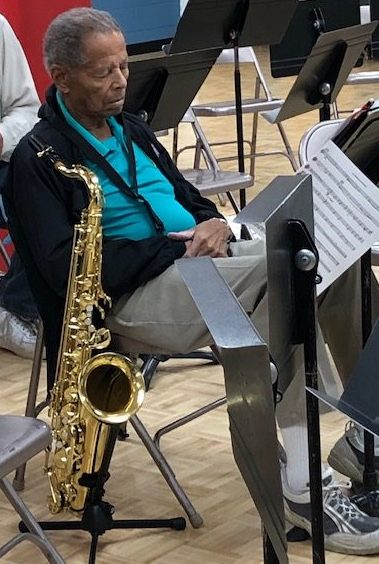 What does a teenager do during school fall break?  He visits "his old folks" that he's been missing since school started!  It was good to see him again.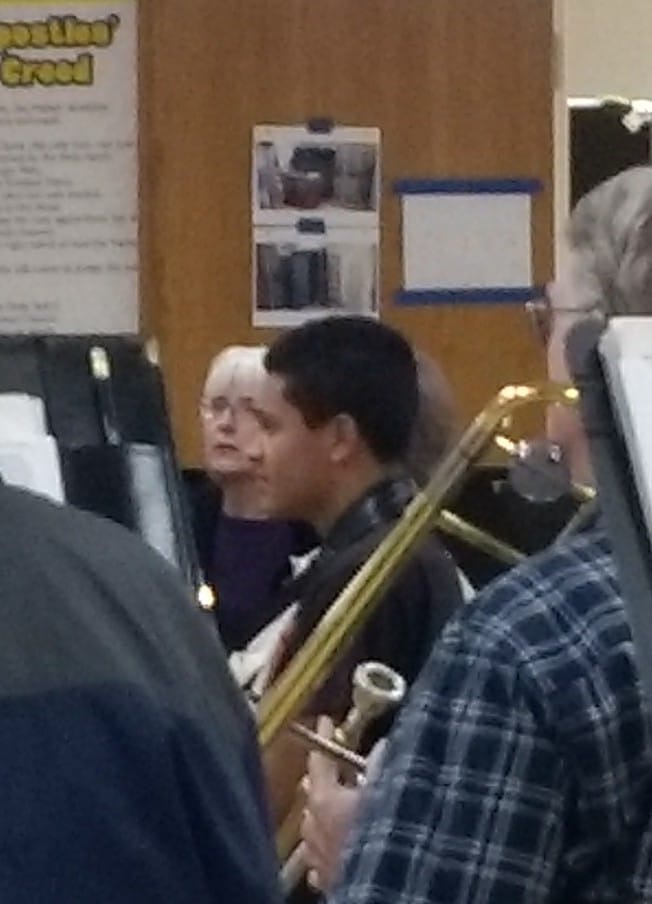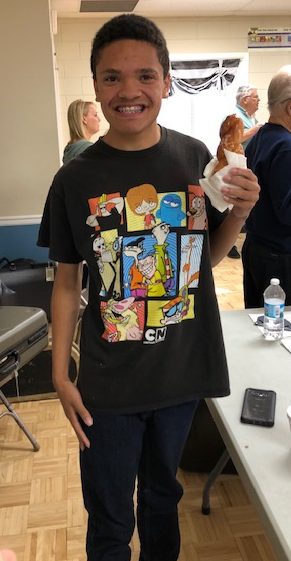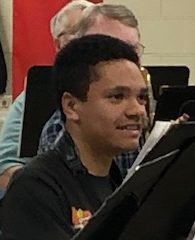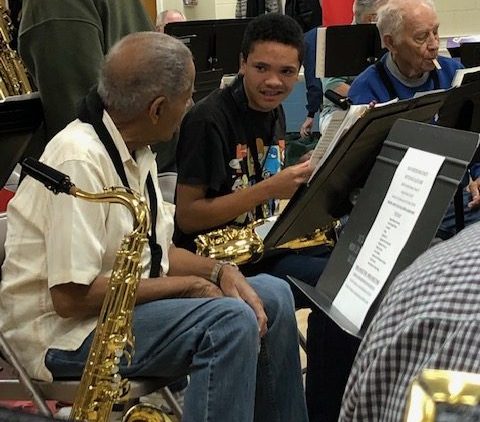 Quick 20 Winks
before rehearsal starts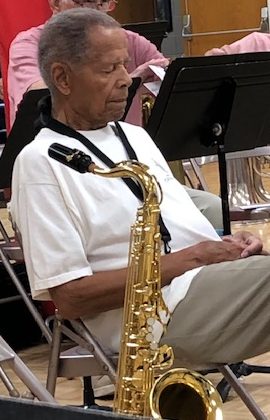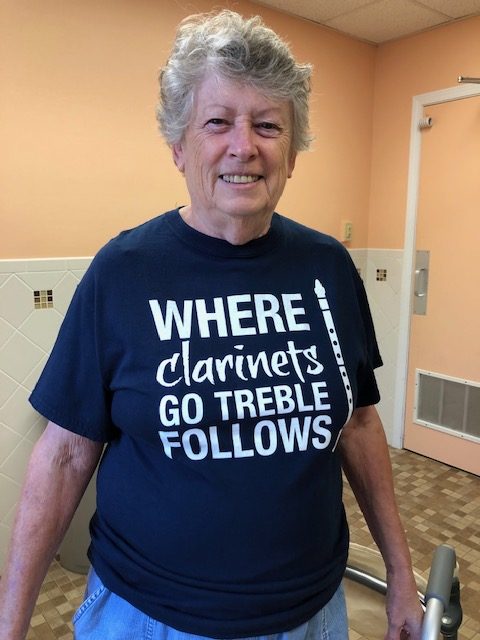 Welcome back shirt!  The fellowship in this group is unbelievable!
What was said: .
"I wanna do #2.".
"Not that #2!!!"

His face turned as red as his shirt!
What was meant:

You have to be very specific about what you mean in this group!
Rumor has it future doughnuts will be high-fiber doughnuts just for Bob!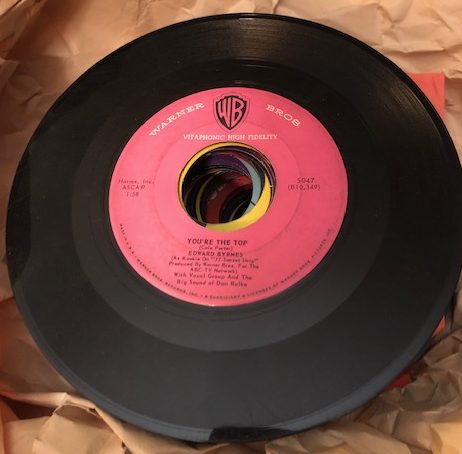 Only people our age know what these are – no, they aren't CD's you young whipper snappers!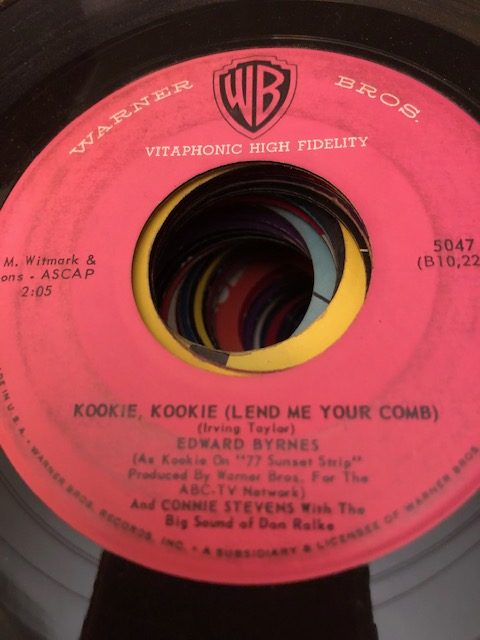 This guy was every teenage girl's heart throb in the 60's.  He was more known for his acting (and good looks) than his singing but on the "flip side" of this recording . . .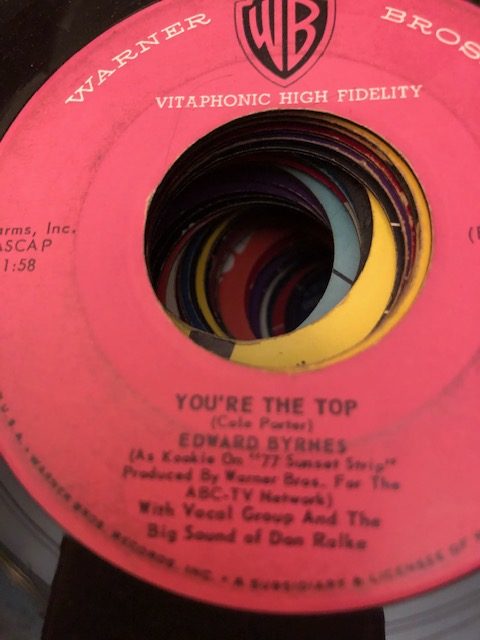 was what has been driving me nuts!  Knew I knew that song but also knew it wasn't by Cole Porter!
Happy Birthday John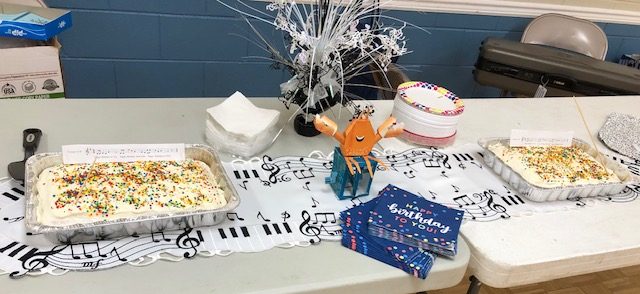 The crab is a substitute for a lobster – for our northeastern conductor from Maine.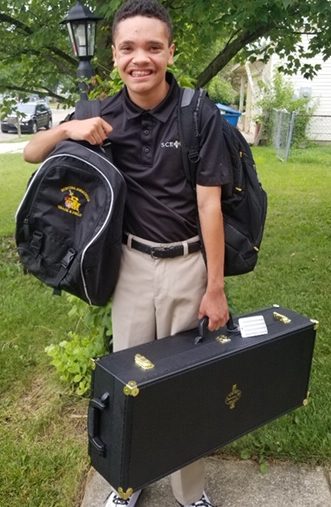 Andrew has gone back to school  Here is his First-Day-As-A-Sophomore picture.  We will miss him.  Such a pleasant boy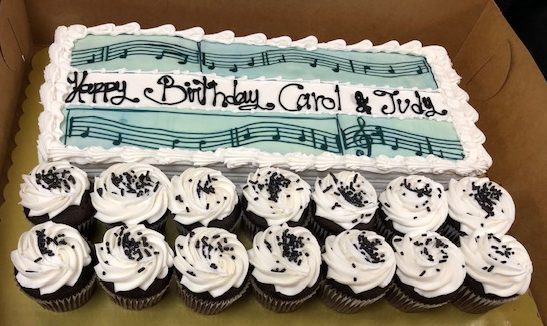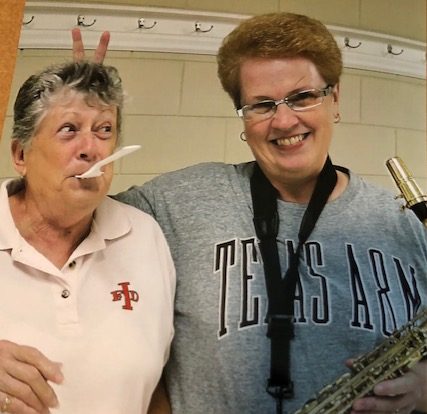 Sharing a(n) (almost) common birthday – side by side.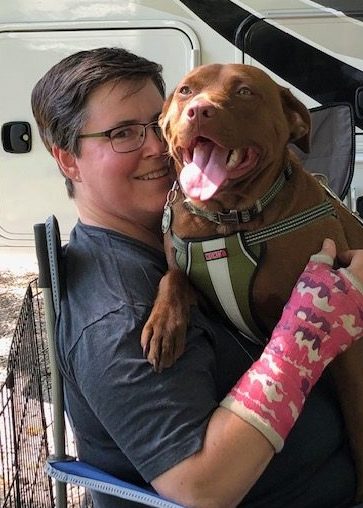 Julie had surgery on her clarinet-supporting thumb and has not been able to play for a while.  Ran into her at the campground.  Boy!  Does she have a lap full!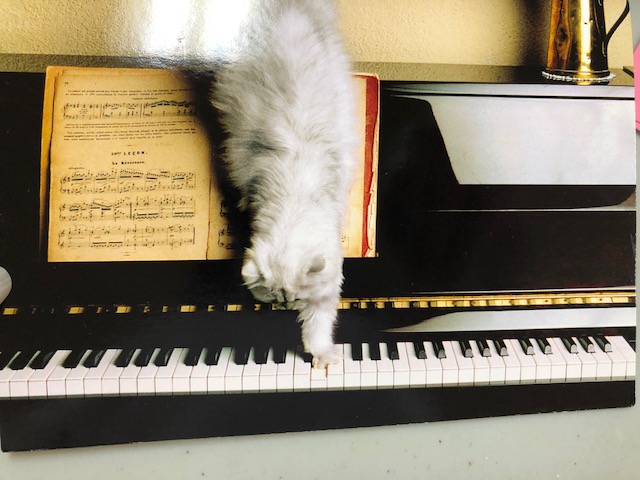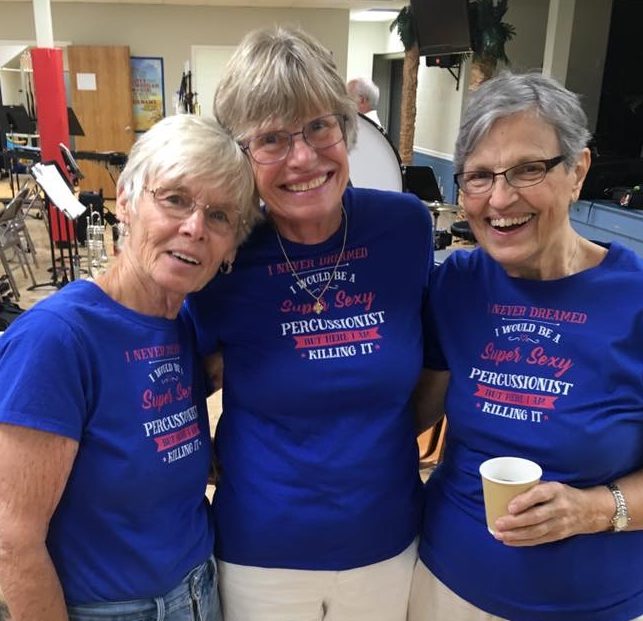 Our percussionists are pretty special ladies!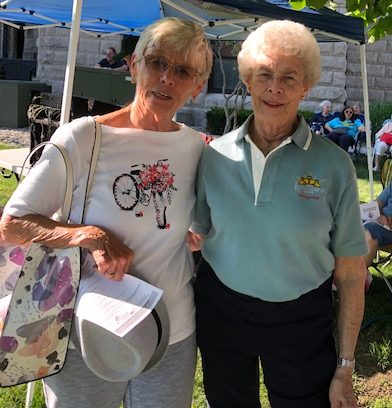 We don't just support our own concerts, Patti and Mary Ann attended the Indianapolis Municipal Band concert in Greenfield.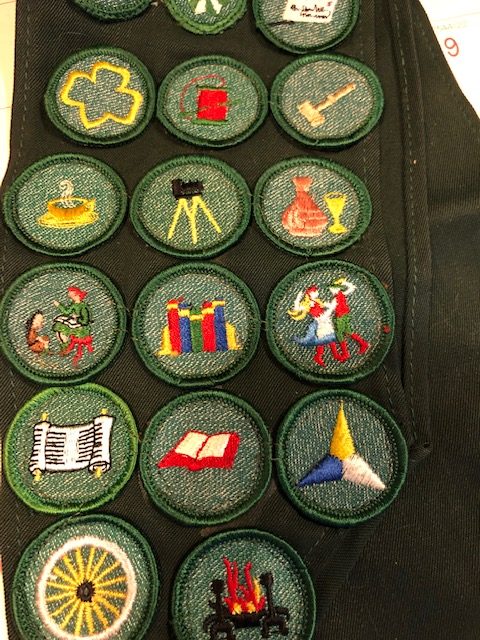 A "few" years ago I earned the Girl Scout Folk Dance Merit Badge while learning Russian folk dancing to some of this music.  I'll have to admit flashbacks of youthful foot movements are a bit distracting while trying to figure out those crazy spots on the paper.  I remember the costume I made and one dance step – arms crossed, squatting on the floor, kicking one foot out, jumping up,  then kicking the other foot out.  No I won't, can't, absolutely will not do it now!  That was over 60 years ago – seems almost like yesterday.  Oh how I loved Girl Scouting.
Happy Birthday Doodle-Bug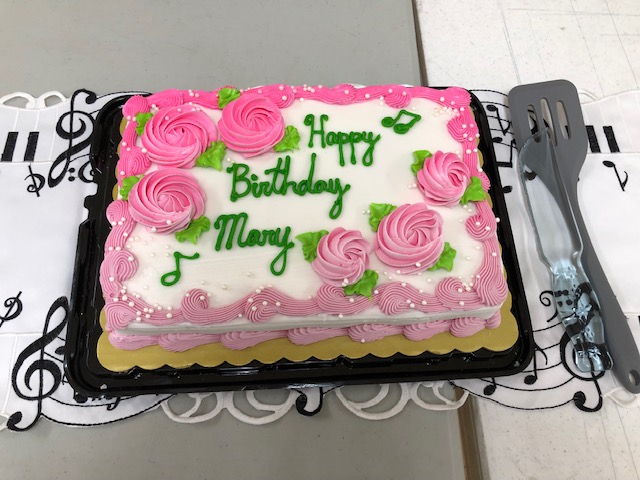 by James Whitcomb Riley, the Hoosier Poet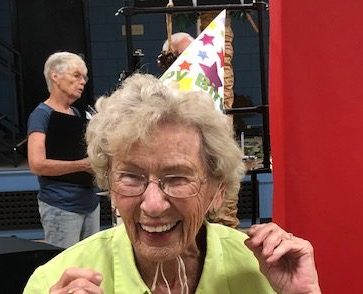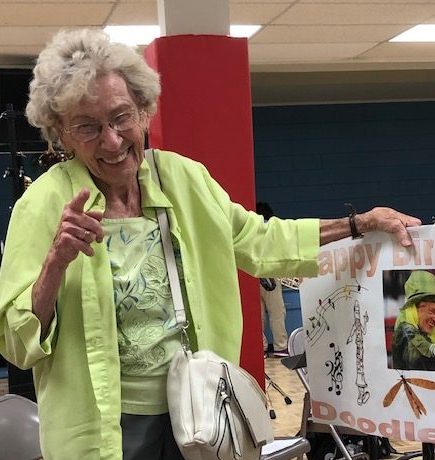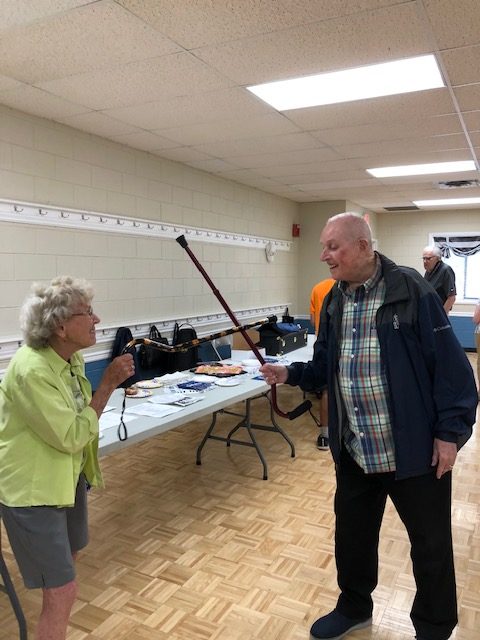 One might expect "Dueling Banjos" in a band but "dueling canes"?  It's a fight to the death between these two retired teachers!  Setting a good example for their students.  Uh Huh!
Hoosier corn growing outside the church window as we play "Oklahoma."

Our beloved Don wearing his Don's (Donald Duck) Attitude Academy hat (with appropriate attitude face)!
Inside Joke
Ain't Misbehavin'!  Only because i didn't get caught!  But I confessed so does it count or not!  Was trying to converse through texting during rehearsal so wasn't able to respond as quickly as I wanted to.  The only way I could think of to explain why I wasn't responding was to take a recording.  We sounded good even if I do say so myself!
SURPRISE PARTY!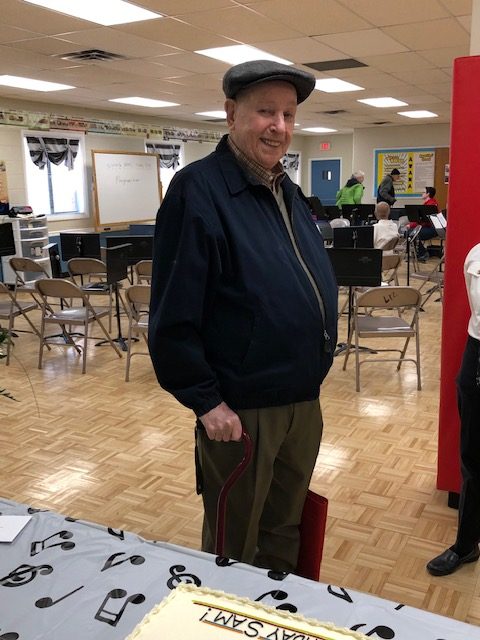 Our Founder, Sam, joined the group of 90-year-olds.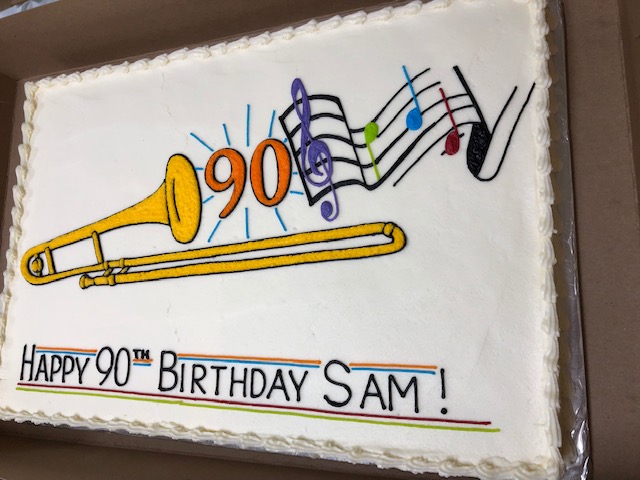 The detail of the trombone was amazing.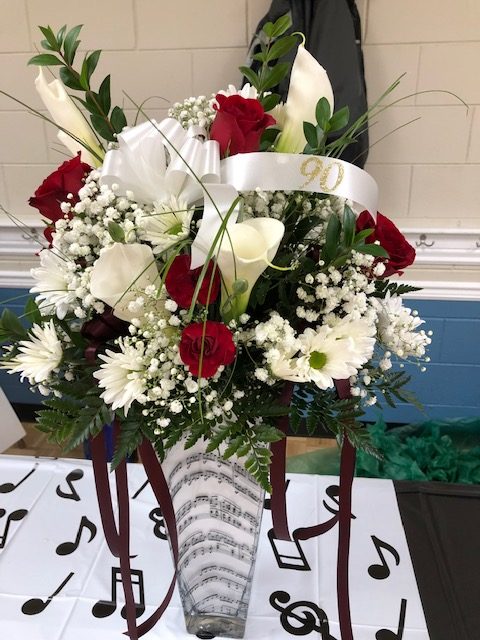 Paul's Flowers and Gifts did a beautiful arrangement as usual.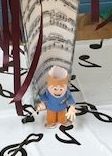 This "Little Sam" moves his arms just like the real Sam.  He even has a baton in his hand.
The wall's closing in on him again!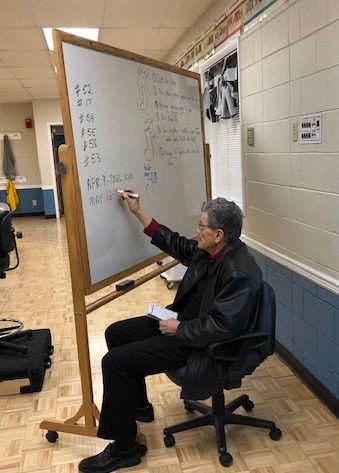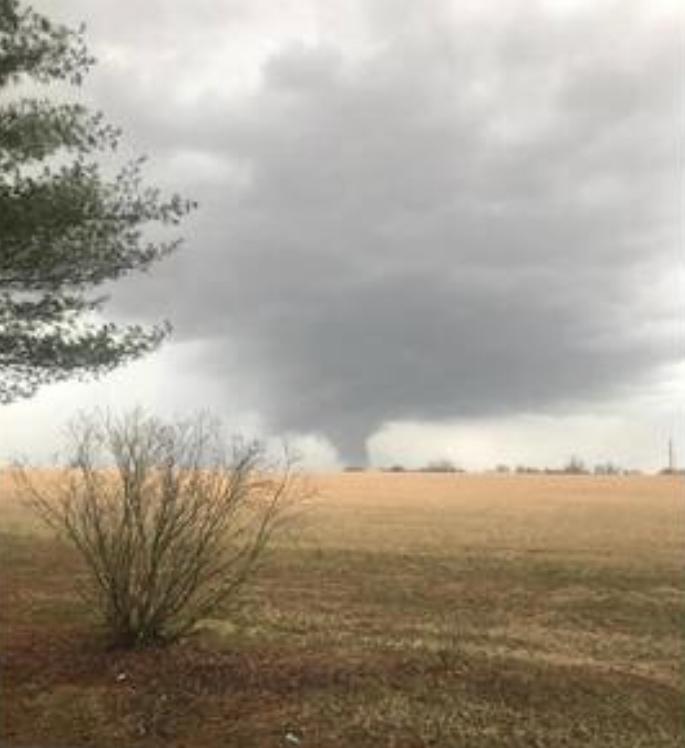 The weather was ugly and there were concerns about having the concert.  We had tornado warnings in Marion County but like Bob said, we're not going to be in Marion County.  So what happens?  We get into Johnson County and they are included in the warning area!  This one did touch down somewhere.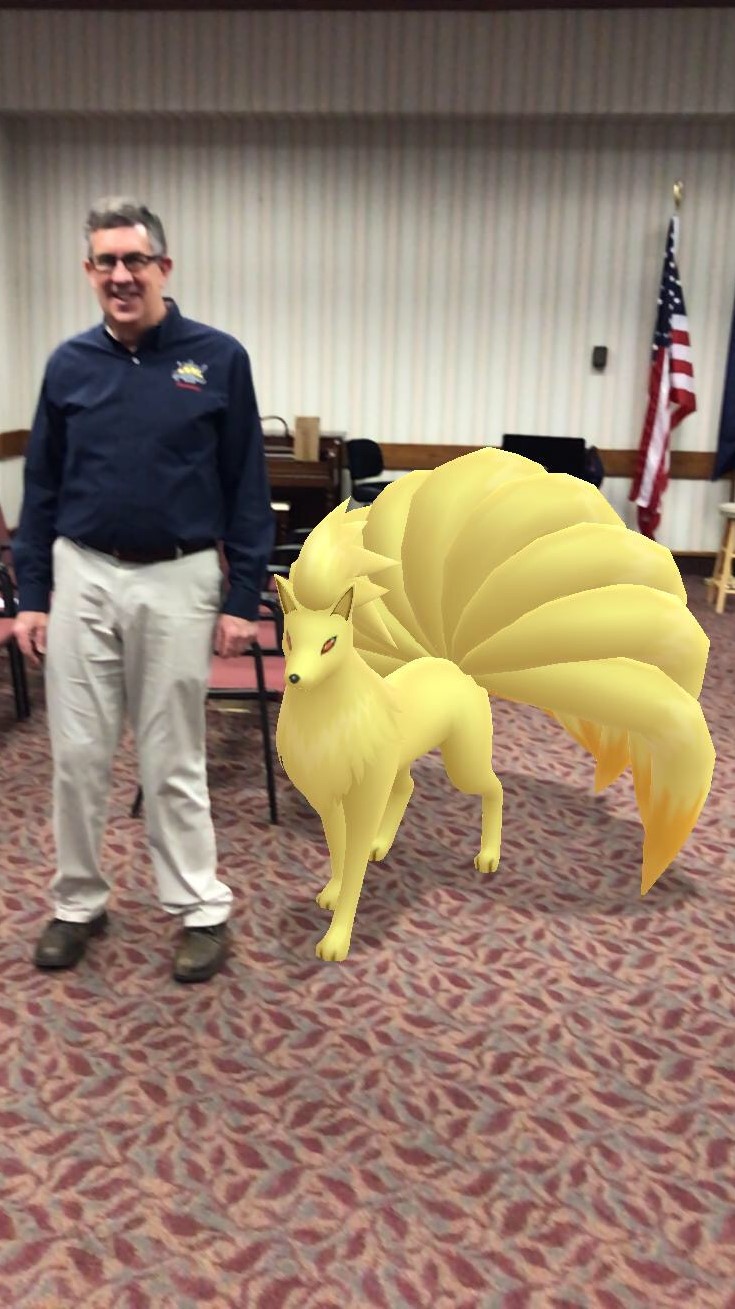 A little bad weather isn't enough to break the mischievous spirits of this silly group.  Judy found these odd creatures with our conductors!  I didn't see them but cameras don't lie!  Or do they?  Maybe it was this critter that got John all tongue tied.  He saw "foots" tapping!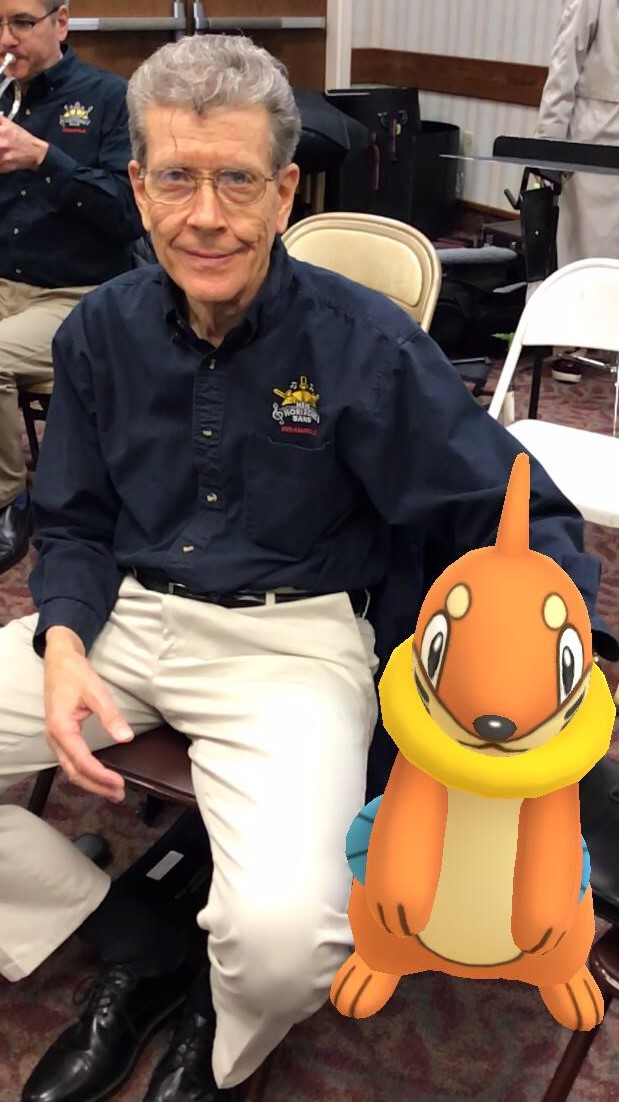 Al is usually pretty quiet spoken without much to say but today?  Nope!  Don had the microphone but Al still has his marching band voice and was not about to take any sarcasm!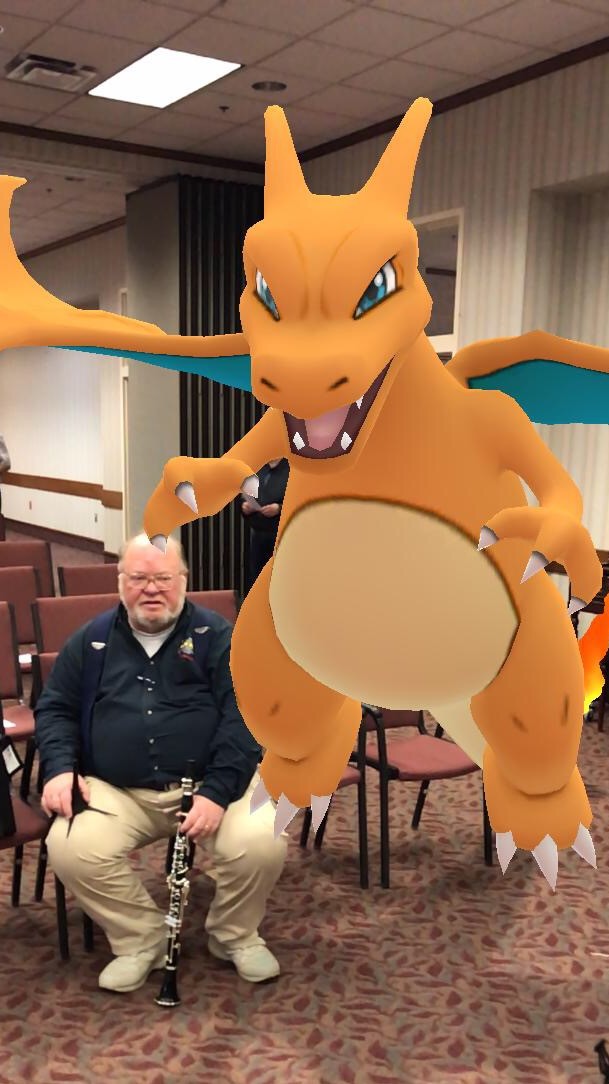 Bob has a history of throwing his baton at the flute section; but, tonight, somehow he managed to throw his baton — at — the audience!  Now that takes real talent!  It's hard to play a wind instrument when your giggling!
Happy Birthday, Bob!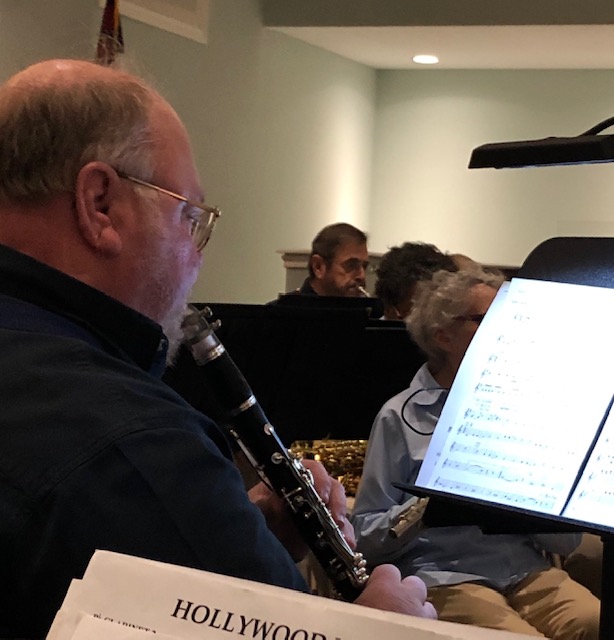 It was a busy busy busy day today.  We started out with a full (dress) rehearsal for tonight's concert.  When playing at retirement centers we usually start out playing "Happy Birthday" for their residents.  Today we rehearsed "Happy Birthday" for Bob while John sang solo.  There wasn't much time for horseplay but I think Bob did the things he enjoyed most – music music music!  After the rehearsal we loaded the equipment into the van then headed home for a couple hours to eat, rest, and change before we drove clear across to the other side of the world for the concert.  At the exit there was even a sign pointing to Frankfort (Germany?).  His day was full of playing, directing, and driving – the things he enjoys most — and we didn't have much time to pick on him!  Better luck next year, Bob!
We started the day on a serious note (for us) by honoring Don's 91st birthday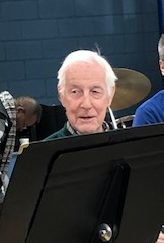 Things didn't stay too serious too long – Clarence gave John an A+ for his penmanship on the board!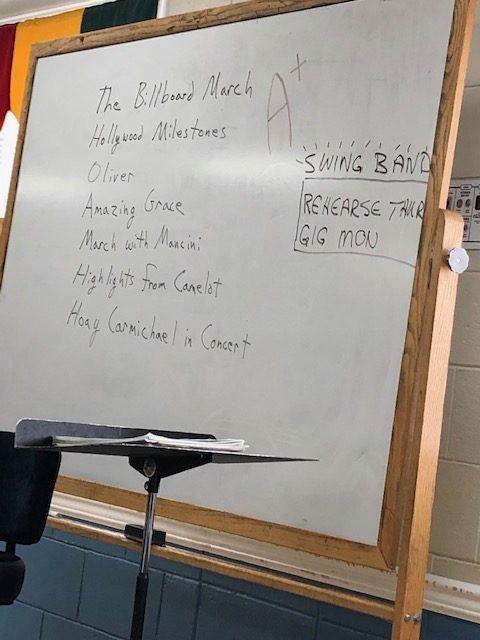 The timing of Jaws approaching isn't as easy as it sounds.  Last week Don was jumping with each thump of the bass drum.  This week John was telling us stories about the shark chasing us.  It was getting closer and closer and closer.  Oops!  Didn't make it to the boat!  Almost!  He got one foot!  Good stuff!  We made it!  Made me think of a shark a friend had carved.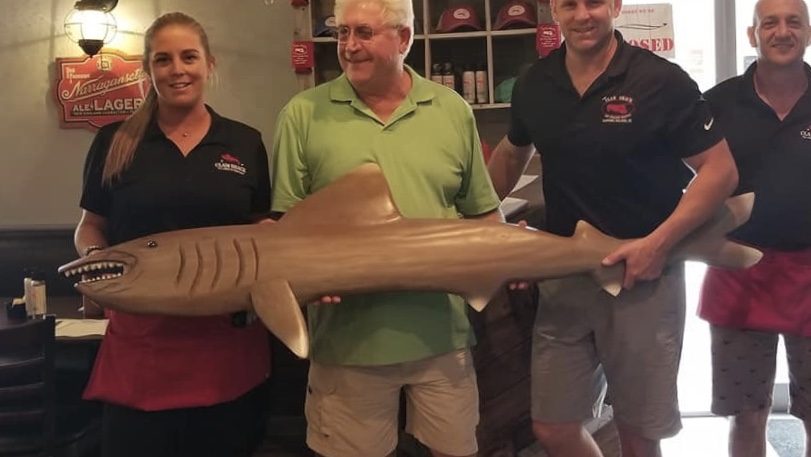 Memories of a grade school report card!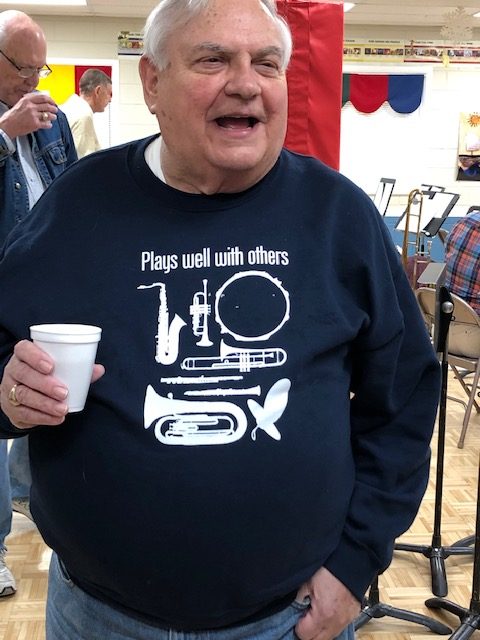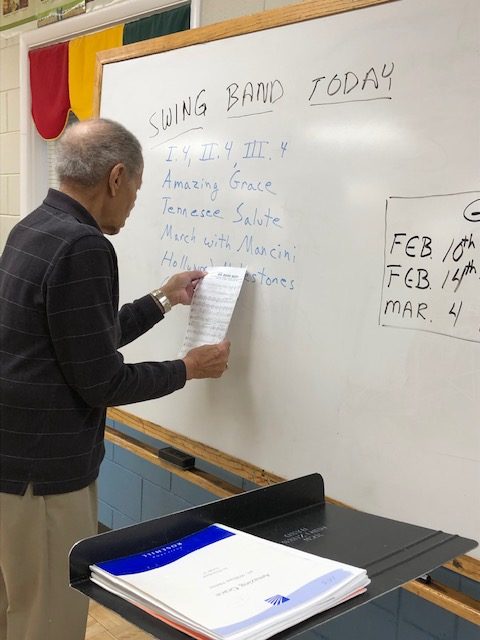 The printing tends to get smaller towards the bottom of the board but this time it was so close Clarence had to measure the letters!
Even at a pitch-in luncheon doughnuts appear!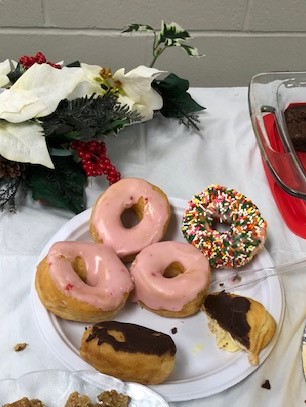 Fall Inside and Out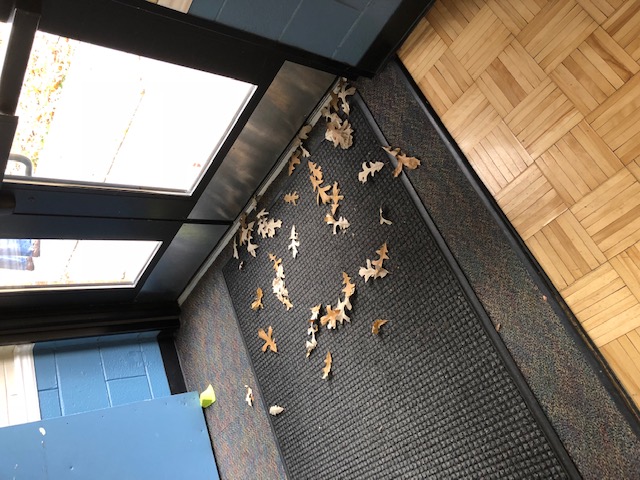 Boy was it windy today!
Our Birthday Girl!
Happy Birthday, Kay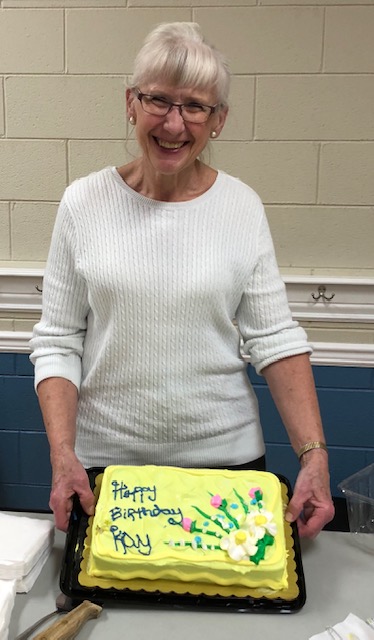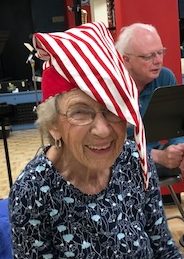 Mary's making Santa hats already!  It'll be here before we know it!
First it was musical socks — now it's musical shoes!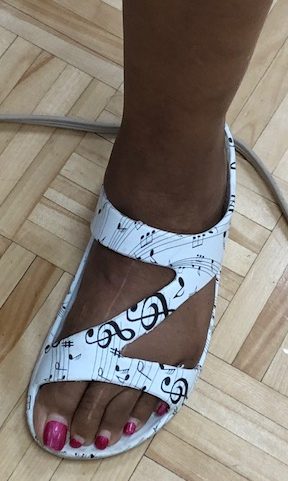 We were shorthanded in the percussion section so our Founder, Sam, offered to help.  However, it was just after break and he hadn't finished his doughnut yet.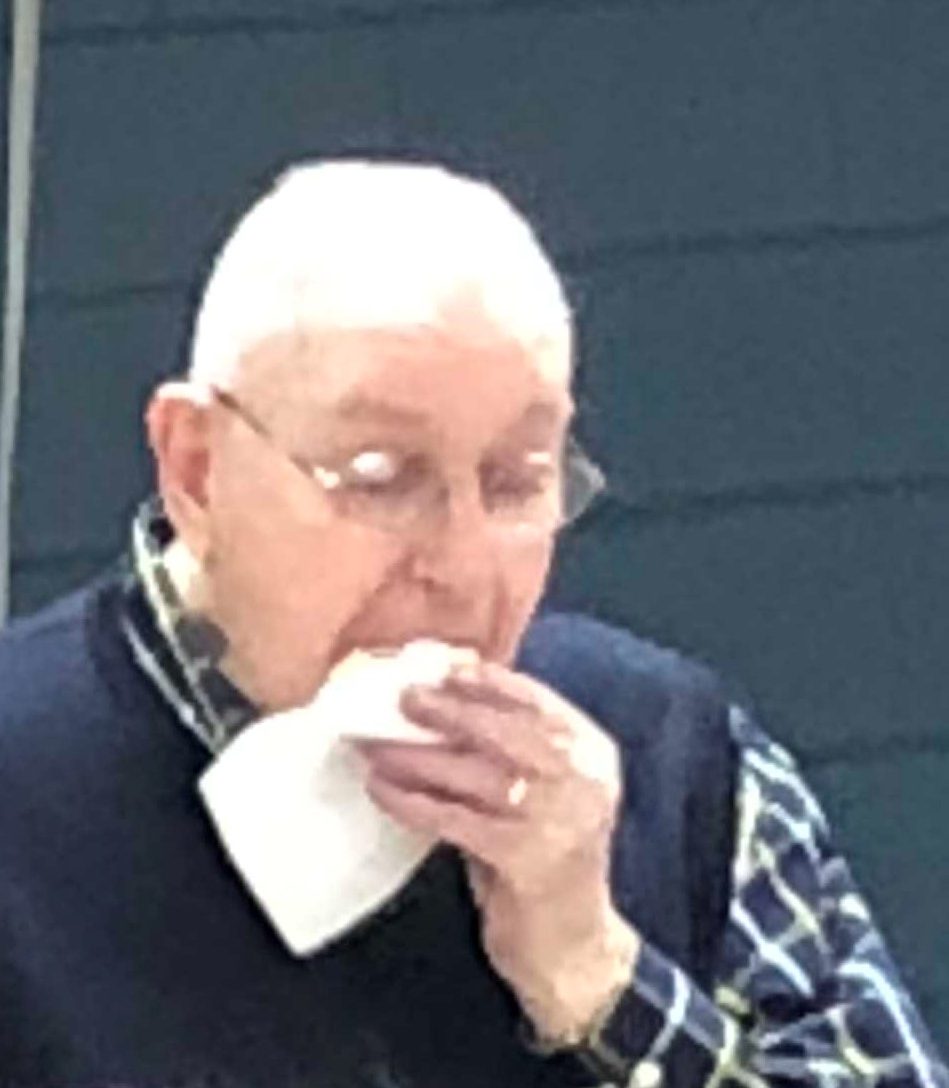 And he wasn't going to put that doughnut down, either!  A new challenge for the conductor-score-reading-expert was to read over the doughnut.  It was difficult but possible.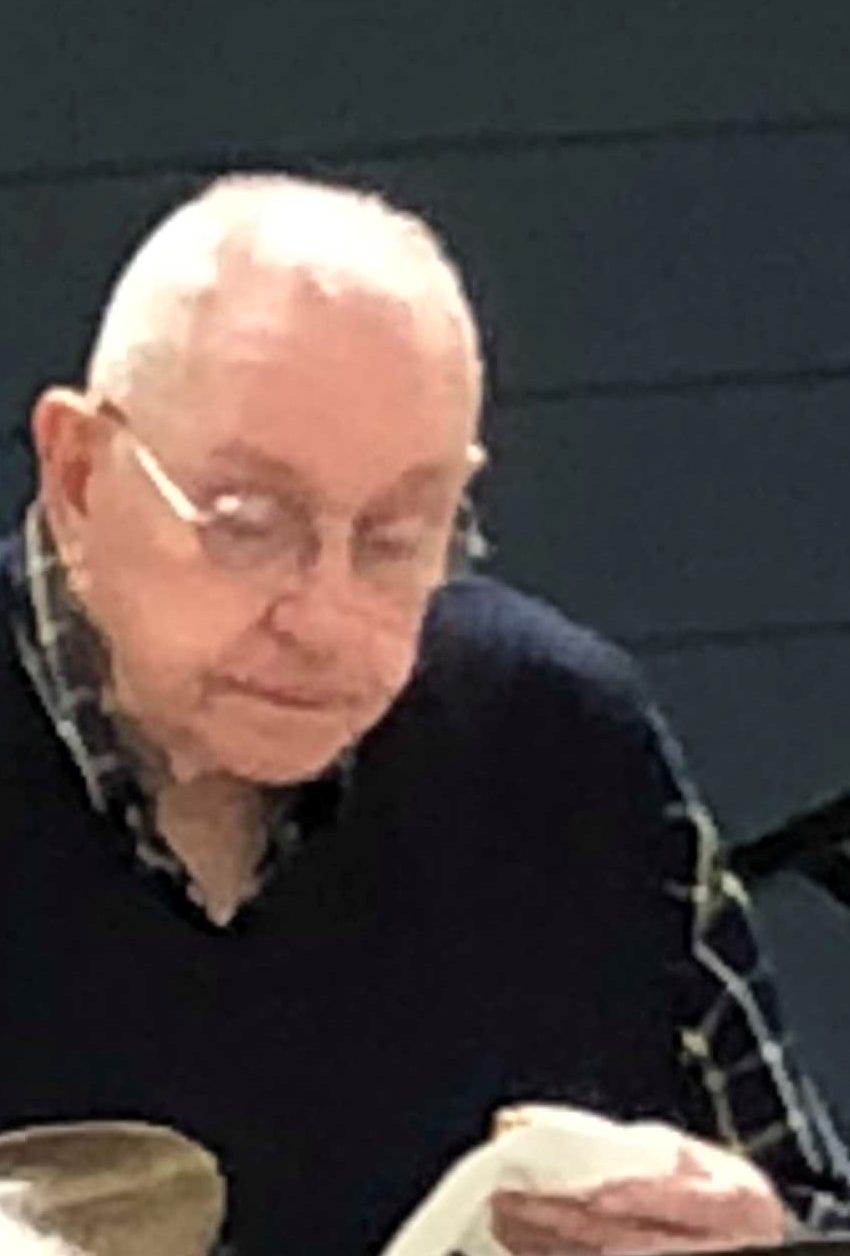 OK.  Let's get this show on the road.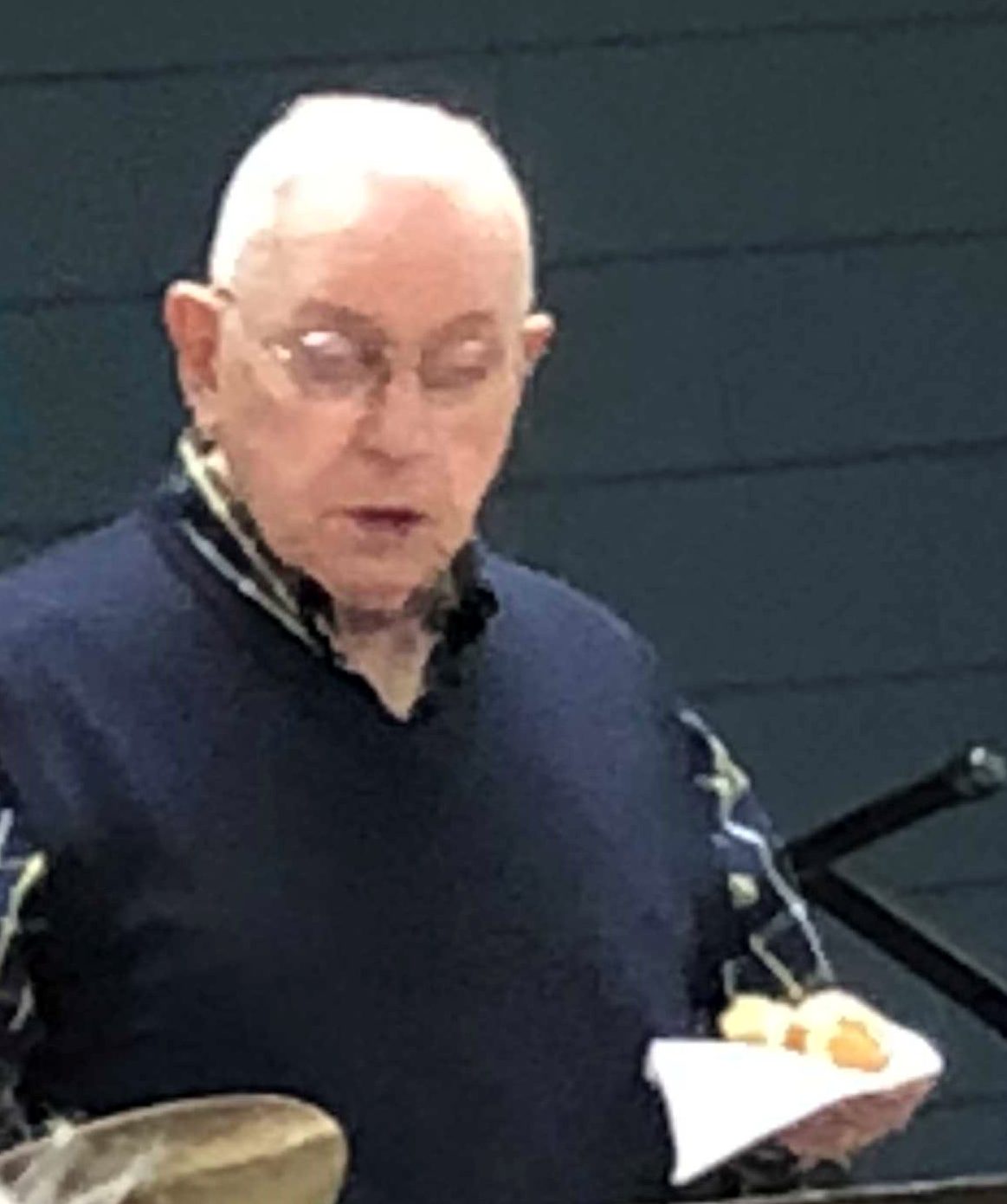 Count – 2 -3 -4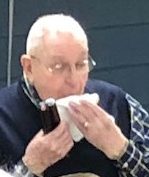 Bite 2 – 3 – 4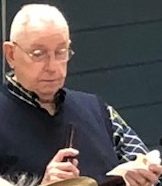 Count 2 – 3 = 4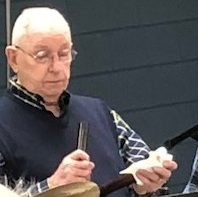 Only our beloved Sam can make a doughnut go thickety thickety thump.
The Whole Thing is Off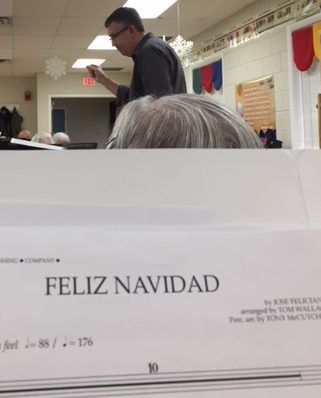 Poor, poor John.  After 30-some years successfully coping with high school students, he has taken on the challenge of Senior Citizens.  Feliz Navidad has a strange beat.  He describes it as "On on off off off . . . on on off off off . . . on on off off off . . . on on off off off."  Todd Hayden is usually a quiet gentleman with few words but today he cut loose:  "The whole thing's off!"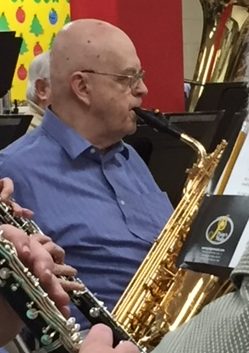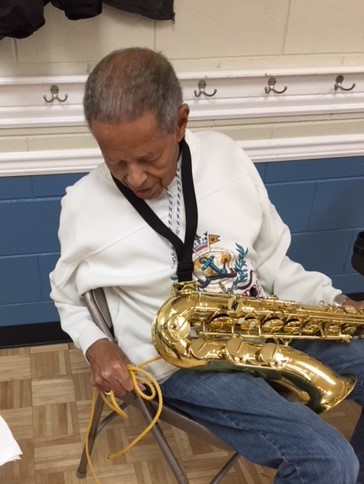 Bound and Determined
This gentleman was "bound and determined" to set up the entire rehearsal room even though he had already exceeded his energy level for the morning.  He found himself "bound' to the chair!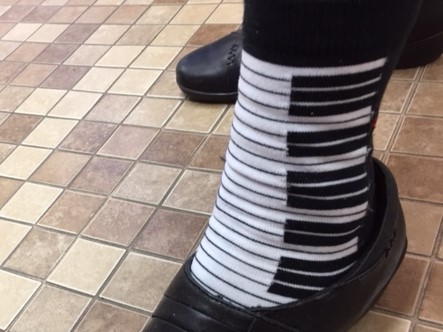 Piano Socks
It seems as though Sam's crazy socks have created a trend – take a look at these piano socks worn by one of our flute players!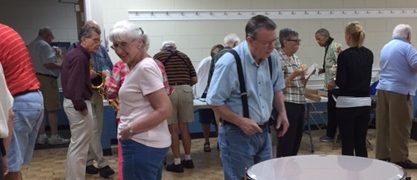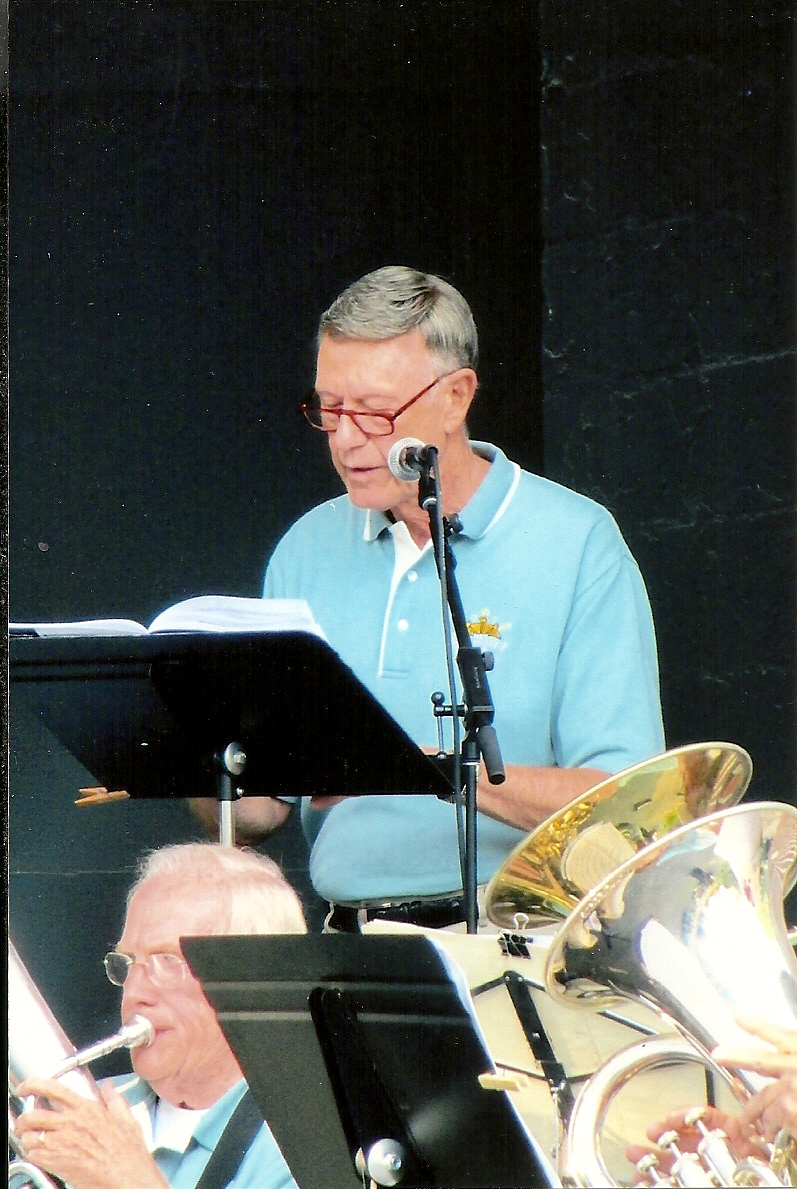 Who?
He says he "used to be Don Hines" but we're not sure just who he is these days!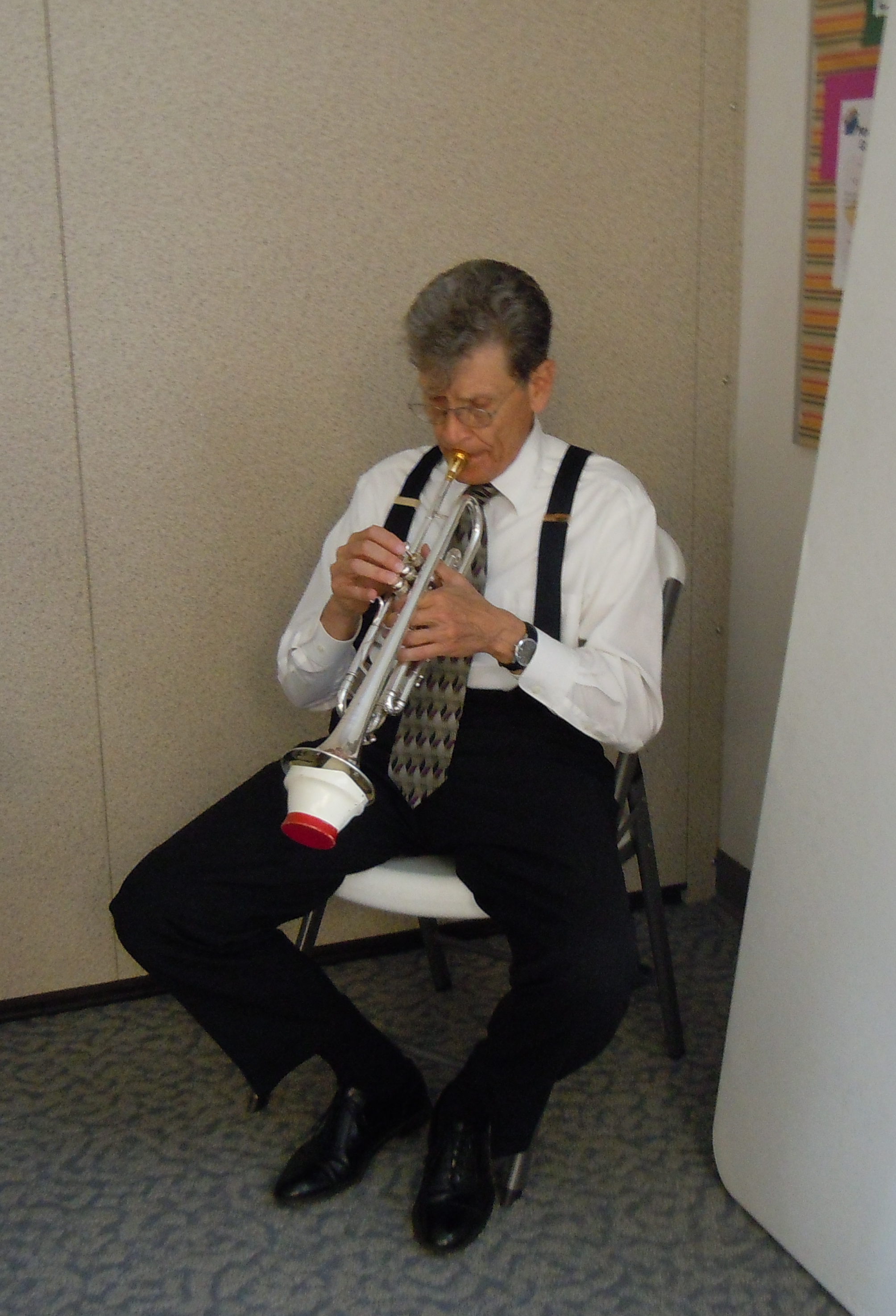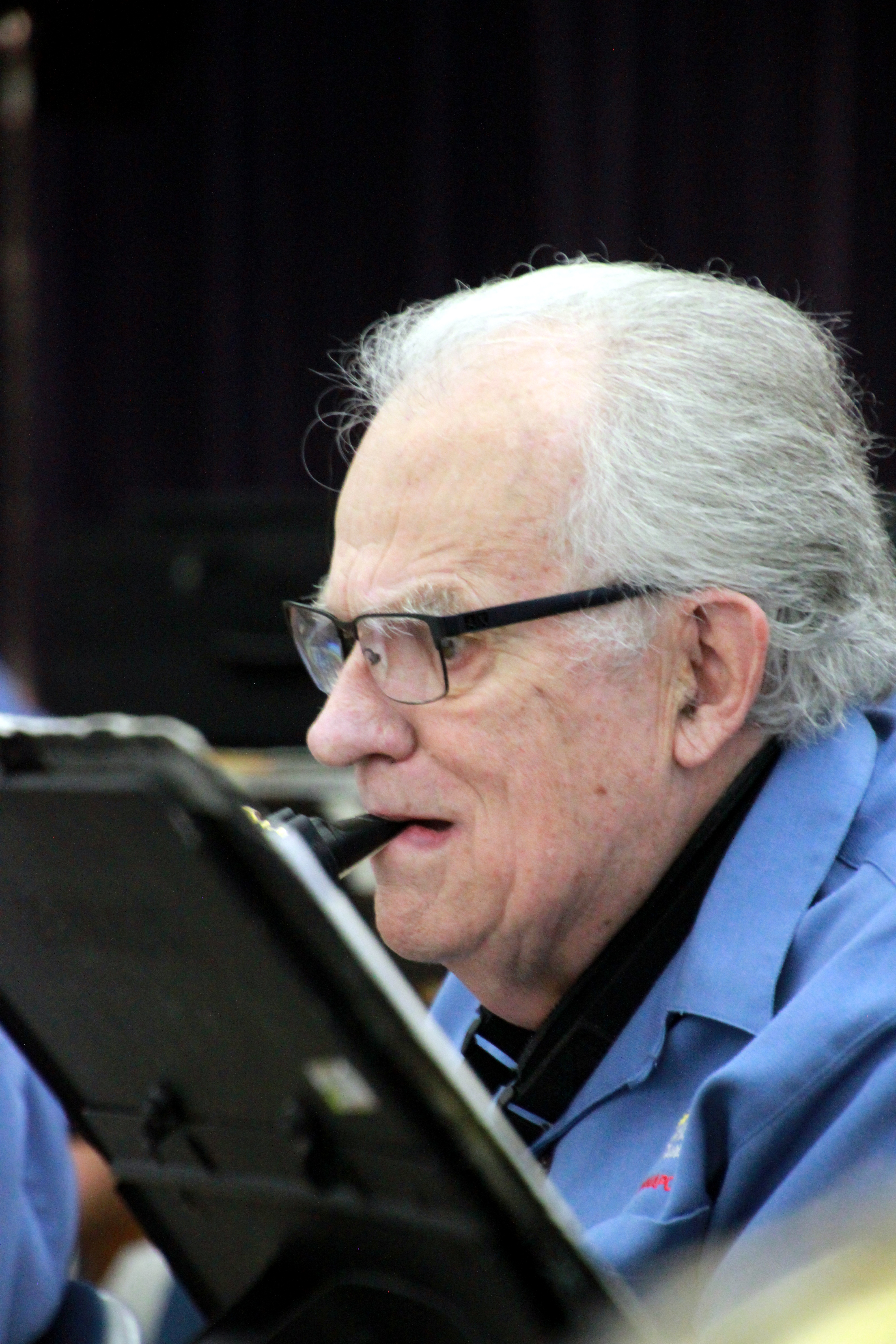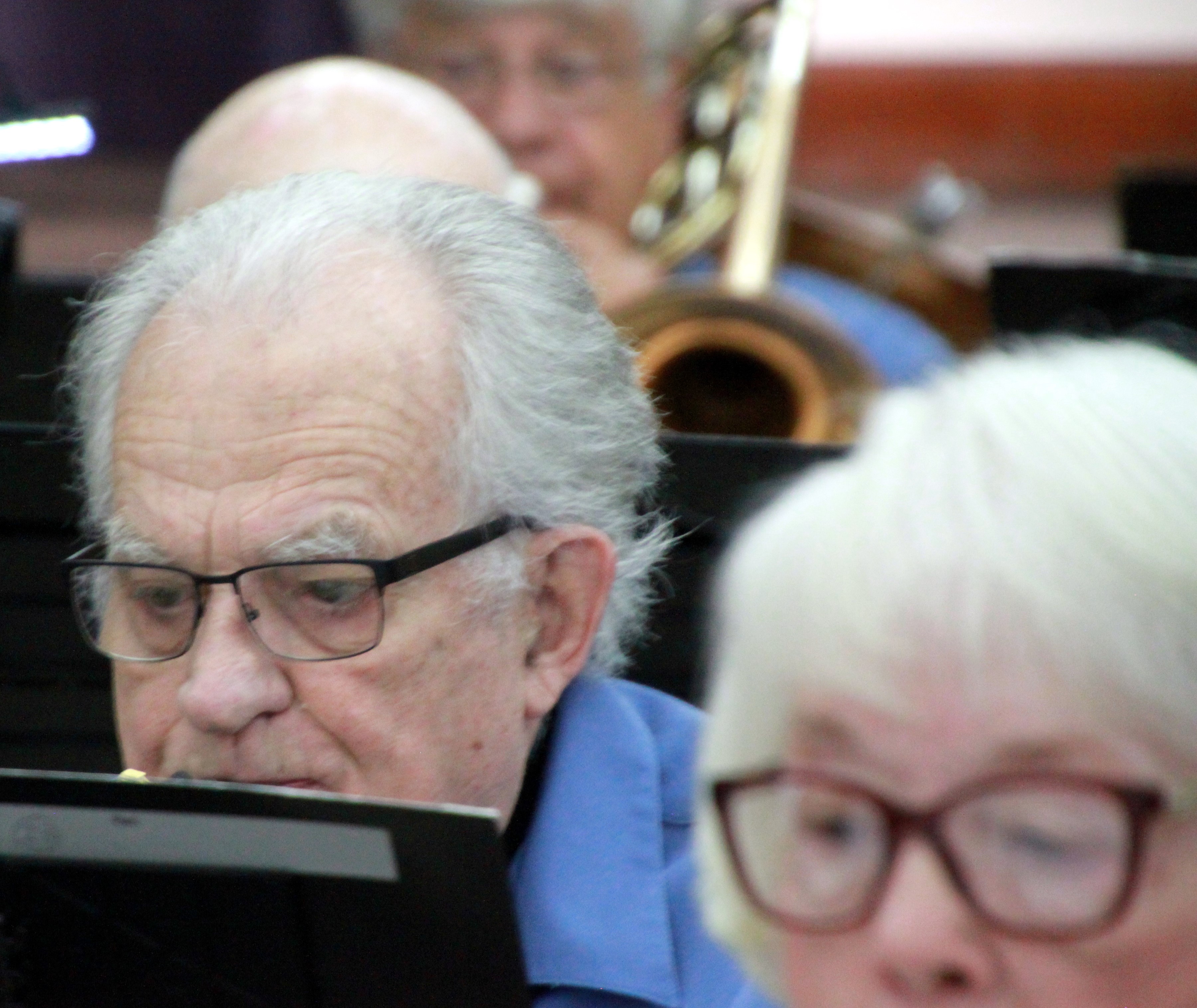 All eyes on the conductor?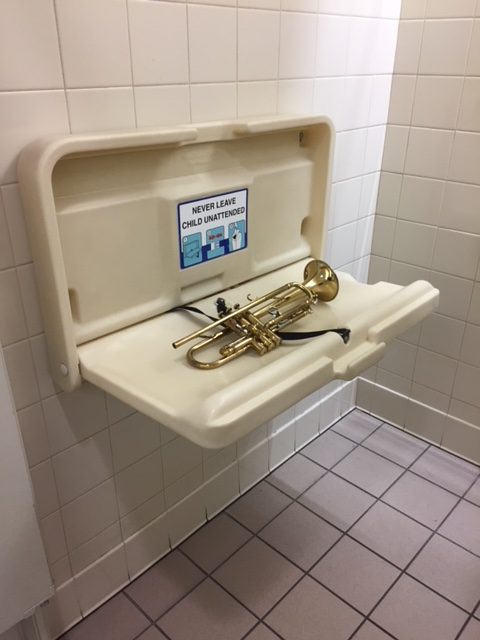 Getting a bit complex here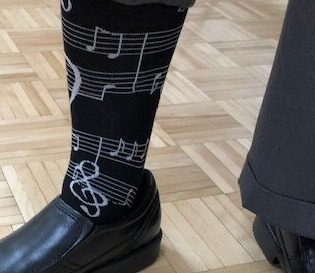 Baby It's Cold Outside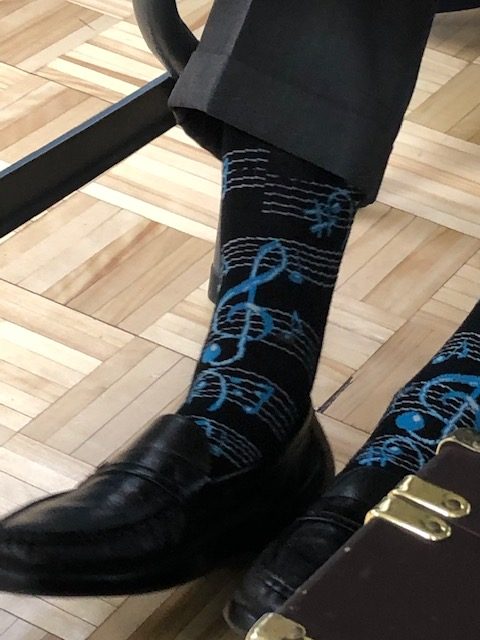 It's so cold outside the Treble Clef has turned blue!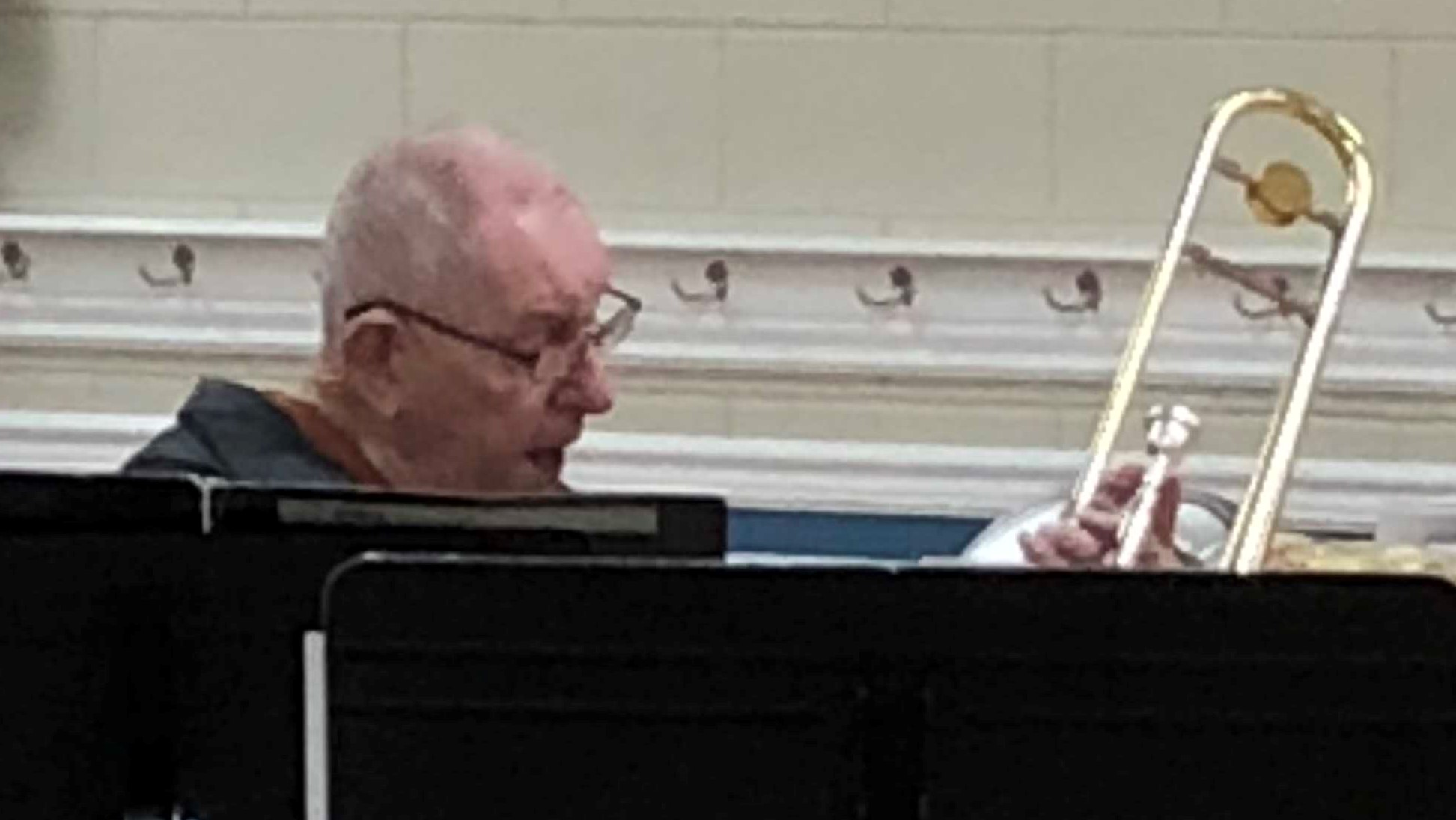 He put his horn together!  He played!  He stayed!  So glad to see him come back!  Welcome back, Sam.  We didn't totally wreck the band room while you were gone!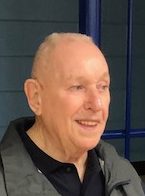 He stopped by for a visit and to check on us.  It was Grrrrreat to see him again!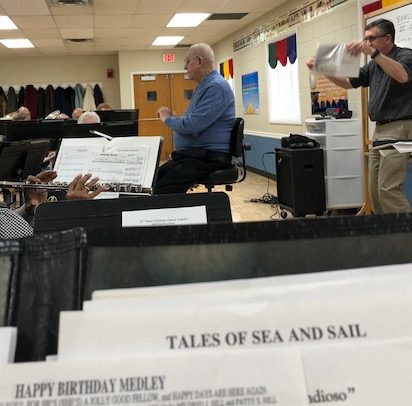 Sam thought he was directing "Amazing Grace" but we were receiving behind the scenes directions for "Happy Birthday!"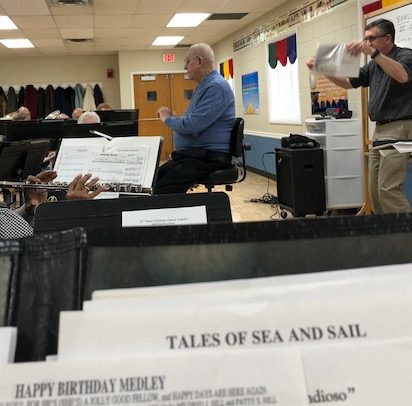 We played this stunt on John a few months ago so he thought turn about was definitely fair play!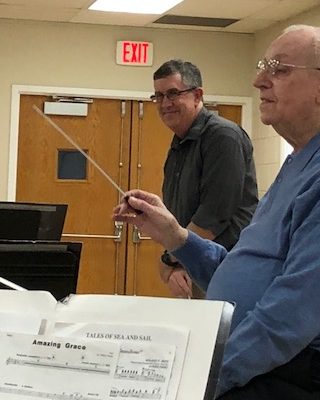 Sam received a bag full of socks – imagine that!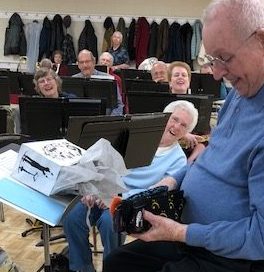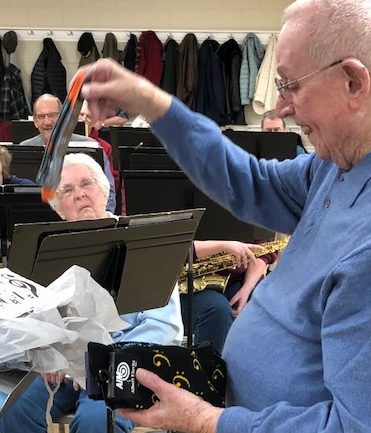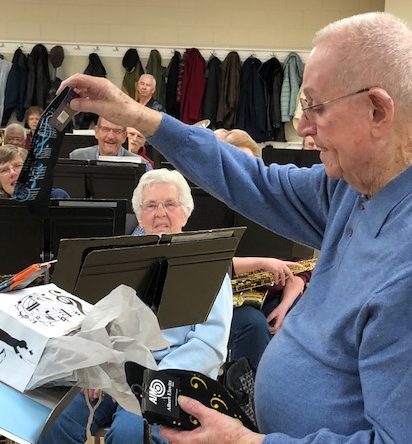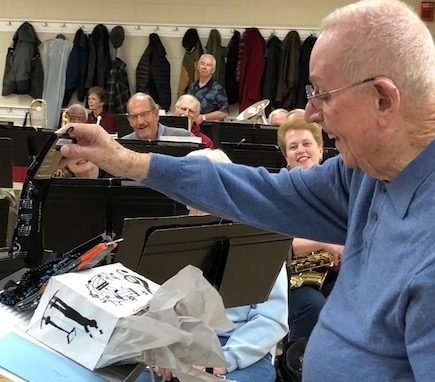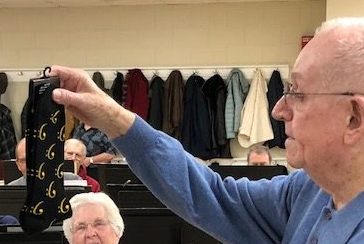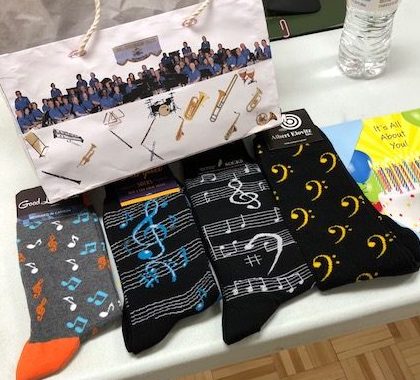 The whole event was instigated by Sam's former student "Oliver."
*******************************
His daughter may be innocent this year but I can't help but think she had an influence on his grandson's girlfriend!
When the Cat's Away the Mice will Play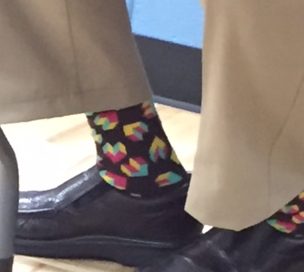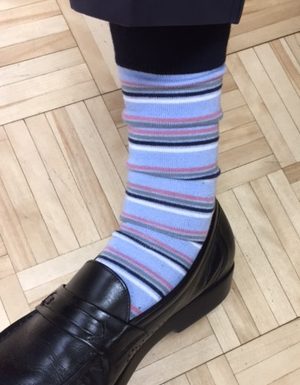 July stripes - pink (almost red) white and blue